Methodology article
Open Access
Step by step: reconstruction of terrestrial animal movement paths by dead-reckoning
Received: 21 January 2015
Accepted: 6 September 2015
Published: 15 September 2015
Abstract
Background
Research on wild animal ecology is increasingly employing GPS telemetry in order to determine animal movement. However, GPS systems record position intermittently, providing no information on latent position or track tortuosity. High frequency GPS have high power requirements, which necessitates large batteries (often effectively precluding their use on small animals) or reduced deployment duration. Dead-reckoning is an alternative approach which has the potential to 'fill in the gaps' between less resolute forms of telemetry without incurring the power costs. However, although this method has been used in aquatic environments, no explicit demonstration of terrestrial dead-reckoning has been presented.
Results
We perform a simple validation experiment to assess the rate of error accumulation in terrestrial dead-reckoning. In addition, examples of successful implementation of dead-reckoning are given using data from the domestic dog Canus lupus, horse Equus ferus, cow Bos taurus and wild badger Meles meles.
Conclusions
This study documents how terrestrial dead-reckoning can be undertaken, describing derivation of heading from tri-axial accelerometer and tri-axial magnetometer data, correction for hard and soft iron distortions on the magnetometer output, and presenting a novel correction procedure to marry dead-reckoned paths to ground-truthed positions. This study is the first explicit demonstration of terrestrial dead-reckoning, which provides a workable method of deriving the paths of animals on a step-by-step scale. The wider implications of this method for the understanding of animal movement ecology are discussed.
Keywords
Step lengthdead reckoninganimal movementGPSterrestrial
Background
Animal movement interests animal biologists because, inter alia, it determines the success of individuals in obtaining resources, avoiding predation, maximising fitness and managing energetic profitability [1–3]. The success of individuals modulates populations and drives evolution and the diversity of life [4]. There are also numerous practical benefits to understanding animal movement, such as predicting the impact of land use changes, control of invasive and pest species, conservation of endangered species and foreseeing the spread of zoonotic diseases [5–8].
Obtaining the required information on animal movements is far from trivial, however, as many species operate in environments that preclude them from being observed (e.g. [9, 10]). Many biotelemetry methods deal with this [11] because they obviate the need for visual contact between researcher and study animal. The two methods most frequently applied in terrestrial environments for obtaining animal location data are VHF and GPS telemetry [12, 13]. Both however, have their limitations [14]; VHF is an established method, but requires significant field effort to implement [15] while GPS telemetry is considered to be 'accurate' [16] but prone to bias according to the environment [17, 18], particularly with regard to vegetation [19] and landscape topography [20]. In addition, the high current drain of GPS systems necessitate large batteries when recording at high sampling rates, which limits use on smaller species [21–23], or restricts researchers to deployments of shorter duration [24]. Analysis of data obtained by both methods assumes straight line travel between temporally infrequent positions [25] even though much animal movement is known to be highly tortuous [26]. Clearly, there is a need for fine-scale animal movement data in both space and time so that animal movement models can better reflect the true nature of animal movement (c.f. [27]).
In fact, the only biotelemetric method purported to produce fine scale (i.e. >1 Hz) terrestrial animal movement data is dead-reckoning [28–30] which may resolve movement so finely that it can even be used to infer behaviour [31]. Dead-reckoning calculates the travel vector for a given time interval using information on heading, speed and change in the vertical axis [32]. Once this is achieved, the three dimensional movement path can be reconstructed by integrating the vectors in sequence [33–35]. Because data are recorded by sensors on board an archival logger, its efficacy is unaffected by the permissiveness of the environment [17, 18] which is important for obtaining accurate, unbiased data [36, 37]. In addition, archival loggers require considerably less power than GPS systems. Typically, a GPS running at 1 Hz may require between 30 and 50 mA of current, where as a modern iteration of the daily diary recording tri-axial acceleration and magnetometer data at 40 Hz requires only 5–10 mA of current (Holton, pers. comm.)
Dead-reckoning has been employed for tracking aquatic species [30, 33, 35, 38–40] but is yet to be used for species that utilise terrestrial locomotion. This is partly because of the difficulty for determining the speed of terrestrial animals [41], a process which is simpler underwater where mechanical methods can be used due to the density and viscosity of water [42–50]. However, an ability to estimate speed reliably for land animals should, in fact, make terrestrial dead-reckoning more straightforward than for aquatic or volant species [38] because terrestrial movement is not subject to drift due to air flow [51] or ocean currents [33]. Thus, the primary difficulty for terrestrial dead-reckoning may simply be the measurement of speed, and, were this to be provided, that this approach should provide a means to determine latent positions of animals between less frequent location data obtain by other means of telemetry [38].
Recently though, Bidder et al. [52] have shown that dynamic acceleration, as measured by animal borne inertial sensors, provides a means to estimate speed by proxy. Although the relationship between speed and dynamic acceleration can be perturbed by variations in substrate and incline [53], potential cumulative errors such as these [31, 38] could be corrected by periodic ground-truthing by a secondary means of telemetry. Indeed, this remains the most workable theoretical solution for terrestrial dead-reckoning, with the additional benefit that the use of accelerometers also enables behavioural analysis [54–56]. However, the terrestrial dead-reckoning method and the procedure for correcting tracks to verified positions has yet to be illustrated explicitly.
The present study details how terrestrial dead reckoning can be achieved using a novel correction method that couples accelerometer and magnetometer data to periodic ground-truths, obtained by a secondary means such as GPS telemetry.
The dead-reckoning procedure for terrestrial animals
There are a number of stages required to obtain animal travel paths using dead-reckoning (Fig.
1
), which require concurrent data from an animal-attached tag containing accelerometers and magnetometers with tri-axial orthogonal sensors recording at infra-second rates (e.g. typically >10 Hz). The stages are treated sequentially in detail below with brief discussion on potential system errors before the approach is trialled on animals to demonstrate performance.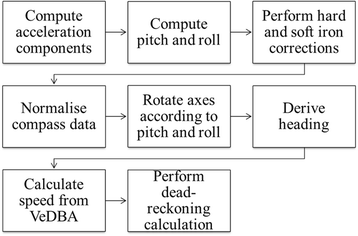 Results and Discussion
Validation of terrestrial dead-reckoning
In order to validate the dead-reckoning technique we performed a simple experiment at Swansea University, UK. A human participant was equipped with a Samsung Galaxy S5 set to record GPS position every second and Accelerometer and Magnetometer data at 30 Hz. In addition, the participant's position was logged simultaneously using a video camera. Geo-referenced points were obtained by performing a perspective transformation to acquire a top-down view. We manually labelled the position of the participant on each frame of the video, and then transformed the points using known reference positions to latitudinal and longitudinal coordinates. The participant walked a grid pattern within a 40 m by 20 m area on a grass playing field, in front of the camera's field of view. The GPS data obtained was not sufficiently accurate in this instance to be used for ground-truthing the dead-reckoned track (see Fig.
8
panel b). The video positions were sub-sampled down to a position every 1, 2, 5, 10, 15 and 20 s and the dead-reckoning procedure was performed using each of these data sets for ground-truthing. The distance between the dead-reckoned positions during the latent periods (i.e. the periods between ground-truth correction) and the concordant video-derived positions (the complete, continuous data without sub sampling) was measured and termed the Distance Error. Figure
8
shows a comparison of the tracks dependent on the frequency of ground-truthing. GPS alone did not accurately reproduce the true pattern of movement at this scale. Figure
9
shows the mean Distance Error over the entire experiment at each of the ground-truthing frequencies. As expected, mean Distance Error increased with longer ground-truth intervals. Using a linear regression, we estimate the error accumulation rate to be 0.194 m per second between ground-truth corrections. At this stage, this figure is merely advisory as the error accumulation of terrestrial dead-reckoning is likely to be highly variable according to animal behaviour, surface type and track tortuosity [
38
,
53
]. Further controlled trials are required to explore this issue. A video of this validation trial, comparing the track calculation according to different ground-truthing frequencies, is available in the supplementary information (see Additional File
1
).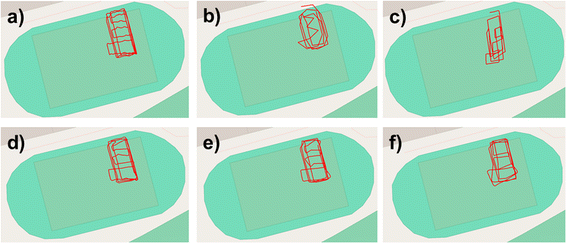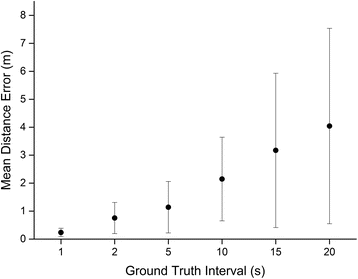 Example studies on animals
The viability of the dead-reckoning procedure will be dependent on a large number of particularities (such as the terrain and the quality and frequency of the GPS fixes etc.) associated with the study animal in question. Thus, we present example results of dead-reckoning systems, deployed largely on domestic animals so as to be able to derive errors more readily, to give a general idea of the suitability of this procedure to determine terrestrial animal movements.
'Daily Diary' accelerometer loggers (wildbyte-technologies, Swansea, UK) and 'i-gotU' GPS data loggers (Mobile Action, Taipei City, Taiwan) were used to record both location and movement in a domestic dog (Canis lupus familiaris), horse (Equus ferus caballus), cow (Bos Taurus) and a badger (Meles meles) in deployment periods that lasted up to approximately 24 h. Loggers were attached using a leather neck collar to the badger and dog, to the saddle pad of the horse and by a surcingle-belt to the cow. Daily diaries recorded at 40Hz. GPS loggers recorded every 5 s for horse and dogs, 20s for cattle and every 60 min for badgers. Daily diaries weighed 28.0 g and had dimensions 46 × 19 × 39 mm. GPS loggers weighed 21.2 g and had dimensions 13 × 43 × 27 mm. The battery longevity for both the accelerometers and the GPS loggers was approximately 10 days.
Conclusions
Dead-reckoning has the potential to record the fine scale movement of terrestrial animals. To obtain the same level of detail from GPS telemetry alone, devices would require large amounts of power and could induce bias at small scales. Despite dead-reckoning having been employed on aquatic species, numerous methodological barriers restricted its use on terrestrial species. This study is the first explicit demonstration of terrestrial dead-reckoning and should provide adequate information to be used by those researchers of terrestrial species that are currently limited to temporally sparse GPS telemetry. These continuous, fine scale dead-reckoned tracks should record animal movement on a step by step basis, providing a complete account of animal location and movement. Initially, estimation of speed for integration in dead-reckoning calculations was problematic for terrestrial animals, but this issue has been largely overcome by use of accelerometers and a novel correction method that makes use of secondary ground truth positions. This technique has the potential to develop our understanding of animal movement ecology, and inform movement models that better reflect the true nature of animal movement patterns.
Availability of supporting data
A video detailing the dead reckoning validation experiment and illustration of results depending on different correction regimes is available in Additional File 1.
Declarations
Acknowledgements
OB was funded by a KESS PhD studentship and an Alexander von Humboldt Post-Doctoral Fellowship. JSW was funded by an EPSRC doctoral training grant. IEM and EAM were funded by PhD studentships from the Department of Employment and Learning (DEL) and the Department of Agriculture and Rural Development (DARD), Northern Ireland, respectively. Thanks go to Megan Woodhouse for her assistance in data collection on the horse.
Open AccessThis article is distributed under the terms of the Creative Commons Attribution 4.0 International License (http://creativecommons.org/licenses/by/4.0/), which permits unrestricted use, distribution, and reproduction in any medium, provided you give appropriate credit to the original author(s) and the source, provide a link to the Creative Commons license, and indicate if changes were made. The Creative Commons Public Domain Dedication waiver (http://creativecommons.org/publicdomain/zero/1.0/) applies to the data made available in this article, unless otherwise stated.
Authors' Affiliations
(1)
Institut für Terrestrische und Aquatische Wildtierforschung, Stiftung Tierärztliche Hochschule, Büsum, Germany
(2)
Department of Computer Science, College of Science, Swansea University, Swansea, UK
(3)
College of Engineering, Swansea University, Swansea, UK
(4)
Faculté des Sciences de la Vie, Master d'Ecophysiologie et Ethologie, Université de Strasbourg, Strasbourg Cedex, France
(5)
School of Biological Sciences, Institute for Global Food Security, Queen's University Belfast, Belfast, UK
(6)
Swansea Lab for Animal Movement, Biosciences, College of Science, Swansea University, Swansea, UK