Summing the strokes: energy economy in northern elephant seals during large-scale foraging migrations
Received: 2 April 2015
Accepted: 26 August 2015
Published: 15 September 2015
Abstract
Background
The energy requirements of free-ranging marine mammals are challenging to measure due to cryptic and far-ranging feeding habits, but are important to quantify given the potential impacts of high-level predators on ecosystems. Given their large body size and carnivorous lifestyle, we would predict that northern elephant seals (Mirounga angustirostris) have elevated field metabolic rates (FMRs) that require high prey intake rates, especially during pregnancy. Disturbance associated with climate change or human activity is predicted to further elevate energy requirements due to an increase in locomotor costs required to accommodate a reduction in prey or time available to forage. In this study, we determined the FMRs, total energy requirements, and energy budgets of adult, female northern elephant seals. We also examined the impact of increased locomotor costs on foraging success in this species.
Results
Body size, time spent at sea and reproductive status strongly influenced FMR. During the short foraging migration, FMR averaged 90.1 (SE = 1.7) kJ kg−1d−1 – only 36 % greater than predicted basal metabolic rate. During the long migration, when seals were pregnant, FMRs averaged 69.4 (±3.0) kJ kg−1d−1 – values approaching those predicted to be necessary to support basal metabolism in mammals of this size. Low FMRs in pregnant seals were driven by hypometabolism coupled with a positive feedback loop between improving body condition and reduced flipper stroking frequency. In contrast, three additional seals carrying large, non-streamlined instrumentation saw a four-fold increase in energy partitioned toward locomotion, resulting in elevated FMRs and only half the mass gain of normally-swimming study animals.
Conclusions
These results highlight the importance of keeping locomotion costs low for successful foraging in this species. In preparation for lactation and two fasting periods with high demands on energy reserves, migrating elephant seals utilize an economical foraging strategy whereby energy savings from reduced locomotion costs are shuttled towards somatic growth and fetal gestation. Remarkably, the energy requirements of this species, particularly during pregnancy, are 70–80 % lower than expected for mammalian carnivores, approaching or even falling below values predicted to be necessary to support basal metabolism in mammals of this size.
Keywords
AccelerometerAerobic dive limitBody sizeDisturbanceField metabolic rateForagingHypometabolismLocomotionPregnancy
Background
Upper-trophic-level predators are important components of food webs, having disproportionate, landscape-level effects on the structure and function of ecosystems [1, 2]. Recent reductions in many species of large marine carnivores, including marine mammals, sharks and piscivorous fishes, have prompted calls for effective ecosystem-based management targeted at recovering depleted populations, while proactively protecting intact populations from decline [3–5]. As a result, many studies have focused on describing the distributions and foraging success of these groups in relation to habitat features [e.g., 6] and prey distributions [e.g., 7] with little information available on the basic resource needs of these species. Assessing the prey requirements of high-level predators is also central to determinations of how resilient they might be to ongoing anthropogenic disturbance and rapid environmental change [8]. In contrast to many terrestrial systems, information on energy requirements is difficult to come by for marine animals because they forage at sea, making their food habits and foraging behaviors challenging to directly measure.
In general, marine mammals have large energy requirements that are thought to be driven by the relatively large metabolic demands prescribed by carnivory [9] and the maintenance of a high core body temperature in water [10]. Foraging effort will reflect these requirements, and will contribute to energetic demands via the costs associated with locating, chasing and capturing prey [11]. To remain in positive energy balance, the energy acquired from foraging must exceed the energetic cost of foraging [12]. More successful foragers will accumulate surplus energy to allocate towards somatic growth and reproduction, and thus, a high foraging efficiency via the minimization of energy expenditure relative to energy gain is expected to be adaptive for all animals, and especially for predators with large energy requirements. Marine animals can minimize locomotion costs by adoption of stereotyped swimming behaviors. For example, "widely foraging" [13] individuals regularly engage in specific swimming modes [14], swim at particular speeds and depths [15], and utilize energy-saving swimming strategies like drift diving [16, 17], burst-and-glide swimming [18], porpoising [19] and wave-riding [20]. The disruption of these routine behaviors should increase the amount of time and energy spent foraging, resulting in increased locomotory costs and less energy devoted to production, thereby reducing foraging success.
The ecology of the northern elephant seal,
Mirounga angustirostris
, (Fig.
1
) facilitates acquisition of foraging behavior data using archival tagging instrumentation, making it an ideal study species to address questions on the effects of both natural and anthropogenic disturbance on the foraging success of marine carnivores. Every year, adult females return to land for one month in between each of two foraging migrations, once to birth and nurse a pup, and once to molt their pelage [
21
]. Females are inseminated just prior to weaning, and then return to sea to forage for 2–2.5 months before hauling out for the molt. Implantation likely occurs during or after the molt, when seals return to sea for 7–8 months to forage and gestate the fetus. The demands for foraging success are considerable during this time, as pregnant seals must ingest sufficient energy to replace what was lost during the molt as well as store sufficient energy reserves to support the fasting mother and her suckling pup during the costly month-long lactation period [
22
].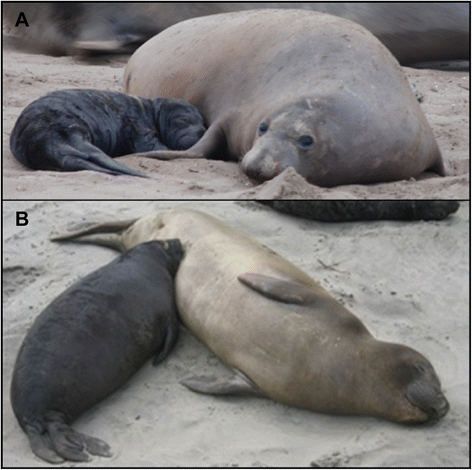 Our objectives in this study were to determine the total energy requirements, and the relative partitioning of energy among competing demands, for adult female northern elephant seals under normal foraging conditions. We compare these data to those from 3 seals encountering increased foraging costs due to increased drag, to determine how the disruption of stereotyped locomotory behaviors affects energy balance. To achieve this, we constructed complete energy budgets by coupling measurements of foraging success (energy gain) during each foraging migration with empirical measurements of locomotion costs in free-swimming seals [23]. For one of the largest predators in the northern Pacific Ocean, we describe (1) increased, extreme energy economy as a function of pregnancy and/or time spent at sea; (2) strong, predictive relationships between body size, flipper stroking mechanics, and at-sea energy expenditure; and (3) reduced foraging success when stereotyped, energy-saving swimming behaviors are disrupted.
Conclusions
By accounting for each of the costs associated with foraging, we can assess the efforts free-living animals spend acquiring resources, and thus, their overall energy requirements [12, 63]. Although estimates of FMR have been made for fin [60] and minke whales [61], the seals in our study represent the largest carnivores measured empirically. Northern elephant seals have adopted a foraging strategy that utilizes a high degree of extreme energy economy, with FMRs that are (1) 70–80 % lower than predicted for carnivores of their size [52]; (2) 35–60 % lower than predicted for marine mammals of their size [12]; and (3) 25–40 % lower than what has been measured in freely-diving Weddell seals of similar size, and for similar diving durations [44]. Body mass was the most important determinant of FMR in our study, with a particularly dramatic effect of pregnancy such that, in the largest long-trip seals, Kleiber predictions of mammalian basal metabolism actually overestimated total at-sea energy expenditure. Pregnant seals were able to suppress their FMRs as body condition improved, thereby reducing the frequency of flipper strokes, and also by further reducing basal maintenance metabolism by an additional 22 % compared to non-pregnant seals during the short trip. The very efficient FMRs of seals during both the short (1.4x Kleiber) and long migrations (1.1x Kleiber) likely represent fattening strategies in preparation for the high energy demands of a month-long fast while molting and nursing, respectively. In contrast to normally-swimming seals, those instrumented with bulky, non-streamlined acoustic tags experienced elevated FMRs as a result of increased locomotion costs, significantly reducing foraging success and the net energy available for mass gain in these seals. Collectively, these results suggest that elephant seals keep overall energy requirements, and thus prey requirements, relatively low during their foraging migrations by engaging in adaptively stereotyped flipper stroking behaviors that minimize locomotion costs and, most likely, maintenance metabolism while diving. Minimization of these work costs frees up more of the energy ingested from prey items for fuelling of production, namely, accumulation of energy reserves for support of maintenance metabolism while fasting on land, and for pregnant seals, gestation and lactation.
Data accessibility
All data used are present in the manuscript and its supporting information.
Abbreviations
ADL:

Aerobic dive limit
cADL:

Calculated aerobic dive limit
BMR:

Basal metabolic rate (kJ kg−1 d−1)
DAS:

Time spent at sea (d−1)
DG:

Drag treatment; refers to seals carrying added drag during the short foraging migration
DMR:

Diving metabolic rate (kJ kg−1 d−1)
FMR:

Mass-specific field metabolic rate (kJ kg−1 d−1)
FMR*:

Absolute field metabolic rate (kJ d−1)
HIF:

Heat increment of feeding
LT:

Long trip; refers to seals during the long foraging migration (pregnant)
R:

Stroke rate (strokes d−1)
Sn:

Total number of strokes
ST:

Short trip; refers to seals during the short foraging migration (not pregnant)
TDR:

Time-depth recorder
Declarations
Acknowledgements
The authors would like to thank the Japan Society for the Promotion of Science for Grant-in-Aid 23255001 (A: 23255001 and B: 21380128) and the Tagging of Pacific Predators (TOPP) project. Partial funding was also received from the Office of Naval Research (N00014-03-0651, N00014-10-1-0356, N00014-13-1-0134), the Moore, Packard and Sloan Foundations, and the E & P Sound and Marine Life Joint Industry Program (contract JIP22 07–23). JLM received additional support from a fellowship and several small grants administered by the Ecology and Evolutionary Biology Department at the University of California in Santa Cruz (UCSC). All procedures were approved by the Institutional Animal Care and Use Committee at UCSC, and the US NMFS (permits 87-1743-04 and 14636). The authors are grateful for the numerous field volunteers involved in data collection, particularly field crew leaders M. Fowler, C. Goetsch, L. Hückstadt, S. Peterson and P. Robinson. Gratitude is also extended to the rangers and docents at the Año Nuevo State Reserve for their collaborative spirit, their continued support of research, and their genuine regard for the animals in their care.
Open AccessThis article is distributed under the terms of the Creative Commons Attribution 4.0 International License (http://creativecommons.org/licenses/by/4.0/), which permits unrestricted use, distribution, and reproduction in any medium, provided you give appropriate credit to the original author(s) and the source, provide a link to the Creative Commons license, and indicate if changes were made. The Creative Commons Public Domain Dedication waiver (http://creativecommons.org/publicdomain/zero/1.0/) applies to the data made available in this article, unless otherwise stated.
Authors' Affiliations
(1)
Department of Ecology & Evolutionary Biology, University of California, Santa Cruz, USA
(2)
Department of Polar Science, Graduate University for Advanced Studies, Tachikawa, Japan
(3)
National Institute of Polar Research, Tachikawa, Japan
(4)
Department of Biology, Sonoma State University, Rohnert Park, USA
(5)
Department of Fisheries & Wildlife, Marine Mammal Institute, Oregon State University, Newport, USA
(6)
University of California Center for Ocean Health/Long Marine Lab, Santa Cruz, USA