Is there a single best estimator? Selection of home range estimators using area-under-the-curve
Received: 26 September 2014
Accepted: 22 December 2014
Published: 16 April 2015
Abstract
Background
Global positioning system (GPS) technology for monitoring home range and movements of wildlife has resulted in prohibitively large sample sizes of locations for traditional estimators of home range. We used area-under-the-curve to explore the fit of 8 estimators of home range to data collected with both GPS and concurrent very high frequency (VHF) technology on a terrestrial mammal, the Florida panther Puma concolor coryi, to evaluate recently developed and traditional estimators.
Results
Area-under-the-curve was the highest for Florida panthers equipped with Global Positioning System (GPS) technology compared to VHF technology. For our study animal, estimators of home range that incorporated a temporal component to estimation performed better than traditional first- and second-generation estimators.
Conclusions
Comparisons of fit of home range contours with locations collected would suggest that use of VHF technology is not as accurate as GPS technology to estimate size of home range for large mammals. Estimators of home range collected with GPS technology performed better than those estimated with VHF technology regardless of estimator used. Furthermore, estimators that incorporate a temporal component (third-generation estimators) appeared to be the most reliable regardless of whether kernel-based or Brownian bridge-based algorithms were used and in comparison to first- and second-generation estimators. We defined third-generation estimators of home range as any estimator that incorporates time, space, animal-specific parameters, and habitat. Such estimators would include movement-based kernel density, Brownian bridge movement models, and dynamic Brownian bridge movement models among others that have yet to be evaluated.
Keywords
Area-under-the-curveBrownian bridge movement modelsGlobal positioning systemsHome range estimatorsIsoplethKernel densitySchedule
Background
Recent advances in global positioning system (GPS) technology for monitoring wildlife have revolutionized data collection for spatial analysis of movements, home range, and resource selection. These datasets acquired with GPS technology are more copious and locations are more precise when compared to locational data collected using very high frequency (VHF) systems. Although published studies have reported on the reliability of home range estimators using datasets collected with VHF technology [1,2], few have identified the potential issues of estimating home ranges using the expansive datasets often collected with GPS technology [3,4]. Considering most traditional estimators of home range were developed for VHF datasets that typically consist of fewer than 100 locations and presumed to not be correlated in space and time, researchers are challenged with deciphering the most appropriate methods to estimate size of home range using GPS data sets that are often auto-correlated with extremely large sample sizes for a defined sampling period.
Concurrent with advances in GPS technology, alternative methods for estimation of home range have been developed to accommodate large numbers of auto-correlated relocations from GPS datasets. Amongst these are first-generation methods such as kernel density estimators that have proven capable of providing home ranges using large GPS datasets (KDE; [3-5]), although selection of the appropriate bandwidth for KDE is not always straightforward. Subsequent improvements in bandwidth selection have been developed for KDE using second-generation methods (e.g. solve-the-equation, plug-in; [5-7]). Local convex hull nonparametric kernel method (LOCO), which generalizes the minimum convex polygon method, was investigated for identifying hard boundaries such as water bodies and roads in home ranges but has not been evaluated with GPS datasets with >1,000 locations [8-10]. Brownian bridge movement models (BBMM) and dynamic Brownian bridge movement models (dBBMM) are ideal for GPS datasets when locations are collected in rapid succession – short time intervals between fix attempts producing locations that are serially correlated – because these methods incorporate time between successive locations into the utilization distribution estimation (hereafter referred to as third-generation estimators; [11-13]). An additional third-generation estimator, biased-random bridge, has been suggested as a movement-based KDE through location interpolation that include habitat-specific movement vectors [14,15]. Although these methods have all assisted with deriving more accurate estimation of home range with GPS datasets, developing a framework to assist with selecting the most appropriate estimator for each unique dataset is lacking in the literature.
Traditionally, the suggested estimator of home range was based on simulated datasets [16,17] that researchers cited as the sole justification for selecting KDE to estimate home range. Researchers would not attempt to identify the most appropriate estimator for their dataset but arbitrarily choose one to apply across all datasets. Coupled with the increased popularity of the freely available, open-source software Program R (R Foundation for Statistical Computing, Vienna, Austria; hereafter referred to as R), a method to determine the selection of an appropriate estimator for estimation of home range for wildlife is warranted.
Recently, area-under-the-curve (AUC) was assessed as an analytical means of choosing the most appropriate estimator of home range for an avian and mammalian species [10]. The AUC provides a single relative metric of goodness-of-fit by assessing how location-specific data fit the contours or isopleths of the estimator. Although the "best" estimator has been attempted using simulated datasets, AUC is a more intuitive metric of fit and is able to provide a relative metric of best estimator based on location collection schedules, distribution of points over the landscape, and inherent species-specific differences in movements [18]. To assess the use of AUC to help select appropriate estimators of home range, we used relocations collected on Florida panther (panther; Puma concolor coryi) with GPS technology and concurrent VHF technology to explore relationships between 8 estimators of home range. Specifically, our objectives were to: (1) determine if AUC differed for estimators of home range between locations collected with GPS versus concurrent VHF technology and (2) assess factors that influence AUC for estimators of home range across a range of individual animals using GPS technology.
Results
Mean AUC differed among several estimators and technology type (Kruskal-Wallis
x
2
= 573.99,
df
=14,
P
< 0.001) with the highest AUC consistently occurring for GPS compared to VHF technology (Figure
2
). Mean AUC for GPS technology was highest for BBMM (mean = 0.982 ± 0.01 (SD)) and lowest for LOCO (mean = 0.916 ± 0.03 (SD); Figure
2
). Mean AUC for VHF technology was highest for dBBMM (mean = 0.942 ± 0.03 (SD)) and lowest for LOCO (mean = 0.887 ± 0.02 (SD); Figure
2
) but we were not able to estimate MKDE for VHF technology due to the irregular temporal duration and distances between locations with this method.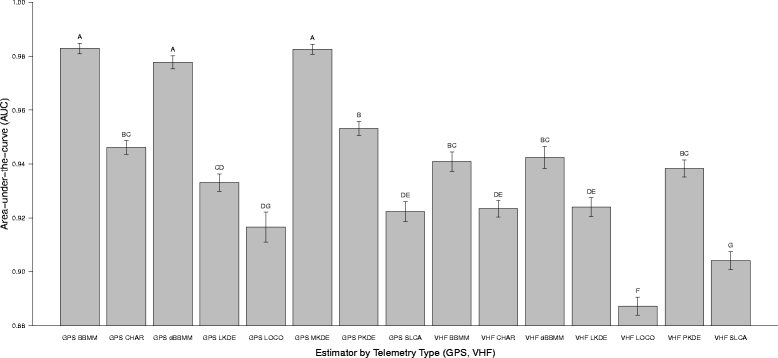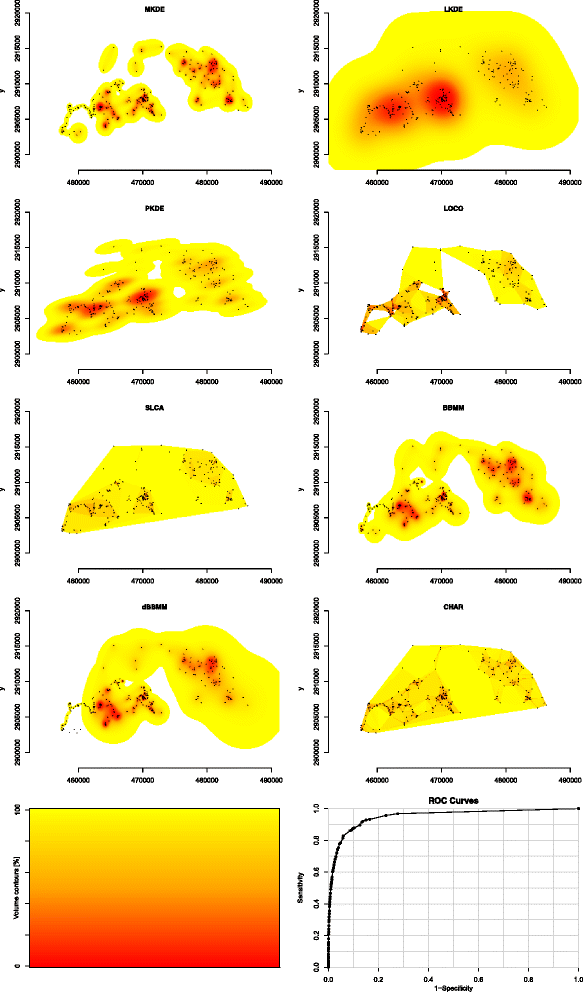 Our model with the most support included only the 8 estimator types with no additional covariates included (
w
i
 = 1.0; Table
1
). The global model that included all 5 covariates was the next most supported model but had a ΔAIC
c
>4.0 so was not considered further (Table
1
). Parameter estimates identified an increase in AUC for the BBMM, dBBMM, and MKDE estimators but a decrease with LOCO (Table
2
).
Table 2
Parameter estimates, standard error (SE), and 95% confidence intervals (CI) for parameters in the most supported model investigating the effect of covariates on the area-under-the-curve for Florida panther equipped with GPS technology from 2005 to 2013 in Southern Florida, USA
| Parameter | Estimates | SE | CI |
| --- | --- | --- | --- |
| Intercept | 2.550 | 0.108 | 2.337 to 2.762 |
| BBMM | 1.856 | 0.132 | 1.598 to 2.134 |
| CHAR | 0.368 | 0.147 | 0.079 to 0.657 |
| dBBMM | 1.474 | 0.132 | 1.216 to 1.732 |
| LKDE | 0.152 | 0.132 | −0.106 to 0.410 |
| LOCO | −0.083 | 0.141 | −0.387 to 0.165 |
| MKDE | 1.8642 | 0.132 | 1.606 to 2.122 |
| PKDE | 0.5673 | 0.132 | 0.309 to 0.825 |
Discussion
Data collected with VHF technology (i.e., intervals between successive locations spanning days to weeks) to estimate home range using third-generation estimators should be critically reviewed based on our comparison using concurrent GPS location data (i.e., typically <12 hours between locations) from the same animals. The AUC differed for estimators of home range determined using data collected with GPS compared to estimates of home range derived from concurrent VHF locations, which were typically estimated with 10% fewer locations (Additional file 1). Although GPS technology is more expensive to purchase initially, the high costs of aerial/ground-based location acquisition and the gains in data reliability, quantity, and reduced error far outweigh the disadvantages of relying on <100 locations collected with VHF technology, which then assumes that comparatively few locations represents the home range or space use of an animal [32].
There were clear differences in the fit of location data to isopleths of each home range estimator as determined through AUC using GPS technology. Kernel-based or Brownian bridge-based estimators appear to have the best fit to the data over polygon-derived estimators such as local convex hull and single-linkage cluster. Furthermore, polygon-derived estimators were limited in their capabilities of handling large GPS datasets over 1,000 locations and large voids in space use within the extent of a home range prevented estimation of home range for some panthers when using these estimators. Local-convex hull was considered an improved method that could identify hard boundaries such as roads or bodies of water and would exclude large unused space within the home range [8,9] but our results support previous studies that suggested local-convex hull has considerable limitations for sizeable datasets collected with GPS technology [10,33,34].
Estimators that incorporate a temporal component appeared to be the most reliable regardless of whether kernel-based or Brownian bridge-based algorithms were used. Researchers have identified numerous components of GPS data collection that should improve estimation of home range such as consistency in duration between locations (i.e., collection schedule), GPS error, and movement-specific parameters that could vary by individual [12-14]. Location-based kernel density estimators that are not able to incorporate temporal duration (i.e., LKDE, PKDE) were comparable to polygon-derived estimators with lower mean and greater variability in AUC further strengthening the suggestions that incorporation of a temporal component within an estimate of home range may improve resulting isopleths. Although the second-generation estimator (PKDE) yielded higher AUC than the first-generation estimator (LKDE), variability in AUC indicated that second-generation estimators of KDE may be less appropriate now that time and space can be incorporated into estimation of home range with GPS technology. These third-generation estimators of home range (e.g., MKDE, dBBMM) extend beyond traditional KDE by incorporating time, space, and animal-specific parameters in addition to habitat-specific movement vectors such as in MKDE. Additional estimators, such as time-geographic density estimation and time-local convex hull, may also prove to be more robust at providing reliable estimates of home range [35,36], although they have yet to be implemented in R or were not evaluated.
A caveat in our study is that we evaluated annual home ranges but we chose not to evaluate the influence of the extent of location data across the landscape and resulting estimation of home range on AUC. The variability in our data for some estimators may be attributed to using annual home range that incorporate animal-specific movements (e.g., seasonal migration, long-distance exploratory movements), when they are actually present, as opposed to shorter-duration seasonal home ranges. This issue may have resulted in poorer estimates for location-based KDE or polygon-derived estimators than third-generation estimators due to over-estimation of home ranges as previously reported (Figures
3
and
4
; [
16
,
29
]). Studies using location-based kernel estimators traditionally separated locations by season or pre-defined periods to avoid over-estimation of size of home range, however, third-generation-based estimators are able to account for large movements across the landscape to more accurately reflect a home range that may span several seasons or geographical extents. Furthermore, estimators of home range that incorporate animal-specific data or duration between locations into estimates of home range intuitively would appear to fit a movement trajectory better than location-based or polygon-derived estimators that "fill in" the gaps between clusters of locations [
3
,
14
].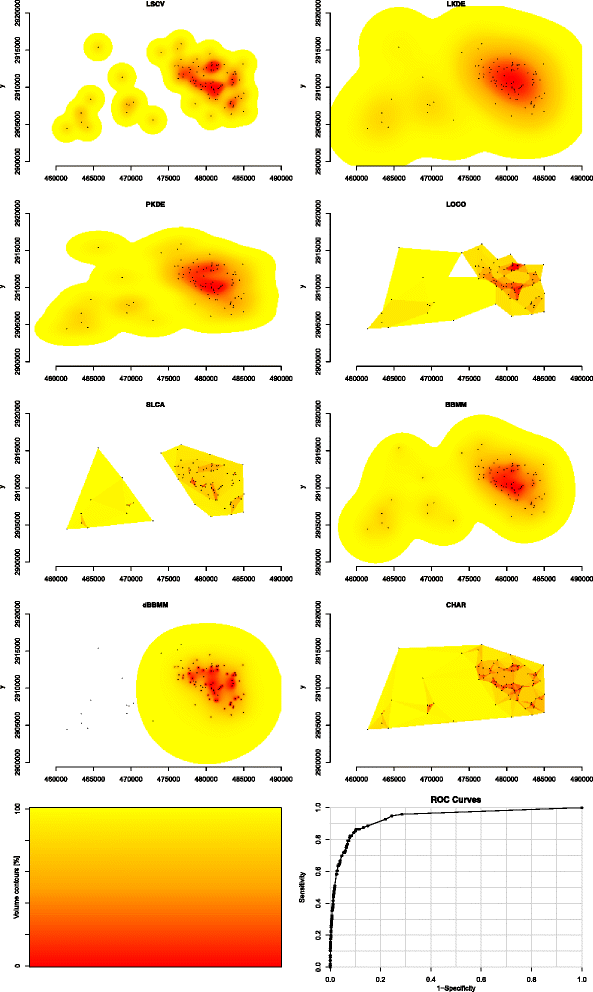 Conclusions
Our results indicated that locations collected with GPS technology consistently performed better than those collected with VHF technology to estimate home range and use of the latter in home range studies should be avoided. All estimators of home range performed better using GPS-based locations likely because several variables can affect estimation of home range using GPS location data (e.g., sample size of locations, duration between locations) and these variables can be directly accounted for within third-generation estimators. Development of these third-generation estimators were a result of GPS datasets and previous research suggesting that location-specific parameters and landscape characteristics influenced accuracy of estimates of size of home range [3,34,37]. Our focal species exhibited relatively large home ranges, but these ranges can have extensive areas that may not be used such as urban development or fenced roadways. Estimators that more accurately reflect the utilization of the landscapes by species, especially those that are endangered, is important to developing conservation initiatives that will assist with recovery. The extent of the available landscape a species travels across during a season or year should be considered and likely influenced AUC in our study. Further examination by study area across the range of a species or multiple species should be explored to further assess landscape-level covariates that may influence selection and accuracy of third-generation estimators of home range. The availability of third-generation estimators and inconsistency of first- and second-generation estimators in determining size of home range along a range of sample sizes and individual panther in our study would appear to justify exclusive use of and evaluation of third-generation methods as estimators of home range using GPS technology.
Abbreviations
GPS:

Global positioning system
VHF:

Very high frequency
KDE:

Kernel density estimator
LOCO:

The local convex hull nonparametric kernel method
SLCA:

Single-linkage cluster
CHAR:

Characteristic hull
LKDE:

Kernel density estimator with reference bandwidth
PKDE:

Kernel density estimator with plug-in bandwidth
MKDE:

Movement-based kernel density estimator
BBMM:

Brownian bridge movement models
dBBMM:

Dynamic Brownian bridge movement models
AUC:

Area-under-the-curve
Declarations
Acknowledgments
We would like to acknowledge the citizens of Florida who continue to support research and management on the Florida panther by the FWC via the purchase of Florida panther license plates. This study was funded in its entirety with panther license plate revenue accrued in the Florida Panther Research and Management Trust Fund. We recognize Roy McBride, the contracted houndsman for the FWC for >30 years, who continues to be an invaluable part of the FWC Panther Research Project. We thank the following individuals for their assistance and cooperation on different facets of panther research related to this study: M. Criffield, M. Lotz, M. Cunningham, D. Land, C. McBride, L. Oberhoffer, M. Alvarado, and D. Shindle. In addition, we extend our appreciation to the staffs at the Big Cypress National Preserve, Big Cypress Seminole Indian Reservation, Collier-Seminole State Park, Corkscrew, Audubon Corkscrew Swamp Sanctuary, Picayune Strand State Forest, Okaloacoochee Slough State Forest, and South Florida Water Management District for their continued support of our research and management efforts. We would like to thank G. Cumming for review of an earlier draft of this manuscript.
Any use of trade, firm, or product names is for descriptive purposes only and does not imply endorsement by the U.S. Government.
Authors' Affiliations
(1)
U.S. Geological Survey, Pennsylvania Cooperative Fish and Wildlife Research Unit, University Park, USA
(2)
Fish and Wildlife Research Institute, Florida Fish and Wildlife Conservation Commission, Naples, USA
(3)
United States Department of Agriculture, Animal and Plant Health Inspection Service, Wildlife Services, National Wildlife Research Center, Fort Collins, USA
Copyright
© Walter et al.; licensee BioMed Central. 2015
This is an Open Access article distributed under the terms of the Creative Commons Attribution License (http://creativecommons.org/licenses/by/4.0), which permits unrestricted use, distribution, and reproduction in any medium, provided the original work is properly credited. The Creative Commons Public Domain Dedication waiver (http://creativecommons.org/publicdomain/zero/1.0/) applies to the data made available in this article, unless otherwise stated.