Seasonal migrations of North Atlantic minke whales: novel insights from large-scale passive acoustic monitoring networks
Received: 11 July 2014
Accepted: 16 October 2014
Published: 18 November 2014
Abstract
Background
Little is known about migration patterns and seasonal distribution away from coastal summer feeding habitats of many pelagic baleen whales. Recently, large-scale passive acoustic monitoring networks have become available to explore migration patterns and identify critical habitats of these species. North Atlantic minke whales (Balaenoptera acutorostrata) perform seasonal migrations between high latitude summer feeding and low latitude winter breeding grounds. While the distribution and abundance of the species has been studied across their summer range, data on migration and winter habitat are virtually missing. Acoustic recordings, from 16 different sites from across the North Atlantic, were analyzed to examine the seasonal and geographic variation in minke whale pulse train occurrence, infer information about migration routes and timing, and to identify possible winter habitats.
Results
Acoustic detections show that minke whales leave their winter grounds south of 30° N from March through early April. On their southward migration in autumn, minke whales leave waters north of 40° N from mid-October through early November. In the western North Atlantic spring migrants appear to track the warmer waters of the Gulf Stream along the continental shelf, while whales travel farther offshore in autumn. Abundant detections were found off the southeastern US and the Caribbean during winter. Minke whale pulse trains showed evidence of geographic variation, with longer pulse trains recorded south of 40° N. Very few pulse trains were recorded during summer in any of the datasets.
Conclusion
This study highlights the feasibility of using acoustic monitoring networks to explore migration patterns of pelagic marine mammals. Results confirm the presence of minke whales off the southeastern US and the Caribbean during winter months. The absence of pulse train detections during summer suggests either that minke whales switch their vocal behaviour at this time of year, are absent from available recording sites or that variation in signal structure influenced automated detection. Alternatively, if pulse trains are produced in a reproductive context by males, these data may indicate their absence from the selected recording sites. Evidence of geographic variation in pulse train duration suggests different behavioural functions or use of these calls at different latitudes.
Keywords
Passive acoustic monitoring (PAM)Minke whales Balaenoptera acutorostrata MigrationPulse trainsSeasonalityGeographic variation
Background
Animal migration is a common phenomenon and has evolved at multiple times and in a variety of species [1]. Typically, migration develops as an adaptation to take advantage of seasonal peaks in resource abundance, escape inter- and intra-specific competition, or avoid predators and parasites [2]. Most baleen whale species perform to-and-fro migrations [3] between productive high latitude summer feeding and low latitude winter breeding grounds [4,5] and have been shown to cover very large distances, including the longest documented migration distance by any mammal [6]. The driving forces for these long-range migrations to often unproductive breeding grounds are still debated and a number of explanations have been suggested, including increased calf survival and avoidance of killer whale (Orcinus orca) predation [7]. However, there is also increasing evidence that partial (a fraction of the population stays on the feeding grounds) or differential (differences in migratory behaviour between different age classes or sexes) migration [3,8] might be more the norm than the exception in baleen whales. For example, several long-term passive acoustic monitoring (PAM) studies show the extended year-round presence of baleen whales on higher-latitude feeding grounds [9-12]. Nonetheless, at least parts of most populations of baleen whales seasonally migrate between summer feeding and winter breeding grounds [13-17].
Due to the high mobility of individuals, short surface times and the dependence on daylight and favorable weather conditions, it is generally difficult to visually survey for marine mammals. These limitations are intensified during migration, when their locations and movements are generally less predictable. Thus, baleen whale migration routes in the North Atlantic Ocean are still poorly understood for most species. In addition, while summer and winter destinations are fairly well described for the more coastally distributed species such as humpback (Megaptera novaeangliae) and right whales (Eubalaena glacialis) [18,19], little is known about the winter distribution of most other baleen whale species in the North Atlantic. For blue (Balaenoptera musculus) and fin whales (Balaenoptera physalus) there are some passive acoustic data indicating low latitude winter distributions [20,21], while more recent recordings also suggest year-round presence in higher latitudes [9,11]. Apart from these observations most knowledge on migration routes still originates from historical whaling records [22,23].
Such lack of data is not limited to baleen whales, but extends to other long-distance migrants that spend much of their lives in open ocean regions, such as sea turtles and pelagic seabirds [24,25]. Given current ocean-scale impacts of climate change and an increase in offshore, anthropogenic activities [26-28], a better understanding of migration timing and the location and extent of migration corridors of highly mobile marine mammals and other top predators is crucial for effective marine conservation efforts, which are currently concentrated in coastal habitats [24,29,30]. New methods such as statistical modeling, electronic tracking, as well as PAM are emerging as promising tools to gather such fundamental information on marine mammal movement and seasonal habitats [30-33].
Although North Atlantic minke whales (Balaenoptera acutorostrata) are well studied on their summer foraging grounds [34-38], large knowledge gaps exist concerning their distribution and abundance for much of the rest of the year. As far as it is known, their range extends from Baffin Bay to the Caribbean in the western North Atlantic and from the Barents Sea to the African continental shelf in the eastern North Atlantic [39,40]. Similar to the life cycle of other baleen whales, there is evidence of large-scale seasonal migrations between summer feeding in higher latitudes and winter breeding grounds in lower latitudes [39,41], but winter habitats have not been identified for this species. North Atlantic minke whales are currently listed as a species of least concern under the IUCN Red List [40], but are still commercially hunted in significant numbers in the North Atlantic. Based on limited data from feeding grounds, the International Whaling Commission (IWC) partitions North Atlantic minke whales into four discrete management areas: the Canadian East coast stock, the West Greenland stock, the Central stock (Iceland) and the Northeastern stock (Norway) [42]. However, there is increasing evidence for the possible existence of two breeding populations in the North Atlantic, but lack of genetic structure suggests extensive movements across and mixed assemblages at summer feeding grounds [43-45]. To confirm these data, it is important to establish the location of and obtain genetic samples from minke whale winter breeding grounds. This could have important impacts for the conservation of the species, because potential differences in genetic variability between breeding populations, for which the proportional representation in summer feeding and hunting grounds is unknown, may lead to overexploitation of small populations [43].
A general lack of winter sightings in coastal waters of the North Atlantic, reports of a few scattered sightings [
39
,
46
] and recent aerial surveys [
47
] observing minke whales east of the North American continental shelf-break, suggest an offshore distribution at that time of year. Recent satellite tracking data from Iceland show that individuals that feed in Icelandic waters during summer migrate south in the middle of the North Atlantic [
48
], corroborating passive acoustic detections at the Mid-Atlantic ridge [
49
] and offshore array data from the Integrated Undersea Sound Surveillance System (IUSS-SOSUS) that showed higher counts of individual singers in lower latitudes during winter [
50
]. Compared to the acoustic signals of other baleen whale species, until recently, minke whale sounds in the North Atlantic have not been studied extensively. While [
51
] described series of clicks in the 5–6 kHz range and [
52
] attributed low-frequency downsweeps (118–80 Hz) to the species, the best described sounds associated with North Atlantic minke whales are low-frequency pulse trains with variable interpulse interval (IPI) structure and peak frequencies from 55–150 Hz (Figure
1
) [
50
,
53
-
55
]. A recent long-term study of these pulse trains at Stellwagen Bank, USA demonstrated the feasibility of PAM to explore seasonal, diel and spatial occurrence patterns of this species [
55
]. With its obvious advantages in sampling remote areas over extended time periods regardless of weather conditions [
31
,
56
,
57
], PAM provides an effective tool for identifying the location and expanse of migratory corridors, especially when acoustic recorders are deployed in large spatial networks. In addition, PAM data can provide valuable information about the timing of migration periods and thus complement visual observations or satellite tracking data. Furthermore, in remote offshore areas PAM may be useful in delineating seasonally important habitats that are difficult to survey using other methods [
58
]. The main aims of this study were to explore the geographic and seasonal variation in minke whale pulse train occurrence across multiple sites in the North Atlantic Ocean in order to better understand minke whale seasonal and spatial movement patterns. Data from locations ranging from Nova Scotia to the Caribbean in the western North Atlantic were analyzed in detail, in order to describe migration timing and a possible migration corridor along the North American continental shelf. Data from Florida and the Caribbean were used to explore the suggested winter distribution of this species in waters off the southeastern US. Finally, geographic variation in minke whale pulse train structure was examined in order to investigate possible variation in minke whale acoustic behavior across regions.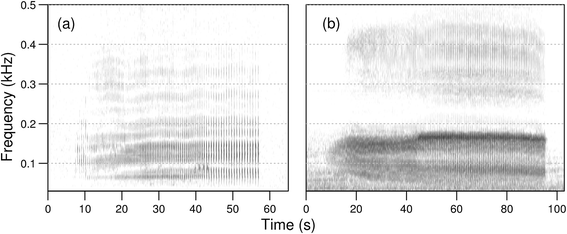 Results
Ambient noise analysis and estimated maximum detection ranges
Ambient noise levels within the 89.1–355 Hz frequency bands varied spatially and temporally (Table
1
). Overall, lowest median noise levels (93.09 dB re 1 μPa) were measured for Jacksonville (site 8, Figure
2
) and differed from the highest median levels (105.08 dB re 1 μPa) measured at Stellwagen Bank (site 4, Figure
2
) by 12 dB. Ambient noise levels for recording sites at Stellwagen Bank and New York (site 5, Figure
2
) were similar in all seasons. For both sites noise levels were higher during winter and spring, as compared to data from summer and autumn months. Based on these ambient noise level measurements, estimated detection ranges for minke whale pulse trains were compared between sites and seasons. While median detection ranges for sources at Stellwagen Bank and New York are between 7.6 and 17.2 km, median detection ranges for the Jacksonville site are about 10 km greater, ranging between 20.4 and 29.4 km (Table
1
, Figure
3
).
Table 1
Median, 25th and 75th percentile ambient noise levels (NL) measured as RMS pressure over ΔT = 600 s and over one-third octave bands 20–25 (89.1–355 Hz) for locations at Stellwagen Bank (site 4; SBNMS), New York (site 5; NY) and Jacksonville 2 (site 8, JAX) (see Figure 2 for overview map), across four seasons; and estimated maximum communication ranges based on a BELLHOP propagation model and the ambient noise levels above
| | Location (site) | Winter | Spring | Summer | Autumn |
| --- | --- | --- | --- | --- | --- |
| NL (RMS) | SBNMS (4) | 105.08 (103.08, 107.31) | 102.96 (100.50, 104.81) | 99.74 (97.80, 103.42) | 99.38 (97.01, 101.53) |
| (dB re 1 μPa [89.1–355 Hz]) | NY (5) | 104.10 (102.99, 106.08) | 103.19 (100.55, 105.52) | 96.07 (94.13, 98.83) | 100.10 (98.30, 102.04) |
| | JAX (8) | 93.12 (90.00, 95.28) | – | – | 93.09 (90.58, 99.89) |
| Range (km) | SBNMS (4) | 7.62 (5.26, 11.25) | 9.74 (7.01, 12.56) | 10.81 (7.68, 14.58) | 11.40 (9.02, 14.12) |
| | NY (5) | 9.45 (6.69, 13.61) | 12.49 (7.30, 20.55) | 17.18 (12.86, 20.95) | 12.95 (10.43, 16.42) |
| | JAX (8) | 20.40 (15.55, 25.55) | -- | -- | 29.47 (11.18, 40.16) |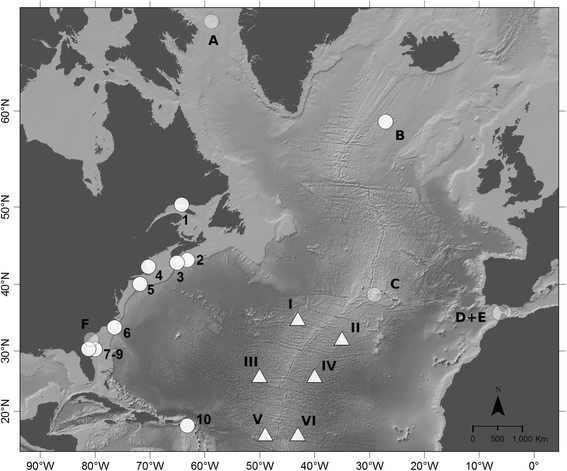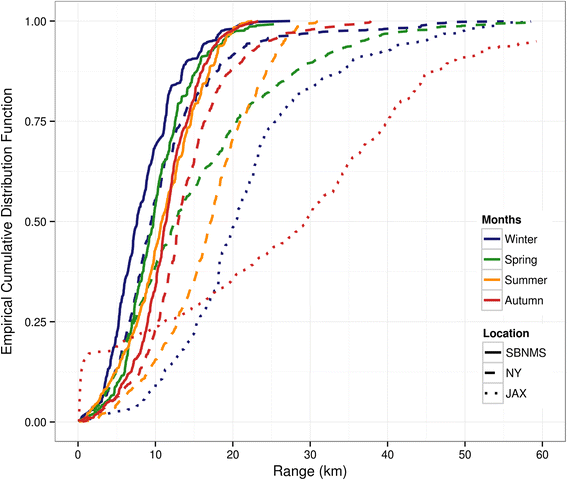 Seasonal and spatial variation of pulse train occurrence
A total of 3858 days of recordings were analyzed and 9411 minke whale pulse trains were detected during this analysis. The number of detections varied by geographic location and season. No pulse trains were detected in datasets from Davis Strait, the Azores, the Strait of Gibraltar or Savannah (sites A, C-F; Figure 2).
While most detections were made along the US east coast, where most the recording effort was located, one pulse train was detected on the recorder deployed off Southwest Iceland (site B; Figure
2
) on October 21st 2007, and 48 detections were made at the Saba Island site in the Caribbean during winter and spring (February to April; site 10; Figure
2
). The seasonal distributions of minke whale pulse trains for sites with at least five detections (sites 1–8 & 10; Figure
2
) are summarized in Figure
4
. During the 2.5 months of summer (June to August) recordings in the Gulf of St. Lawrence (site 1; Figure
2
) only five pulse trains were detected. Recording sites in Nova Scotia (sites 2 & 3; Figure
2
) and Stellwagen Bank (site 4; Figure
2
) all showed a peak in detections in autumn and early winter (early September to December). These sites had no detections in winter (late December to March), and only a few detections in spring and summer (April to August). In contrast, at the New York recording site (site 5; Figure
2
) a peak of detections occurred in spring (mid-March to mid-May). While there was no summer data available for this site, only a few detections occurred here in autumn and none in winter. In Onslow Bay (site 6; Figure
2
) most of the detections occurred during winter and spring (December to early April). No pulse trains were recorded from late April to early August and there was a gap in recording effort from late August to November. All recording sites in Jacksonville (sites 7–9; Figure
2
) had detections during winter. While recordings for site 8 were only available from September to October and December to January, site 7 had gaps in recording in February and August (Figure
4
).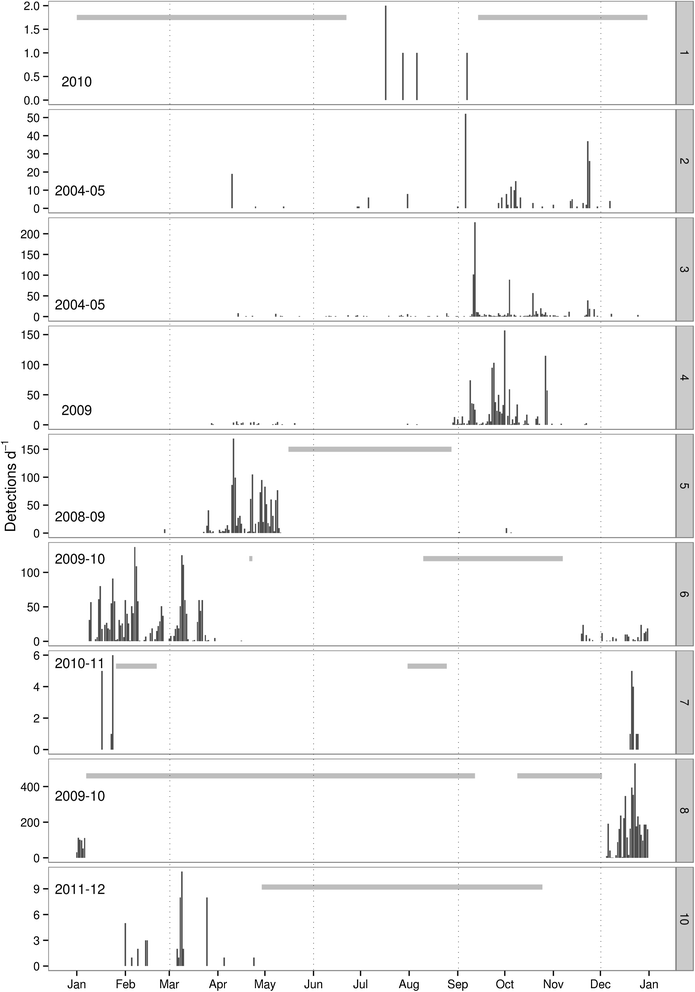 Exploring the spatial distribution of pulse train occurrence at the New York and Jacksonville recording sites (sites 5, 7–9; Figure
2
) revealed that at both recording locations the overwhelming majority of pulse trains were detected on the easternmost recording sites, which were located farthest from the coast and closest to the edge of the shelf break (Figure
5
).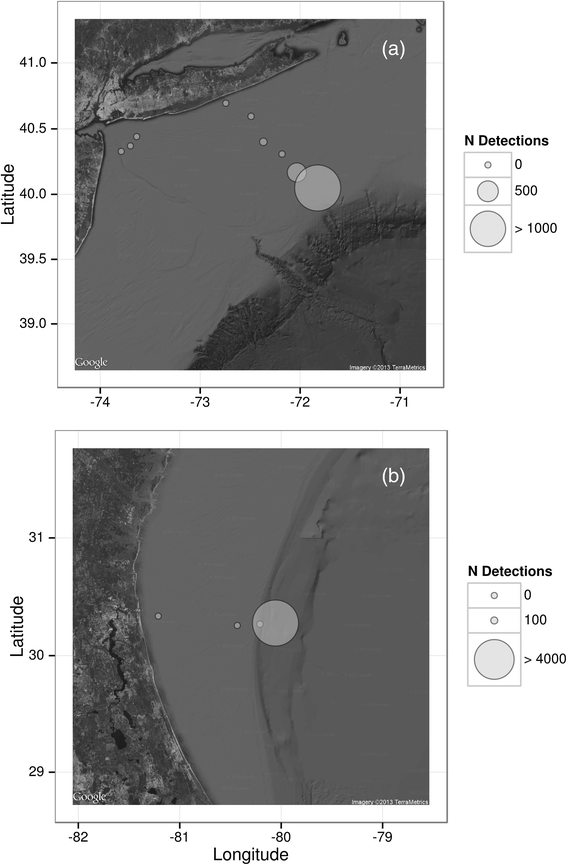 Geographic variation
Duration measurements were positively correlated with SNR for data from Jacksonville (R
2
 = 0.2094, p = 0.006) but not for Onslow Bay (R
2
 = 0.1274, p = 0.073) or Stellwagen Bank (R
2
 = 0.0164, p = 0.298) (Additional file
1
: Figure S1). The comparison of duration and number of pulses for pulse train type sd3 (Figure
1
) revealed significant differences between pulse trains recorded at Stellwagen Bank as compared to both Onslow Bay and Jacksonville (sites 4, 6, 8; Figure
6
). The null hypothesis that the duration and number of pulses is equal across the three different sites was rejected (Kruskal-Wallis test: (a) pulse duration:
Χ
2
 = 93.3, df = 2, p <0.001; (b) pulse number:
Χ
2
 = 90.1, df = 2, p <0.001). Comparisons between Stellwagen Bank and Onslow Bay, and Stellwagen Bank and Jacksonville, showed significant differences in both pulse duration, as well as the number of pulses per pulse train (p <0.001). No significant differences were found between pulse trains recorded in Onslow Bay compared to Jacksonville (p = 1). In general, pulse trains recorded at Onslow Bay (mean ± sd: 75.9 ± 13.5 s; 186.9 ± 37.3) and Jacksonville (76.5 ± 10.1 s; 191.3 ± 34.5) were longer and had more pulses per pulse train as compared to pulse trains recorded at Stellwagen Bank (39.9 ± 6.5 s; 85.4 ± 13.6).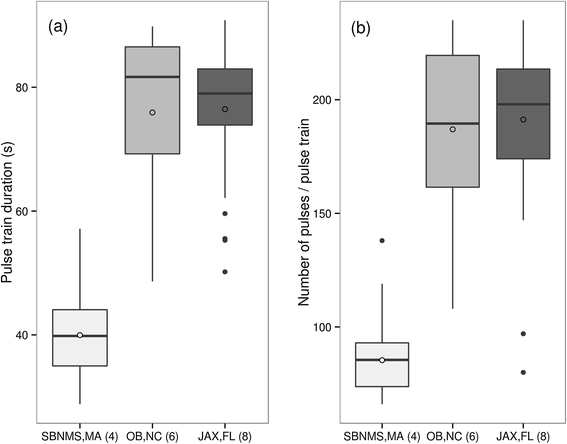 Conclusion
This study confirms the seasonal migration of North Atlantic minke whales offshore the eastern US continental shelf in spring and autumn and their winter presence in southeastern US and Caribbean waters. The identification of a potential breeding ground offshore of the southeastern US may enable more directed genetic sampling of this species in order to help elucidate population structure [43], with potentially important implications for current management of this species in the North Atlantic Ocean. Another important result of this study is the scarcity of pulse train detections north of 50° N during summer, when minke whales are abundant in coastal feeding habitats. These results either indicate a switch of vocal behaviour at this time of year, or, if signals are sex-specific, illustrates the sexual segregation of North Atlanic minke whales on their feeding grounds as described in earlier studies [86].
These results emphasize the feasibility of using passive acoustic monitoring (PAM) networks for investigating the spatial and seasonal distribution of pelagic baleen whale species that are difficult to survey by visual methods alone. However, in order to interpret these detection results beyond presence/absence of species and in the context of animal population density, there is a clear need for extended baseline data collection. Currently missing data include vocalization rates based on group size, in different behavioural contexts, by sex and age class, as well as data collected at different seasonal and spatial scales [99]. These data are extremely scarce for most marine mammal species. Yet, recent developments in technologies such as digital recording tags [88,100-102], as well as analysis techniques for localization and tracking of individual animals using passive acoustic data [103-105] may help to close some of these current data gaps in the future.
Methods
Acoustic data collection
Long-term acoustic data for this project were collected across multiple years and at 16 different sites throughout the North Atlantic Ocean using a variety of different recording packages (Figure 2, Table 2). Data availability and temporal consistency was limited by the goals of the various long-term monitoring projects, with differing analysis targets, which contributed data to this large-scale meta-analysis [11,55,58,106-109]. However, the main objective of this project was to explore large-scale migration and characterize the seasonal occurrence of minke whale pulse trains at different sites throughout the North Atlantic. Thus, recording periods were selected to maximize the overall spatial coverage and the seasonal coverage within each site, rather than to keep annual consistency. Table 2 summarizes recording locations, available recording days, recording schedules, sample rates and equipment types used. Most recording effort was concentrated along the United States (US) east coast and used four types of bottom-mounted recorders deployed in depths ranging from 17 to 800 meters (Figure 2). While most recorders sampled continuously at 2 kHz, some recordings were scheduled to record every 1.5 to 30 minutes and sampling rates ranged up to 200 kHz for some recorders (Table 2). All data were downsampled to 2 kHz before automatic detection and further data processing.
Declarations
Acknowledgements
Funding for this work was provided by: the U.S. National Science Foundation OPP Award (#0532611) to KS (Davis Strait data); NOAA Ocean Exploration grant NA06OAR4600100 (SW Iceland data), grant N00014-07-1-1029 awarded by the National Oceanographic Partnership Program (NOPP). This is PMEL Contribution #4249. Additional funding for analysis was provided by the U.S. Navy N45 Program and the NOAA Ocean Acoustics Program (Stellwagen Bank data); New York State Department of Environmental Conservation & NOAA Southeast Fisheries Science Center (New York & Jacksonville 3 data); Naval Facilities Engineering Command Atlantic (Onslow Bay & Jacksonville 1–2 data); WWF, NOAA Northeast Fisheries Science Center & Dutch Ministry of Economic Affairs (Saba Bank data); FCT, DRCTC, FEDER, COMPETE, QREN European Social Fund, POPH and Proconvergencia Açores Program through research projects TRACE (PTDC/MAR/74071/2006) and MAPCET (M2.1.2/F/012/2011) and a 2013 Investigator contract (IF/00943/2013) to MAS (Azores data); Ciudad de las Artes y las Ciencias S.A. and Consejería de Medio Ambiente de la Junta de Andalucía (Gibraltar data). We thank the following people and institutions for help with field work and/or data analysis: Richard Sears, Alain Carpentier, Brian Kot, Stefanie Werner and everyone at the Mingan Island Cetacean Study team 2010, Steve Geelhoed and crew of the Caribbean Explorer II, John Hildebrand, Dave Johnston, Melissa Soldevilla, Tim Boynton, Marc Lammers, all staff at the Bioacoustics Research Program at Cornell Laboratory of Ornithology, all staff at the Stellwagen Bank National Marine Sanctuary and crew of the RV Auk, Samara Haver, Michael Thompson and Erin LaBrecque. We thank Russ Charif and three anonymous reviewers for helpful comments on an earlier version of this manuscript.
Authors' Affiliations
(1)
Under Contract with Northeast Fisheries Science Center, National Marine Fisheries Service, NOAA, Woods Hole, USA
(2)
Scottish Association for Marine Science (SAMS), Scottish Marine Institute, Argyll, UK
(3)
National Marine Mammal Laboratory, Alaska Fisheries Science Center, National Marine Fisheries Service, NOAA, Seattle, USA
(4)
Bioacoustics Research Program, Laboratory of Ornithology, Cornell University, Ithaca, USA
(5)
Duke University Marine Laboratory, Beaufort, USA
(6)
Naval Facilities Engineering Command Atlantic, Norfolk, USA
(7)
IMARES Wageningen UR, Ecosystem Department, Den Burg, Netherlands
(8)
Centre for Marine Science & Technology, Curtin University, Perth, Australia
(9)
NOAA Pacific Marine Environmental Laboratory, Newport, USA
(10)
Cooperative Institute for Marine Resources Studies, Oregon State University, Newport, USA
(11)
Mingan Island Cetacean Study, Longue-Pointe-de-Mingan, Canada
(12)
MARE-Marine and Environmental Sciences Centre and IMAR-Institute of Marine Research, University of the Azores, Horta, Portugal
(13)
Biology Department, Woods Hole Oceanographic Institution, Woods Hole, USA
(14)
Institute for Terrestrial and Aquatic Wildlife Research, University of Veterinary Medicine Hannover, Foundation, Germany
(15)
Applied Physics Laboratory, University of Washington, Seattle, USA
(16)
Northeast Fisheries Science Center, National Marine Fisheries Service, NOAA, Woods Hole, USA
Copyright
© Risch et al.; licensee BioMed Central Ltd. 2014
This is an Open Access article distributed under the terms of the Creative Commons Attribution License (http://creativecommons.org/licenses/by/4.0), which permits unrestricted use, distribution, and reproduction in any medium, provided the original work is properly credited. The Creative Commons Public Domain Dedication waiver (http://creativecommons.org/publicdomain/zero/1.0/) applies to the data made available in this article, unless otherwise stated.