Applications of step-selection functions in ecology and conservation
Received: 15 August 2013
Accepted: 3 February 2014
Published: 7 February 2014
Abstract
Recent progress in positioning technology facilitates the collection of massive amounts of sequential spatial data on animals. This has led to new opportunities and challenges when investigating animal movement behaviour and habitat selection. Tools like Step Selection Functions (SSFs) are relatively new powerful models for studying resource selection by animals moving through the landscape. SSFs compare environmental attributes of observed steps (the linear segment between two consecutive observations of position) with alternative random steps taken from the same starting point. SSFs have been used to study habitat selection, human-wildlife interactions, movement corridors, and dispersal behaviours in animals. SSFs also have the potential to depict resource selection at multiple spatial and temporal scales. There are several aspects of SSFs where consensus has not yet been reached such as how to analyse the data, when to consider habitat covariates along linear paths between observations rather than at their endpoints, how many random steps should be considered to measure availability, and how to account for individual variation. In this review we aim to address all these issues, as well as to highlight weak features of this modelling approach that should be developed by further research. Finally, we suggest that SSFs could be integrated with state-space models to classify behavioural states when estimating SSFs.
Keywords
Step Selection Function SSF
Resource Selection Function RSF
Resource Selection Probability Function RSPF
GPS telemetry
State-space model
Broken stick model
Habitat selection
Geographic Information System GIS
Remote sensing
Individual modelling
Introduction
Step selection functions, SSFs – statistical models of landscape effects on movement probability
Quantifying movement using SSFs
Recent progress in positioning technology has facilitated the collection of large amounts of spatial data on animals. This has led to new opportunities to investigate resource selection by animals [1, 2], but also new challenges related to the development of proper tools for the analysis of these large amounts of information [3–5]. Resource Selection Functions (RSFs) and Resource Selection Probability Functions (RSPFs) are routinely used to model habitat selection by animals using data from Very High Frequency (VHF) and Global Positioning System (GPS) locations [6–9]. A RS(P)F is defined as any statistical model deployed to estimate the relative probability of selecting a resource unit versus alternative possible resource units [6]. Satellite telemetry allows collection of accurate relocations less than 1 minute apart [10]. Spatial data collected at such high frequency open new scenarios because they contain important information about behaviour and decisions made by animals while moving through the environment [11]. Studies using such fine-scale data and dealing with animal movement and resource selection can be used to answer fundamental ecological questions related to species distributions and diversity [6, 11–13], home range formation [14], and can result in important management tools for identifying movement corridors [15], key habitats [16], and responses to disturbance [17].
A new powerful modelling approach, namely the Step-Selection Function (SSF), has been developed to estimate resource selection by animals moving through a landscape [
11
]. The computations required are relatively easy to carry out with tools such as GME (
http://www.spatialecology.com/gme/
) that works with GIS programs. The SSF is strictly related to the RSF and the RSPF. A RSF
w
of a vector of predictor covariates,
x
 = 
x
1
,
x
2
,
x
3
, …,
x
n,
is any function proportional to the probability of selection of a spatial resource unit, depending on the frequency of used (f
u
) and available (f
a
) resource units. Basically, in the parametric case, a RSF is an exponential function given a sample of used and available resource units,
which corresponds to fu/fa for any x. To avoid misconception, selection is clearly based on used and available resource units, and not on used and unused ones. Compared to a RSF, a RSPF yields the actual probability that an available resource unit is selected and can be estimated using weighted distribution theory [18].
Including movement in selection models accommodates spatial and temporal constraints to a series of relocations, and allows the data to define the availability sample [
19
]. A RSF that includes movement can be estimated using an SSF [
20
]. Compared to RSFs, the key feature of SSFs is linking consecutive animal locations (most commonly taken at regular time intervals) that can be defined as steps [
21
] (Figure
1
). Used steps are contrasted with a limited domain of random steps that characterize what is 'available' to the animal during its movement through the environment [
15
]. SSFs are models where each step at time
t
is paired with one or more random steps with the same starting point (i.e., matched-case or conditional approach, Figure
1
) drawn at random from a distribution of step lengths and turning angles [
11
] (discussed in "
Calculating available steps"
). Define
μ
1
,μ
2,
…μ
n
,
to be the consecutive steps by the target animal. Let
x(u
i
) = (x
i1
, x
i2
,…,x
ip
)
denote the values of covariates (e.g., habitat characteristics) at step
μ
i
. Our objective is to determine how covariates affect the selection of these steps. As for the RSF, the SSF is exponential taking the form
w
(
x
) = exp(
βx
). Previously this corresponded to f
u
/f
a
but now for each
u
n
the available units are depending on
u
n-1
,u
n-2
,K
where K is the available step drawn from a distribution of step lengths and turning angles. The main advantage of using an SSF rather than other approaches (e.g., RSFs) is that SSFs may better model selection as movement is included and constrains selection and availability [
19
], which enables association of parameters of movement rules with landscape features.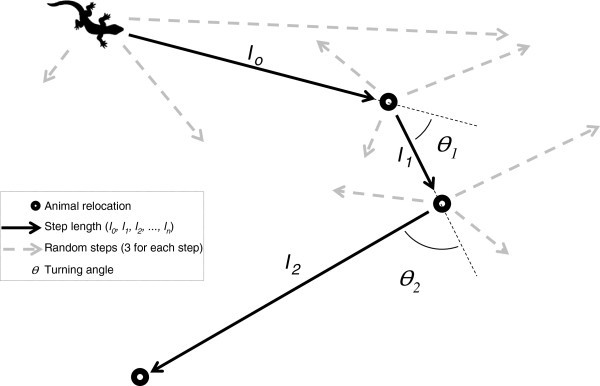 The aim of this paper is to review the SSF modelling approach, its applications and developments. In this first section, we clarify principal aspects of the technique. In the second section, we discuss the decisions practitioners' face when using SSFs. In the final sections, we identify aspects of SSFs that should see further development.
Conclusions
SSFs have a distinct advantage over regular RSFs because they include the serial nature of animal relocations and can associate parameters of movement rules with landscape features, and they can model the choices actually presented to the animal as it moves through the landscape [15]. However, as strong as the tool might be, there are several pitfalls that must be avoided in order to accurately capture behaviours and ecological processes. The properties and scale (fix rate) of steps (lines or endpoints), and the habitat measurements that are taken must be able to capture the relevant behavioural processes, and we recommend that analyses are carried out after thorough data exploration and with good knowledge of the behaviour and ecology of the target species.
So far few studies have taken into account the differences among individual animals. Mixed conditional models are one way to deal with this source of variability, especially if the sample size is moderate. However, if the data are sufficient to allow it, we believe individual modelling has more advantages, is simpler to carry out in conventional software, and has the potential to capture ecological processes that are considered random variation in conditional mixed-effects models.
A fix rate that has both the resolution and temporal extent to capture the studied behaviours is necessary, and we strongly recommend that researchers start by considering which scale they are interested in and at which scale they will access the covariate data. Then they can try with a fix-rate that is slightly high and do several preliminary analyses with rarefied data. Then they could re-set the fix rate to balance the trade off between a high fix rate and a long battery life of the GPS unit. As fix rate increases, the probability of autocorrelation between step length and turning angle will increase, and the influence of positional errors increase. This needs to be tested before further analysis is carried out; we recommend either to include this correlation in the process of selecting random steps or to assign behaviours to each step as per the broken-stick model and estimate one SSF per behaviour. In the future we believe that these processes could be integrated by using SSMs in the process of selecting random steps and thus to estimate SSFs where selection of a movement path depends on the positional locations themselves and the state of the animal.
Abbreviations
SSF:

Step selection function
RSF:

Resource selection function
RSPF:

Resource selection probability function
VHF:

Very high frequency
GPS:

Global positioning system
GIS:

Geographic information system
SSM:

State space model.
Declarations
Funding
We thank the Natural Sciences and Engineering Research Council of Canada (NSERC –CRD grants), Alberta Conservation Association (ACA – Grant Eligible Conservation Fund), Shell Canada, and Carl Tryggers Foundation for Scientific Research (Swedish Post-doc grant) for funding and support. The funders had no role in study design, data collection and analysis, decision to publish, or preparation of the manuscript. We thank three anonymous reviewers for thorough reviews that greatly improved the quality of this manuscript and Joshua Killeen for revising the English.
Authors' Affiliations
(1)
Department of Biological Sciences, University of Alberta, Edmonton, Canada
(2)
Department of Biometry and Environmental System Analysis, University of Freiburg, Freiburg, Germany
Copyright
© Thurfjell et al.; licensee BioMed Central Ltd. 2014
This article is published under license to BioMed Central Ltd. This is an open access article distributed under the terms of the Creative Commons Attribution License (http://creativecommons.org/licenses/by/2.0), which permits unrestricted use, distribution, and reproduction in any medium, provided the original work is properly cited.