Three-dimensional space use during the bottom phase of southern elephant seal dives
Received: 25 October 2016
Accepted: 18 August 2017
Published: 31 August 2017
Abstract
Background
In marine pelagic ecosystems, the spatial distribution of biomass is heterogeneous and dynamic. At large scales, physical processes are the main driving forces of biomass distribution. At fine scales, both biotic and abiotic parameters are likely to be key determinants in the horizontal and vertical distribution of biomass, with direct consequences on the foraging behaviour of diving predators. However, fine scale three-dimensional (3D) spatial interactions between diving predators and their prey are still poorly known.
Results
We reconstructed and examined the patterns of southern elephant seals 3D path during the bottom phase of their dives, and related them to estimated prey encounter density. We found that southern elephant seal tracks at bottom are strongly dominated by a single horizontal direction. In high prey density areas, seals travelled shorter distances but their track remained strongly orientated according to a main linear direction. Horizontal, and more importantly, vertical deviations from this main direction, were related negatively to the estimated prey density. We found that prey encounter density decreased with diving depth but tended to be more predictable.
Conclusion
Southern elephant seal behaviour during the bottom phase of their dives suggest that the prey are dispersed and distributed into layers in which their density relates to the vertical spread of the layer. The linear trajectories performed by the elephant seals would allow to explore the largest volume of water, maximizing the opportunities of prey encounter, while travelling great horizontal distances.
Keywords
Diving behaviourThree-dimensional path reconstructionPrey densityPrey distributionPrey patch
Background
Distributions of predators and prey are necessarily linked. Optimal foraging theory [1–3] predicts that a predator should seek out areas with high prey density while prey should avoid high predator density areas [4]. The correlation between the spatial distributions of predator and prey depends on the balance between the responses of one to another [5]. In the case of a mobile predator that feeds on a more static prey, the spatial distributions of the predator and of the prey are expected to be positively correlated [5]. For instance, diel vertical migrations performed by myctophids [6] are related to a similar pattern in the diving depth of elephant seals, Mirounga angustirostris [7] and M. lenonina [8–10]. Consequently, the hypothesis that movements of predators mimic the spatial patterns of their prey is commonly encountered in the bird and marine mammal literature. A typical example is the detection of Area-restricted search behaviour [11, 12] (ARS) from GPS tracks to infer the location and characteristics of important feeding areas of various marine predators [13–18].
Studying the distributions of predators and prey as well as their interactions is particularly challenging in the open ocean, because of the dynamic nature of this environment and the difficulty of observing the animals. In the last few decades, technological advances have driven the emergence of bio-logging as a way to simultaneously monitor the activity of free-ranging marine predators and sample their physical environment. The use of electronic devices embedded on free-ranging animals have provided novel insights into the foraging behaviour and habitat of marine predators at large and intermediate scales. For example, it has been highlighted that large and meso scale oceanographic structures such as fronts, eddies and filaments are of significant importance to the foraging ecology of top predators [19–25]. At fine scales, both biotic and abiotic parameters are likely to be key determinants in the dynamics of biomass distribution [26, 27], but these processes are still poorly understood. To study fine scale patterns in prey distribution, and their mechanistic relationships with predator behaviours, we used bio-logging data collected by southern elephant seals (SES) and focused our interest on the scale of a dive bottom phase. Indeed, this dive phase represents a fundamental organizational unit of the foraging strategy for many diving predators, including SES, where most of feeding occurs [28–34].
Southern elephant seals can dive at an average depth of 400 m (up to 2000 m, [35]) and explore a large extent of the water column. Their foraging strategy can be modified by adjusting both horizontal and vertical movements [31, 36, 37], therefore it is worth examining how the three spatial dimensions are involved in the interactions between diving predators and their prey. However, most studies investigating the space use by marine predators have either analysed animals' behaviour from their GPS track (time + 2D approach), or from time-depth data (time + 1D approach). Some efforts have been made to combine these two approaches – horizontal dimensions at surface and time-depth dive profiles – in order to examine the foraging strategies according to horizontal and vertical dimensions (time + pseudo 3D approach) [38–40]. However, a detailed understanding of how diving predators use their 3D spatial environment and interact with prey requires the actual reconstruction of their 3D path underwater. This is nowadays achievable using bio-logging data from large diving predators that are able to carry sophisticated loggers with minimal disturbance [36, 41–45]. Such loggers can also provide information regarding the likely occurences of prey encounters [46–48]. Three-dimensional path analysis has started to provide new insights into the behaviour of elephant seals [42, 43] and other diving predators [36, 49–53], but also into the fine scale patterns of their prey distribution [45].
In this study, six datasets with acoustic recording, tri-axial acceleration and magnetometry, sampled at high frequency, allowed us to reconstruct the three-dimensional underwater path of SES using well established dead-reckoning methods [54]. According to the optimal foraging theory, the predators should exhibit the greatest residency time in the highest prey density grounds, but the general shape of the animal path can also convey information on the predator-prey interactions. Complementarily to ARS-like approaches that focus on specific part of the trajectories with high residency time, we decided to extract the main trends of the SES path in dives' bottom phases. We described the 3D space use exhibited by SES at the bottom phase of their dives using principal component analysis, and assessed the volumetric density of prey encounter events under various prey detection range scenarios. Finally, to explain how the SES space use could relate to its perception range and to the fine-scale patterns in prey distribution, we examined relationships between the estimated prey encounter densities and the three-dimensional diving behaviour in bottom phase trajectories.
Results
Shape of SES trajectories at the bottom of their dives
The first main component explained 93.75% ±
S
D
=8.34% of the total dispersion (Fig.
3
, Table
3
). Moreover, the first main component was almost exclusively oriented in a horizontal direction (Fig.
4
). The left dive on Fig.
1
is an example of a typical dive that exhibiting these characteristics. No bi-modality pattern is noticeable of Fig.
4
but, apart the obvious peak near one, a wide range of values is covered by a few observations. The vertical component of the first main component range between 17 to 76% in a few bottom phases (5%) which correspond to deep diving depths (680 m vs. 481 m, t-test
p
-value = 1.395×10
−13
). On average, SES travelled horizontal distances of 429m±
C
V
=92
%
in their descent phases, 706m±
C
V
=77
%
in bottom phases and 393m±
C
V
=90
%
in ascent phases. Because the first main component are horizontally oriented, the first main component dispersion is highly correlated to the length of first main component according to the horizontal plane (first main component horizontal extent). As a result, when checking for multicollinearity before model selection, the first main component horizontal extent was removed.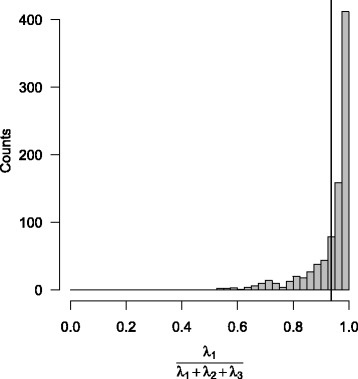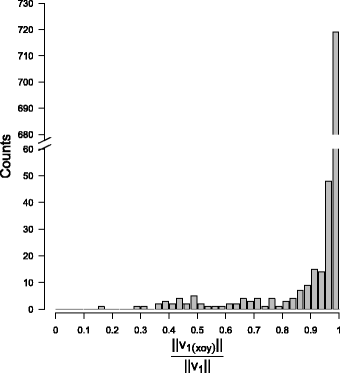 Table 3
Descriptive statistics of the shape parameters of bottom trajectories
| | Nb prey encounter event at bottom | Bottom duration (s) | Mean bottom depth (m) | Horizontal width (m) |
| --- | --- | --- | --- | --- |
| Min | 0.00 | 54.00 | 53.59 | 0.35 |
| Max | 28.00 | 1732.00 | 847.91 | 139.37 |
| Median | 2.00 | 451.00 | 435.78 | 20.39 |
| Mean | 3.37 | 500.39 | 441.86 | 23.20 |
| SE mean | 0.13 | 6.67 | 5.25 | 0.45 |
| C I 95% mean | 0.25 | 13.10 | 10.30 | 0.88 |
| Variance | 13.79 | 38572.57 | 23833.89 | 175.57 |
| SD | 3.71 | 196.40 | 154.38 | 13.25 |
| | MC1 vertical width (m) | MC1 horiz. width (m) | Total dispersion (m2) | MC1 dispersion (%) |
| Min | 0.04 | 36.80 | 562.55 | 53.30 |
| Max | 383.55 | 1775.42 | 401082.90 | 99.97 |
| Median | 26.80 | 409.09 | 24073.35 | 97.20 |
| Mean | 48.68 | 431.17 | 32638.69 | 93.75 |
| SE mean | 2.16 | 7.25 | 1110.50 | 0.28 |
| C I 95% mean | 4.23 | 14.23 | 2179.59 | 0.56 |
| Variance | 4023.07 | 45544.02 | 1067959847.62 | 69.62 |
| SD | 63.43 | 213.41 | 32679.65 | 8.34 |
| | Vertical width (m) | Bottom speed SD (m s −1) | Bottom vertical speed SD (m s −1) | |
| Min | 2.10 | 0.11 | 0.16 | |
| Max | 154.18 | 1.15 | 2.01 | |
| Median | 23.21 | 0.32 | 0.79 | |
| Mean | 31.45 | 0.35 | 0.85 | |
| SE mean | 0.80 | 0.01 | 0.01 | |
| C I 95% mean | 1.57 | 0.01 | 0.02 | |
| Variance | 556.80 | 0.03 | 0.09 | |
| SD | 23.60 | 0.17 | 0.30 | |
Prey field density at the bottom of SES dives
The prey encounter density spread in a wide range according to the detection radius (two orders of magnitude, Table
4
), due to the strong impact of this parameter on the estimates of the water volume prospected by SES. We can adopt the predator's point of view by taking the inverse of the prey density estimates reported in the Table
4
: considering prey detection radius of 1.5, 9 and 18 m, SES have to explore average volumes of 1.40×10
3
m
3
, 5.39×10
4
m
3
and 2.08×10
5
m
3
respectively to encounter a prey during their dives' bottom phase.
Table 4
Estimated prey encounter event density in dives' bottom phases
Radius

Mean prey encounter event density ±C I 95%

SD

1.5 m

715.09

±

53.70

760.13

9 m

18.56

±

1.45

20.58

18 m

4.81

±

0.39

5.45
Prey density model
Results were consistent across all models with similar coefficient estimates and standard errors (Table
5
). In the count part of the model, the strongest effect is observed for total dispersion for which a one SD increase is associated with 38% lower PEE density (Table
5
). In decreasing order of effect strength, vertical width, mean bottom phase depth and horizontal width have negative effects in all three count models (Table
5
). However, mean depth of bottom phase has a positive influence on the probability of catching at least one prey item (Table
5
, Fig.
5
). As expected, swimming speed variability had positive effects in both count and zero-excess parts of the model. Nonetheless we observed a negative quadratic effect for high values (>0.90m s
−1
) in the zero-excess part (Table
5
, Fig.
5
).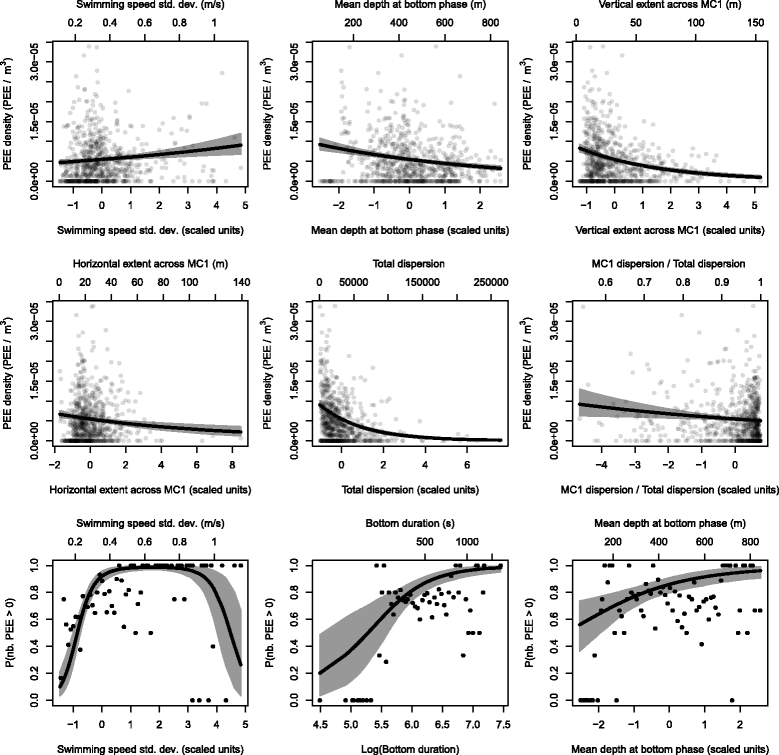 Differences between the r=18 m and the two other models (r=9 and 1.5 m) were only observed for the least significant variable (Table 5). With r=18 m dispersion explained by first main component was selected whereas models with r<18 m favoured vertical extent of the first main component. These variables were associated with smaller PEE density for all models (Table 5). Partial regression lines for models with r<18 m are provided in the Additional file 2.
The dispersion parameter (θ) decreased with the chosen detection radius (θ 1.5m =3.38, θ 9m =3.24, θ 18m =3.18). The final models could explain 17.04, 19.52 and 20.46% of the deviance of null models for 1.5, 9 and 18 m radius. Goodness of fit as indicated by the pseudo- r 2 (squared correlation coefficient between observed and predicted values of the PEE density) also increased with the detection radius (27.53%, 31.03%, 33.91% for 1.5, 9 and 18 m radius).
Conclusion
Analysis of main components of 3D SES paths in their dives' bottom phase allowed us to describe the main trends in SES movements in these key periods of foraging. Such an approach, examining the overall use of space, may be complementary to ARS/VRS analysis that focus on the most sinuous part of the the animal paths, and conveys new information on predator-prey interactions.
The 3D space use of SES at the bottom of their dives suggests that prey do not tend to form large discrete schools but rather adopt a scattered distribution structured in layers. The prey encounter density in these layers decreased with depth but then, SES tended to exhibit prey encounter events on a more regular basis. However, it is not clear how to interpret this tendency given that qualitative information of the prey (size and species) is missing. We suggest that the prey density decrease with depth but that their distribution tends to standardize yielding higher predictability. The extent of the vertical exploration performed by the SES during their bottom phases related negatively to prey encounter density, seemingly indicating that the thickness of the layers targeted by SES mechanically impacts micronekton density. These results underline the primary importance of the vertical dimension into the spatial organization of the micronekton.
The 3D trajectories in our dataset were essentially linear paths. While the vertical deviations from this path were of the the same order of magnitude of the horizontal ones, they better related to the prey encounter density. Under such circumstances, the widely used time-depth recorders can be considered as an effective simplification of the SES movements at scales of few-hundreds meters. Adaptive mechanisms underlying this behaviour, such as a trade-off between the travel speed and energetic requirements or an unbalanced ratio between SES sensory perception range and prey distribution and avoidance, remain unclear. These observations could be related to a number of combined factors: prey field organized in layers, short prey detection distance, external constraint such as the purpose for SES to move away rapidly from their breeding site.
We believe that this study highlights the importance of knowledge about the three-dimensional predator-prey interactions and gives support to the usage of bio-logging to unravel and monitor fine-scale micronekton distribution, particularly in remote areas such as the deep pelagic ecosystems of the Southern ocean.
Abbreviations
1D,2D,3D:

Uni-dimensional, Bi-dimensional, Tri-deminesional
AIC:

Akaïke information criterion
ARS:

Area-restricted search
CV:

Coefficient of variation
CI:

Confidence interval
GPS:

Global positioning system
MC1:

First main component, also called first main component
n:

number of
PEE:

Prey encounter event
SD:

Standard deviation
SE:

Standard error
SES:

southern elephant seals
VRS:

Volume-restricted search
Declarations
Acknowledgements
We would like to thanks David Nerini for helpful discussions, the IPEV team and the field assistants that made the field work at Kerguelen possible and Alexandre Genin for his work on the swimming speed assessment.
Funding
The "Département des Deux-Sèvres" and the "Région Poitou-Charentes", the "MyctO-3D-MAP" and "IPSOS-SEAL" ANR, the Total Foundation, the "Éléphant de mer océanographes" CNES research program and the "Observatoire des Mammifères Explorateurs du Milieu Océanique" provided financial support to this study.
Availability of data and materials
Data has been deposited on a Figshare repository named after this article (doi:10.6084/m9.figshare.5350180).
Ethics approval
Our study on elephant seals was approved and authorized by the ethics committee of the French Polar Institute (Institut Paul Emile Victor – IPEV) in May 2008. Animals were handled and cared for in total accordance with the guidelines of this committee (dirpol@ipev.fr).
Authors' contributions
YLB analysed and interpreted the data. YLB and CG designed the study. YLB, CG and JJ made major contributions in writing the manuscript. All authors read and approved the final manuscript.
Consent for publication
Not applicable.
Competing interests
The authors declare that they have no competing interests
Publisher's Note
Springer Nature remains neutral with regard to jurisdictional claims in published maps and institutional affiliations.
Open Access This article is distributed under the terms of the Creative Commons Attribution 4.0 International License(http://creativecommons.org/licenses/by/4.0/), which permits unrestricted use, distribution, and reproduction in any medium, provided you give appropriate credit to the original author(s) and the source, provide a link to the Creative Commons license, and indicate if changes were made. The Creative Commons Public Domain Dedication waiver(http://creativecommons.org/publicdomain/zero/1.0/) applies to the data made available in this article, unless otherwise stated.
Authors' Affiliations
(1)
Centre d'Études Biologiques de Chizé, Villiers-en-bois, France