Effects of environmental features and sport hunting on caribou migration in northwestern Alaska
Received: 25 October 2016
Accepted: 2 February 2017
Published: 1 March 2017
Abstract
Background
Ungulate movements are influenced by a variety of biotic and abiotic factors, which may affect connectivity between key resource areas and seasonal ranges. In northwestern Alaska, one important question regarding human impacts on ungulate movement involves caribou (Rangifer tarandus) response to autumn hunting and related aircraft activity. While concerns have been voiced by local hunters about the influence of transporter aircraft and non-local sport hunters, there has been little quantitative analysis of the effects of hunter activity on caribou movement. We utilized a novel spatial dataset of commercial aircraft landing locations and sport hunter camps in and around Noatak National Preserve to analyze resource selection of caribou in autumn for non-local hunting activity and environmental features. We combined step selection functions with randomized shortest paths to investigate whether terrain ruggedness, river width, land cover, and hunting activity (in the form of aircraft landings and sport hunter camps) facilitated or impeded caribou movement. By varying a parameter in the randomized shortest path models, we also explored the tradeoff between exploration and exploitation in movement behavior exhibited by traveling caribou.
Results
We found that caribou avoided rugged terrain and areas with more river, forest, and tall shrubs while selecting for areas dominated by tussock tundra and dwarf shrubs. Migration of caribou through Noatak does not appear to be inhibited by sport hunting activity, though this does not preclude the possibility of temporary effects altering availability of caribou for individual hunters. Caribou exhibited exploratory movement, following predictions of a random walk model. This behavior may facilitate the location of remaining patches of high-quality forage prior to the onset of winter, especially during mild autumns.
Conclusions
Understanding animal movement behavior is fundamental to protecting critical areas of connectivity and to informing management decisions. Our study identifies migratory connectivity and hotspots of potential conflict among user groups, enabling development of policies that balance human access with species conservation.
Keywords
Aircraft
Alaska
Caribou
Hunting
Migration
Movement
Noatak National Preserve
Rangifer tarandus
Resource selection
Background
Animal movement is a key ecological process [1–3] that influences population dynamics [4, 5], predator-prey interactions [6, 7], gene flow [8, 9], use of dynamic resources [10], and vulnerability to environmental change [11–13]. In light of extensive and increasing human alteration of natural areas, maintaining connectivity across landscapes is important to facilitate species movement and retain the associated processes [14–16]. A strong understanding of animal movement behavior plays a critical role in assessing connectivity, as well as how environmental changes might enhance or reduce connectivity [17].
Studies of animal movement and connectivity are increasingly being used to inform management decisions [18, 19]. Resource managers are often tasked with conserving species and maintaining habitat while balancing the interests of multiple user groups. This is an inherently spatiotemporal process that involves choices about where, when, and how access should be given versus restricted to meet management objectives. The importance of protected areas in helping maintain connectivity for wildlife [20–22] makes it critical that such decisions do not unduly compromise the ability of species to move through managed areas.
In northern Alaska, caribou (Rangifer tarandus) form an iconic part of the landscape, migrating thousands of kilometers each year in one of the longest terrestrial migrations in North America [23, 24]. Caribou migrate north in the spring to calve in the northern foothills of the Brooks Range [25, 26]. In autumn, most caribou migrate south to winter in areas with greater cover and winter food availability [27, 28]. As the most abundant large herbivores in the Arctic [29], caribou are an important food resource for a variety of predator species [30–33] as well as local communities [34–36]. Non-local sport hunters also harvest caribou in the region [37]. Balancing the subsistence needs of local hunters with the responsibility to provide hunting opportunities for non-local hunters can be a difficult task for managers. In some areas, local hunters have come into conflict with non-local hunters seeking caribou [38, 39]. Though the documented impacts typically have been relatively minor and of short duration (e.g., [40, 41]), local hunters perceive that non-local hunting and the associated aircraft activity have changed the migratory patterns of caribou [42]. Agencies tasked with managing wildlife species and human access to protected areas need additional information regarding critical movement routes of subsistence species like caribou, as well as an increased understanding of animal response to human activity to identify "hotspots" of potential conflict among user groups.
We investigate movement patterns of caribou in response to non-local sport hunting and environmental features in Noatak National Preserve, Alaska (hereafter, Noatak). Caribou have been hunted in Noatak for thousands of years by local indigenous people. Sport hunting in and around Noatak has occurred for decades but appears to have increased markedly since 2000 [37]. Local hunters primarily access Noatak using boats along the Noatak River, while sport hunters typically use small, commercially-operated transporter aircraft [37]. Conflict between the two groups arose early in Noatak's history over competition for caribou and other species and the perceived negative effects of aircraft noise by local hunters [39]. Similar concerns continue to be voiced today [42, 43]. In response to concerns about user conflict, federal land managers established a delayed entry area for non-local hunters in the western portion of Noatak to provide increased opportunities for undisturbed hunting by local subsistence hunters. In 2016, faced with continued reports of user conflict and declining population size of the caribou herd using Noatak, the Federal Subsistence Board closed Noatak and other federal public lands to sport hunters seeking to harvest caribou.
The purpose of this study is to investigate how a suite of factors, especially sport hunting activity, affect caribou movement patterns through Noatak. An increased understanding of whether the ability of caribou to pass through Noatak during their autumn migration is altered by sport hunting activity can be used to help inform decisions by land management agencies, such as continuation of public lands closures for certain user groups like caribou sport hunters. We use caribou GPS telemetry data and datasets of sport hunter camps and aircraft landing sites over a period of four hunting seasons to evaluate the hypothesis that sport hunting activity influences habitat selection of caribou migrating through Noatak against the null hypothesis of no impact.
In addition to exploring the influence of sport hunting activity on caribou movement, we test how observed caribou movement patterns correspond to a range of possible movement behaviors. Common techniques for assessing movement routes and connectivity of wildlife species, such as least cost path [44] and circuit theory [45] models, have contributed to understanding of connectivity [46–49], but have at times been criticized for making unrealistic movement assumptions [50–53]. Further empirical evidence is needed of how animal movement behavior coincides with different movement strategies to inform model choice for connectivity studies [51, 54]. We use the step selection function randomized shortest path (SSF-RSP) approach [53] to identify whether caribou movement behavior most closely fits a random walk movement pattern (in line with circuit theory), an optimal movement strategy (in line with least cost paths), or an intermediate strategy that mixes the two. The results of these analyses can help inform future connectivity modeling work as well as providing specific information to Alaskan managers seeking to balance hunter access from different user groups with species conservation.
Results
Model selection indicated two models had ΔAICc values of less than 2 (Table
2
). As Burnham and Anderson [
89
] pointed out,
Table 2
Model selection results for caribou resource selection in Noatak National Preserve, Alaska
| Model | K | ΔAICc | Akaike weight | Log-likelihood |
| --- | --- | --- | --- | --- |
| 13 | 16 | 0.00 | 0.62 | -11721.49 |
| 15 | 17 | 0.94 | 0.38 | -11720.96 |
| 7 | 15 | 16.82 | 0.00 | -11730.90 |
| 11 | 16 | 17.31 | 0.00 | -11730.15 |
| 10 | 15 | 85.96 | 0.00 | -11765.47 |
| 14 | 16 | 87.94 | 0.00 | -11765.46 |
| 4 | 14 | 94.00 | 0.00 | -11770.49 |
| 9 | 15 | 95.94 | 0.00 | -11770.46 |
| 6 | 9 | 135.32 | 0.00 | -11796.16 |
| 12 | 10 | 136.76 | 0.00 | -11795.88 |
| 1 | 8 | 158.33 | 0.00 | -11808.66 |
| 5 | 9 | 159.41 | 0.00 | -11808.20 |
| 3 | 8 | 245.84 | 0.00 | -11852.42 |
| 8 | 9 | 247.49 | 0.00 | -11852.24 |
| 2 | 8 | 259.20 | 0.00 | -11859.09 |
| 0 | 0 | 123552.79 | 0.00 | -73513.89 |
"Models having Δ i within about 0–2 units of the best model should be examined to see whether they differ from the best model by 1 parameter and have essentially the same values of the maximized log-likelihood as the best model. In this case, the larger model is not really supported or competitive, but rather is 'close' only because it adds 1 parameter and therefore will be within 2 Δ i units, even though the fit, as measured by the log-likelihood value, is not improved" (p.131).
In such cases, the additional parameter in the larger of the two models is referred to as an 'uninformative parameter' and should not be considered to be supported by model selection [96]. This was the case in our study. The top two models, Model 13 and Model 15, differed by a single parameter – hunting activity (see Table 1 for model details). The maximized log-likelihood values were very similar, differing by only 0.53 (Table 2). The similar log-likelihoods of the top two models and difference of a single parameter indicated that hunting activity provided an uninformative parameter in Model 15, thus leading us to follow the recommendation of Arnold [96] and discard this model. This was affirmed by investigation of the confidence intervals for hunting activity. Both the 85% (which are more compatible with use of AICc for model selection [96]) and 95% confidence intervals for hunting activity overlapped zero. The final SSF model used in our analyses, Model 13, thus included parameters for terrain ruggedness, river area, land cover type, and elevation-adjusted step length, but not hunting activity.
Step selection analysis revealed areas with more rugged terrain and greater river area had a lower likelihood of use by migrating caribou (Table
3
). Areas with a higher proportion of dwarf shrubs and tussock tundra were more likely to be used by migrating caribou, while those with a higher proportion of forest, tall shrubs, and water were more likely to be avoided. Herbaceous vegetation and areas dominated by lichens were used proportionally to their availability. Cross-validation results indicated high predictive performance for the final model (mean Spearman's correlation across folds = 0.985).
Table 3
Conditional logistic regression coefficients for the final model of step selection by caribou in Noatak National Preserve, Alaska
| Covariate | Coefficient | Standard Error |
| --- | --- | --- |
| Terrain ruggedness | -0.62 | 0.12 |
| River area | -0.22 | 0.08 |
| Dwarf shrub proportion | 0.19 | 0.08 |
| Forest proportion | -0.35 | 0.09 |
| Herbaceous proportion | 0.06 | 0.05 |
| Lichen proportion | -0.10 | 0.08 |
| Tall shrub proportion | -0.22 | 0.08 |
| Tussock tundra proportion | 0.19 | 0.09 |
| Water proportion | -0.11 | 0.05 |
| Step length 1 | -2.43 | 0.13 |
| Step length 2 | -4.66 | 0.23 |
| Step length 3 | -5.94 | 0.24 |
| Step length 4 | -5.48 | 0.30 |
| Step length 5 | -4.15 | 0.54 |
| Step length 6 | -2.70 | 0.86 |
| Step length 7 | -1.23 | 1.19 |
Summed RSP maps for the seven
θ
values covered a wide range of spatial patterns (Fig.
2a–g
). Predicted distributions displayed by the RSP maps followed expected patterns under the movement strategies represented by the various
θ
values. Maps of smaller
θ
values featured broad areas of connectivity, reflective of spatial use under a random walk, while those for larger values of
θ
tended to strongly concentrate corridors into relatively straight lines, reflecting least cost movement. Intermediate
θ
values showed a gradient between these two patterns. Calculation of the mean squared error (MSE) between RSP maps and observed caribou corridors (Fig.
2h
) identified a
θ
value of 0 as the best-fitting model (Table
4
). This indicated that caribou passing through Noatak in autumn exhibit primarily exploratory movement, following predictions of a random walk model. Under this model, predicted caribou use was broad across the study area, but concentrated most strongly in the central and eastern portions of Noatak and was relatively lower in the western area of the preserve (Fig.
2a
; Additional file
1
: Figure S2).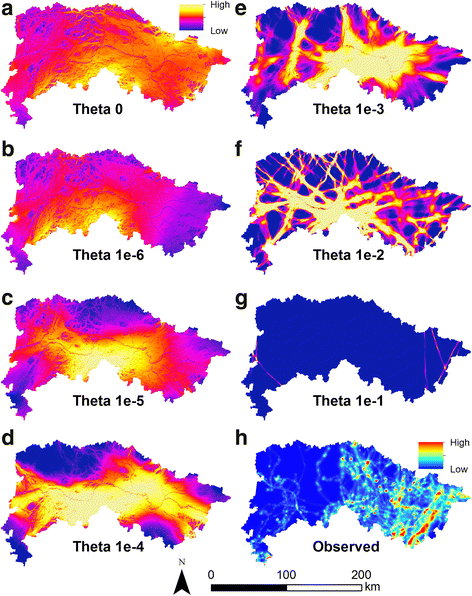 Table 4
Mean squared error values reflecting fit between predicted and observed movement corridors
| θ value | Mean squared error |
| --- | --- |
| 0 | 5.08 × 10-13 |
| 1 × 10-6 | 5.28 × 10-13 |
| 1 × 10-5 | 5.10 × 10-13 |
| 1 × 10-4 | 5.22 × 10-13 |
| 1 × 10-3 | 5.21 × 10-13 |
| 1 × 10-2 | 5.65 × 10-13 |
| 1 × 10-1 | 3.11 × 10-12 |
Discussion
Our analysis of caribou movement in Noatak National Preserve shows that caribou respond to environmental features such as terrain ruggedness and land cover type, but not to sport hunting activity at the scale considered. The negative effect of terrain ruggedness on caribou movement aligns with patterns seen for the WACH at the scale of the full autumn migratory path (Fullman et al., in revision), though in winter, when they are non-migratory, caribou may select for more rugged terrain [27, 70]. Similarly, our finding that caribou avoid migratory pathways with greater river area aligns with caribou crossing more frequently in narrow portions of rivers in Canada [76] and with increased landscape resistance to autumn migratory movement from major rivers for the WACH (Fullman et al., in revision). Patterns of vegetation influence on step selection also coincide with other reports of avoidance of dense vegetation by caribou ([70, 97], Fullman et al., in revision). Avoidance of dense vegetation may be to facilitate travel and/or to reduce predation risk.
We did not detect an effect of sport hunting activity on caribou resource selection, supporting our null hypothesis. This indicates that sport hunting does not inhibit the ability of caribou to migrate through Noatak. Local hunters have harvested caribou at key river crossing locations for 10,000 years in northwest Alaska [98]. That these locations continue to be used by caribou and local hunters to this day [24] may support our findings. Further, studies elsewhere have also found environmental factors have a greater impact on animal space use than hunting (e.g., [61, 62]). Our finding of a lack of effect of sport hunting activity on the likelihood of caribou migrating through Noatak does stand in apparent contrast to concerns voiced by local hunters regarding the negative effects of sport hunters and commercial air transporters (e.g., [39, 42, 43]). These differences may relate to issues of spatial and temporal scale. The caribou GPS locations in this study were recorded every eight hours. It is possible that caribou response to human hunting activity is short-lived, such that it is not detectable at an eight-hour interval. Experimental studies of woodland caribou response to simulated seismic exploration found that caribou respond to noise disturbance by increasing movement rates for between 15 min and at least two hours [99–101]. They also reported that linear displacement distances from the point of disturbance were not significantly different from control animals [100]. Such temporary responses could still have an influence for a local hunter waiting for caribou to approach, but may not affect the ability of caribou to pass through Noatak and thus not be reflected in our analysis. In addition, the lack of observed influence of sport hunting activity on caribou movement through Noatak may reflect differences in scale between the caribou telemetry dataset, which was recorded sub-daily, and the sport hunter dataset, which was aggregated across years. An aggregated representation of the general likelihood of encountering people may not reflect the fine scales at which caribou respond to and avoid hunting activity. Studies utilizing finer spatial and temporal resolution data may be needed to detect the effects described by local hunters. Furthermore, no data were available on locations of local hunting activity, so it is unclear what effect this may have had on caribou movements in areas not used by sport hunters or whether there may be additive effects. Finally, changes in the migratory routes of WACH caribou described by local residents [42] may be related to an industrial road that bisects the herd's migration route to the east of the study area [102]. In summary, our findings clearly indicate that sport hunting activity does not prevent caribou from migrating through Noatak, but do not address possible impacts of sport hunting disrupting individual subsistence hunting attempts at fine spatial and temporal scales.
In addition to movement responses to environmental covariates, the SSF-RSP approach also provides information on the movement strategy used by caribou in crossing through Noatak. Comparison of predicted and observed movement corridors indicates that caribou moving through Noatak are employing random walk movement behavior. This is in contrast to reindeer in Norway, which appear to follow a mixed movement strategy intermediate between random walk and least cost path movement patterns [53]. One possible explanation for the adoption of exploratory movement behavior we observed is recent patterns of mild, long autumn seasons and relatively warm winters during the study period [103]. The body mass of female caribou has a strong influence on the likelihood of successfully giving birth, timing of birthing, birth mass of calves, and offspring survival [101, 104, 105]. In elk, females that consistently select the highest quality forage available in the autumn enter winter in better condition than other individuals [106]. Mild autumn and winter conditions may allow caribou in northwestern Alaska to adopt a similar strategy, employing predominantly exploratory movement behavior to capitalize on available resources and improve body condition prior to winter. The Arctic has been warming recently [107, 108], with temperature increases most pronounced in the winter [109]. If these trends continue, mild conditions during autumn migration may become more common, reinforcing the effectiveness of an exploratory movement strategy for caribou seeking to improve body condition prior to winter.
Although not tested in this study, it is possible that our observation of exploratory movement behavior for female caribou passing through Noatak is season-specific. Female caribou migrate to the calving grounds quickly in the spring, while males lag behind to forage on new growth [59, 110, 111]. Rapid migration by pregnant females in the spring may encourage exploitative movement behavior with straighter movement paths, such as are expected with a least cost path approach. Indeed, Bergman et al. [112] observed straightened movement paths during migration to calving grounds in Canadian caribou. The mixed movement strategies reported for reindeer in Norway were observed during spring migration [53], which might contribute to the different pattern observed in our study. McClure et al. [54] found that different modeling strategies (circuit theory versus least cost paths) may be more applicable for certain types of movement than others (e.g., migration versus dispersal) and thus that the modeling approach should be selected based on the movement ecology of the focal species of interest. We suggest that this may be true even within a movement process based on sex- or season-specific influences on motivators and constraints of movement. Comparative studies are needed that explore this possibility more thoroughly.
Conclusions
Understanding animal movement behavior is fundamental to protecting critical areas of connectivity and to informing management decisions. We use step selection functions and randomized shortest paths to investigate how female caribou moving through Noatak respond to non-local hunting activity, terrain ruggedness, rivers, and land cover. Our results indicate that non-local hunting activity does not appear to affect the ability of caribou to pass through Noatak, though this does not preclude the possibility of fine-scale or temporary effects altering availability of caribou for local hunters. In addition, we found that caribou moving through Noatak employ random walk movement behavior. Such exploratory movements may reflect a behavioral response taking advantage of recent mild autumn and early winter conditions to increase body condition prior to winter, improving the likelihood of successful reproduction. Our findings have direct and immediate management implications as federal public lands in Alaska, including Noatak, have been closed to sport hunters seeking to harvest caribou due in large part to local perception that these users were negatively impacting caribou migration. The closure follows the implementation of a delayed entry area for non-local hunters in Noatak that failed to resolve user conflicts in this conservation unit.
Declarations
Acknowledgements
Caribou captures were a collaborative effort involving the Alaska Department of Fish and Game, National Park Service, Bureau of Land Management, U.S. Fish and Wildlife Service, and regional high schools. We thank Pete Fix for helping conduct the transporter and sport hunter surveys. Comments from J. Rasic and several anonymous reviewers improved this manuscript. Use of any trade names in this manuscript does not imply endorsement by the U.S. Government.
Funding
Support for TJF was provided by a grant from the Wilburforce Foundation. The funders had no role in study design, data collection and analysis, nor manuscript writing.
Availability of data and materials
The datasets analyzed during the current study are available upon reasonable request. Please contact Kyle Joly, National Park Service, Gates of the Arctic National Park and Preserve, Arctic Inventory and Monitoring Network via email to kyle_joly@nps.gov.
Authors' contributions
TJF and KJ conceived and designed the study. KJ collected caribou GPS locations. AA conducted hunter surveys and compiled commercial transporter locations. TJF analyzed the data. TJF, KJ, and AA wrote the manuscript. All authors read and approved the final manuscript.
Competing interests
The authors declare that they have no competing interests.
Consent for publication
Not applicable.
Ethics approval and consent to participate
Collaring of caribou was approved by the State of Alaska's Animal Care and Use Committee (ACUC) protocol #2012-031R. Hunter surveys were approved by the University of Alaska Fairbanks Office of Research Integrity, OMB Approval Number 1024-0224.
Open AccessThis article is distributed under the terms of the Creative Commons Attribution 4.0 International License (http://creativecommons.org/licenses/by/4.0/), which permits unrestricted use, distribution, and reproduction in any medium, provided you give appropriate credit to the original author(s) and the source, provide a link to the Creative Commons license, and indicate if changes were made. The Creative Commons Public Domain Dedication waiver (http://creativecommons.org/publicdomain/zero/1.0/) applies to the data made available in this article, unless otherwise stated.
Authors' Affiliations
(1)
The Wilderness Society, Anchorage, USA
(2)
National Park Service, Gates of the Arctic National Park and Preserve, Arctic Inventory and Monitoring Network, Fairbanks, USA
(3)
National Park Service, Western Arctic National Parklands, Fairbanks, USA