Methodology article
Open Access
A hidden Markov model for reconstructing animal paths from solar geolocation loggers using templates for light intensity
Received: 18 June 2015
Accepted: 7 September 2015
Published: 15 October 2015
Abstract
Background
Solar archival tags (henceforth called geolocators) are tracking devices deployed on animals to reconstruct their long-distance movements on the basis of locations inferred post hoc with reference to the geographical and seasonal variations in the timing and speeds of sunrise and sunset. The increased use of geolocators has created a need for analytical tools to produce accurate and objective estimates of migration routes that are explicit in their uncertainty about the position estimates.
Results
We developed a hidden Markov chain model for the analysis of geolocator data. This model estimates tracks for animals with complex migratory behaviour by combining: (1) a shading-insensitive, template-fit physical model, (2) an uncorrelated random walk movement model that includes migratory and sedentary behavioural states, and (3) spatially explicit behavioural masks.
The model is implemented in a specially developed open source R package FLightR. We used the particle filter (PF) algorithm to provide relatively fast model posterior computation. We illustrate our modelling approach with analysis of simulated data for stationary tags and of real tracks of both a tree swallow Tachycineta bicolor migrating along the east and a golden-crowned sparrow Zonotrichia atricapilla migrating along the west coast of North America.
Conclusions
We provide a model that increases accuracy in analyses of noisy data and movements of animals with complicated migration behaviour. It provides posterior distributions for the positions of animals, their behavioural states (e.g., migrating or sedentary), and distance and direction of movement.
Our approach allows biologists to estimate locations of animals with complex migratory behaviour based on raw light data. This model advances the current methods for estimating migration tracks from solar geolocation, and will benefit a fast-growing number of tracking studies with this technology.
Keywords
Bird migrationFLightRHidden Markov modelsParticle filterSolar geolocationTemplate fitting
Background
The ability to track animal movements across long distances has revolutionized our understanding of animal ecology and has been helpful to conservation [1, 2]. Until recently, our ability to record this information was limited to larger animals that could carry satellite transmitters. However, recent technological advances have developed miniaturized devices that extend our ability to track much smaller animals, especially migratory songbirds [3]. Solar geolocation data loggers (or geolocators), are simple animal tracking devices that record ambient light levels for the purpose of estimating the latitude and longitude of an animal that wears the device. One of advantage of geolocators is that they typically can record data for a year or longer, i.e. cover an annual migration cycle. Despite an ongoing miniaturization of GPS and other satellite-linked tracking devices, geolocators remain useful because their low mass (currently ca. 0.35 g) broadens the range of species that may be tagged [3]. Furthermore, current GPS tracking devices for small birds are limited to a relatively small (e.g. 8–10) number of locations that can be recorded, thus it is difficult to use them to generate information on departure and arrival dates. In addition, the simplicity of geolocators design makes them inexpensive, which opens the prospect of affordable population-wide studies of migration and migratory connectivity.
While the theory of estimating latitude and longitude from the elevation of the sun is not new, the process of reconstructing animal movements by using light intensity levels recorded with geolocators presents several challenges. From the perspective of the hidden Markov modelling framework [
4
], sketched in Fig.
1
, positioning by light level requires at least two parts: (1) an observational model and (2) a process model. In the case of animal positioning we refer to these parts as physical and movement models, respectively. The most common approach to solar geolocation [
5
] uses a simplified physical model. This model, which is referred to as the 'threshold method', requires the definition of each twilight event in a dataset as the time point corresponding to the moment when solar irradiance reaches some arbitrary, but constant, threshold level ([
6
,
7
], see first column in Table
1
). Latitude is then estimated by the duration of time between consequent pairs of twilights and the longitude by the time of solar noon or midnight. This threshold approach is still widely used, but it is plagued by many well-known problems such as biased estimates [
8
], unrealistic assumptions of constant shading, and a null assumption of no movement [
9
]. Aside from its general simplicity and accessibility, the advantage of the threshold method is that it needs only one data point per twilight period, which makes it well suited to data storage by tiny and simple tags that log a very narrow band of light intensities and have very limited data storage capacity.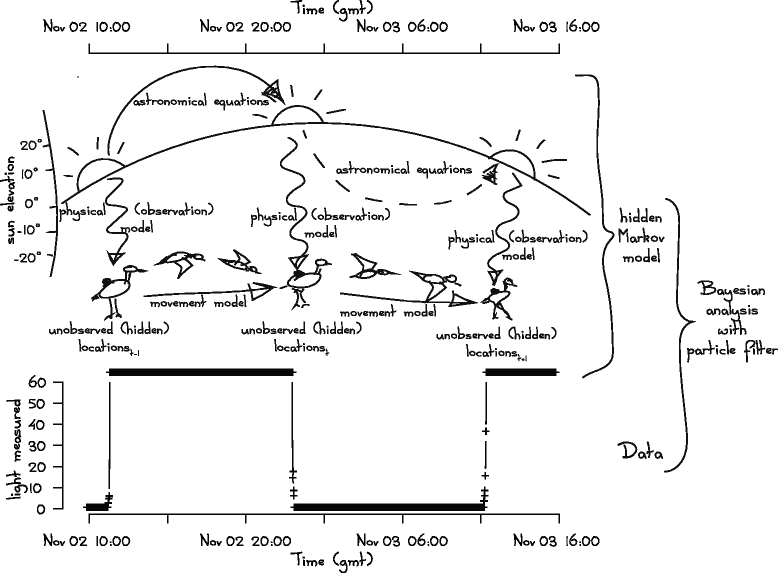 Table 1
Review of the differences of the existing methods together with rationale for the current contribution
| | Customary approacha | Ekstrom (2007) | Nielsen & Siebert (2007) | Sumner et al. 2009 | Current contribution |
| --- | --- | --- | --- | --- | --- |
| R package | GeoLight | | Trackit | TripEstimation | FLightRb |
| Few points per twilight | + | | | +− | + |
| Shading cloud cover free | | + | | + | + |
| Optimisation | | least squares | UKF | MCMC (block update) | particle filter |
| Movement allowed | | | + | + | + |
| Landscape mask | | | | + | + |
| Migratory-sedentary switch | | | | | + |
| Behavioural-landscape masks | | | | | + |
| Positions | + − (not close the equinox) | + | + | + | + |
| Assesment of precision of estimates | | | + | + | + |
| Distribution of possible positions | | | | + | + |
| Distribution of possible transitions | | | | | + |
Early attempts to improve upon the results of threshold analyses involved the application of a specially developed state-space models on locations estimated with the threshold method [10]. These models served as post hoc smoothers and generally improved the estimates, but they did not erase biases because of the original biases in the threshold-based location estimates [11]. In response to the problems of the threshold method stemming from atmospheric properties implicit in the observational model, Ekstrom ([7, 12]; column 2 in Table 1) developed the template fit method. Based on the physics of the atmosphere he derived the relationship between solar angle (angle above the horizon) and near-surface light intensity. Ekstrom [12] showed that the template fit model was robust to the effects of shading (see equations 4–7 in the current contribution). Despite the great potential of the template fit method, it was not used in the next generation of methods nor, to our knowledge, in any published analyses of empirical data. The next generation of methods employed specially developed state space models that not only had a better observational model, but also incorporated assumption of animal movement [13, 14]. These models provide more accurate and precise position estimates and a measure of their uncertainty (see columns 3 and 4 in Table 1).
All the early approaches to solar geolocation were developed for the tracking of marine animals. This specialty called for relatively simple movement models that assumed somewhat constant movement and also incorporated geographic masking under the assumption that marine animals could only occur in the ocean [14] and are not able to move over the land masses. For many terrestrial organisms (e.g., migratory birds) more complex models are needed that can account for prolonged sedentary behaviour interspersed with-long distance movements. Here we describe an approach that attempts to fill the needs associated primarily with tracking small birds by implementing the following features into a state space model: (1) accommodating the narrow band light level data that are recorded by many tags used on birds; (2) allowing for systematic changes in habitats throughout the annual cycle to make the observational model maximally independent from shading regimes; (3) defining behavioural state parameters that describe a bird as either sedentary or migrating; (4) modelling total distance travelled between twilights as opposed to modelling average velocity; (5) masking that allows movements (migratory state) over unsuitable habitats but not settling (sedentary state).
The new analytic framework (implemented in FLightR R package [15]) provides the flexibility to incorporate all of these characteristics. We demonstrate the approach by analysing both simulated and real tracks of small migratory birds.
Discussion
Current model performance
We have presented a new model for the analysis of geolocator data. By analyzing both simulated data and real tracks, we demonstrated that this approach has greater precision than the threshold method (Table 2), which is by far the most commonly applied analysis technique in the literature [41]. The positions obtained for a simulated stationary tag did not have a systematic bias and were reasonably good even near the equinox. For two birds that migrated along the coasts of North America, our approach, without any geographic masks, reconstructed a path that closely matched the coastline. In addition to providing more precise locations, this method provides data on the probability of movement behaviour that can be used to test behavioural hypotheses.
Our method offers several improvements over existing methods for estimating locations from light-level data. To our knowledge, this is the first non-proprietary application that extends template-fitting method all the way from a physical/astronomical model to reconstructing tag locations using timed light-level data. Our method works well on tags that record a relatively narrow band of light intensity data, something that has been problematic with other alternatives to the threshold method [16]. Furthermore, this method applies a movement model that replaces the assumption of constant movement throughout the annual life cycle with a model that allows staying or moving at variable distances at each daily step in the annual path. However, there are still limits to location estimation from light-level data. For actively moving real birds, the estimated latitudes near equinoxes are very imprecise, as there is virtually no latitudinal information in the data at that time. Conclusions about the latitudes of locations during or near the equinoxes must still be made with great caution.
Optimization with current implementation of the particle filter is not fast. One run of the FLightR model takes about 1 h on a four core laptop, which is slower than the Kalman filter approach used in trackit (less than 1 h, [13]) but faster than MCMC in tripEstimation (about 4 h, [16]). The main benefit of the particle filter though is that it not only saves the posterior distribution of particles at each step but also a posterior distribution of all transitions. All of these products are valuable for assessing the confidence and reliability of each of the inferred locations and shifts in behaviour produced by FLightR.
Drawbacks and directions for further development
The present version of FLightR is very general and could be improved in several ways. The movement part could be improved by introduction of scale-free continuous power-law distance distributions and discrete power-law durations of stopover distributions [42]. The observational model would also be very much improved if we could derive a single general closed-form likelihood equation. The particle filter is not the fastest optimization method, and some other approaches should eventually be tried, such as unscented Kalman filter [28] and the Forward-Backward algorithm [43]. We hope that all these and other potential developments improvements will be facilitated by the current publication and in a few years will bring the field of solar geolocation path reconstruction from its infancy to adulthood.
Another potential area of improvement would be to work with hardware developers to increase the quality of data stored on geolocator tags. Many current tags have variable, and often unmeasured, problems in their lack of calibration, clock drift and change in tag opacity and colour throughout the year. Clock drift is likely to affect the estimated longitudes, while changes in opacity are still not very well understood. Simple calibration procedures and studies of aging effects could help alleviate these problems.
It is perhaps surprising that most geolocators measure only a few points at twilight, which is the most crucial measurement period. The introduction of 'smart' recording modes that would allow intense sampling at twilight while skipping uninformative midnight and noon measurements would dramatically improve the precision of location estimation.
A reflection on the general 'infancy' of a burgeoning research field
Solar geolocation publications on migratory birds are booming now in the peer reviewed journals, with rather little attention to the statistical methods necessary to improve the objectivity and precision of path reconstructions. Although some conclusions may be made warranted without statistical approaches (e.g. longitude of breeding or wintering grounds), we argue that path-reconstruction of moving animals from noisy light and time data should be done within a statistical framework. Statistical models do not provide exact positions of the bird, and biological interpretations should always be cognizant of estimates of the position and/or timing uncertainty provided by FLightR or any other analysis package. For example, interpretation of the estimated time spent inside a key habitat is much more appropriate than estimating a single fix within that habitat [14].
Conclusions
Here we introduced a template fitting observational model for solar geolocation as a part of a hidden Markov model. With this approach we estimated positions and migratory schedules of animals accompanied by precision estimates. We believe that the present approach will establish a new benchmark for geolocator analysis that meets the standards applied to most other subfields of research with regard to analytical vigor, objectivity and repeatability.
Availability of supporting data
Declarations
Acknowledgements
We thank Ryan Norris and David Bradley for kind permission of use their unpublished data on the tagged tree swallow and to Jeffrey Kelly and Andrea Contina, Simeon Lisovski and an anonymous reviewer or their comments on a draft. ER and TP were supported by grants to TP from Waddenfonds (Metawad, WF209925) and the Netherlands Organisation for Scientific Research (NWO, TOP-grant ALW-TOP/Shorebirds in space/11.024 to TP); ESB was supported by NSF EAGER 0946685 and IDBR-1152356, and ER and DWW were supported by NSF grants DBI-0963969 and IDR-1014891. We also acknowledge cyberinfrastructure provided by NSF: 0919466 "Collaborative Research: EPSCoR RII Track 2 Oklahoma and Kansas: cyberCommons", J. Duckles for his help with Linux environment and the cyberinfrastructure provided to Cornell University by the NSF Expeditions in Computing grant on Computational Sustainability (Award Number 0832782) and Computing research infrastructure for constraint optimization, machine learning, and dynamical models for Computational Sustainability grant (Award Number 1059284). We thank all the participants of NCEAS Project 12663 'Establishing an open-source animal-tracking analysis platform for archival geolocators'. Finally, collaboration among the authors was facilitated by the MIGRATE research coordination network (NSF IOS-541740).
Open AccessThis article is distributed under the terms of the Creative Commons Attribution 4.0 International License (http://creativecommons.org/licenses/by/4.0/), which permits unrestricted use, distribution, and reproduction in any medium, provided you give appropriate credit to the original author(s) and the source, provide a link to the Creative Commons license, and indicate if changes were made. The Creative Commons Public Domain Dedication waiver (http://creativecommons.org/publicdomain/zero/1.0/) applies to the data made available in this article, unless otherwise stated.
Authors' Affiliations
(1)
Department of Ecology and Evolutionary Biology and Laboratory of Ornithology, Cornell University, Ithaca, USA
(2)
Department of Marine Ecology, NIOZ Royal Netherlands Institute for Sea Research, AB Den Burg, The Netherlands
(3)
Department of Vertebrate Zoology, Biological Faculty, Lomonosov Moscow State University, Moscow, Russia
(4)
Oklahoma Biological Survey, University of Oklahoma, Norman, USA
(5)
Point Blue Conservation Science, Petaluma, USA
(6)
College of Information and Computer Sciences, University of Massachusetts, Amherst, USA
(7)
Department of Computer Science, Mount Holyoke College, South Hadley, USA
(8)
Chair in Global Flyway Ecology, Conservation Ecology Group, Groningen Institute for Evolutionary Life Sciences (GELIFES), University of Groningen, Groningen, The Netherlands
(9)
Department of Ecological Systems Modelling, Institute of Environmental Sciences, Kazan Federal University, Kazan, Russia
Copyright
© Rakhimberdiev et al. 2015