Mapping migratory flyways in Asia using dynamic Brownian bridge movement models
Received: 16 October 2014
Accepted: 6 January 2015
Published: 2 February 2015
Abstract
Background
Identifying movement routes and stopover sites is necessary for developing effective management and conservation strategies for migratory animals. In the case of migratory birds, a collection of migration routes, known as a flyway, is often hundreds to thousands of kilometers long and can extend across political boundaries. Flyways encompass the entire geographic range between the breeding and non-breeding areas of a population, species, or a group of species, and they provide spatial frameworks for management and conservation across international borders. Existing flyway maps are largely qualitative accounts based on band returns and survey data rather than observed movement routes. In this study, we use satellite and GPS telemetry data and dynamic Brownian bridge movement models to build upon existing maps and describe waterfowl space use probabilistically in the Central Asian and East Asian-Australasian Flyways.
Results
Our approach provided new information on migratory routes that was not easily attainable with existing methods to describe flyways. Utilization distributions from dynamic Brownian bridge movement models identified key staging and stopover sites, migration corridors and general flyway outlines in the Central Asian and East Asian-Australasian Flyways. A map of space use from ruddy shelducks depicted two separate movement corridors within the Central Asian Flyway, likely representing two distinct populations that show relatively strong connectivity between breeding and wintering areas. Bar-headed geese marked at seven locations in the Central Asian Flyway showed heaviest use at several stopover sites in the same general region of high-elevation lakes along the eastern Qinghai-Tibetan Plateau. Our analysis of data from multiple Anatidae species marked at sites throughout Asia highlighted major movement corridors across species and confirmed that the Central Asian and East Asian-Australasian Flyways were spatially distinct.
Conclusions
The dynamic Brownian bridge movement model improves our understanding of flyways by estimating relative use of regions in the flyway while providing detailed, quantitative information on migration timing and population connectivity including uncertainty between locations. This model effectively quantifies the relative importance of different migration corridors and stopover sites and may help prioritize specific areas in flyways for conservation of waterbird populations.
Keywords
Dynamic Brownian bridge movement modelFlywaysWaterfowlMigrationStopover sitesSpace useHabitat conservation
Background
For migratory animals, identifying movement routes and stopover sites is necessary for effective population management and habitat conservation [1,2]. Animals experience a variety of challenges during migration, including adverse weather, unpredictable food availability and geographic barriers such as mountain ranges, deserts and oceans. Some migratory birds spend over half of their annual cycle traveling between breeding and wintering areas, and challenges during these periods contribute to a substantial portion of annual mortality in many species [3-6]. However, there are disproportionately few studies analyzing space use during migration (e.g., [7,8]) relative to those that quantify space use during breeding and wintering periods (e.g., [9,10]).
A collection of avian migration routes, known as a flyway, is often hundreds to thousands of kilometers long and can extend across international borders. A flyway encompasses the entire geographic range between breeding and non-breeding areas of populations, single species or across multiple species, and provides a spatial framework for management and conservation across political boundaries [11]. Waterfowl migration routes are perhaps the best described flyways due to a long history of research and management. The concept of multi-species waterfowl flyways began in North America in the 1930s but has since spread to all major global flyways [12]. In 1935, Lincoln [13] first defined and mapped North American waterfowl flyways based entirely on band return data. These biological flyways formed the basis of administrative flyways in the United States, which were designed to manage populations and set hunting regulations [14]. Through the years, waterfowl flyway management programs in North America have become a unique example of long-term collaboration between wildlife research and management. Outside of the United States and Canada, organized flyway-level efforts to conserve waterbirds began in the 1960s in Eurasia and northern Africa, and the first waterbird flyway maps of western Eurasia were published in 1967 [15,11].
Organized research and flyway-level conservation initiatives in the Asia-Pacific region began much later, and even today, these flyways are only broadly defined and poorly understood [
11
]. Miyabayashi and Mundkur [
16
] roughly mapped Anatidae flyways at the species level in the East Asian-Australasian Flyway (EAAF) in 1999 (Figures
1
,
2
, and
3
), but similar information is unavailable for many Anatidae species in the Central Asian Flyway (CAF). The EAAF supports more waterbird species than any other flyway in the world, but >45% of the global human population lives within its boundaries [
17
], and numerous threats to waterbirds exist including habitat loss from agricultural activities and coastal development, pollution, and hunting [
18
]. As a result, the EAAF has the highest number of globally threatened waterbird species of any major flyway [
17
]. In an effort to promote conservation of waterbirds and their habitats in the CAF and EAAF, a flyway-wide coalition of governments and non-government organizations known as the Asia-Pacific Migratory Waterbird Conservation Strategy was established in 1996 [
19
].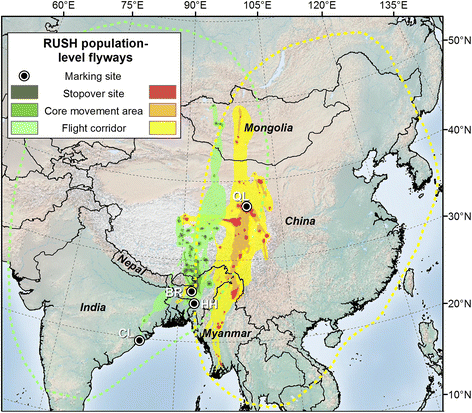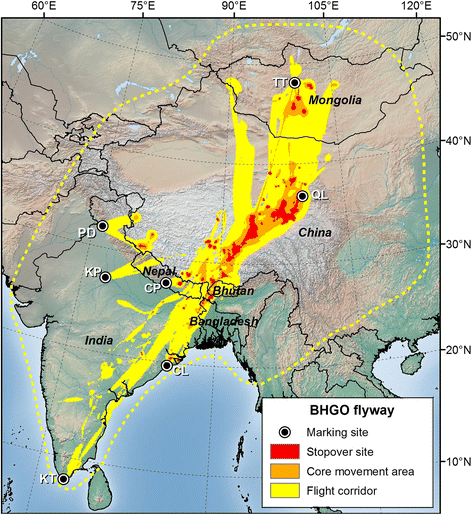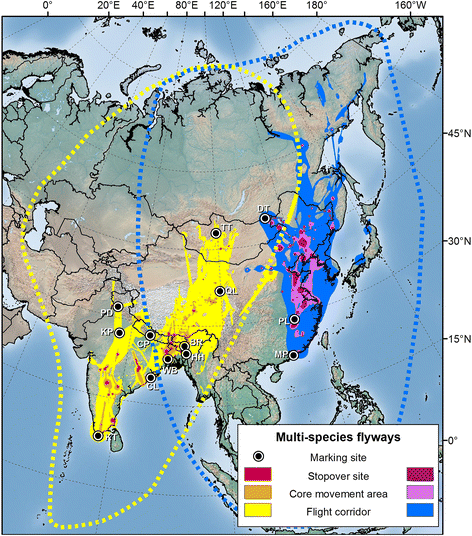 Spatial representations of waterfowl flyways have improved markedly since Lincoln's first North American maps, but research has yet to incorporate data from satellite telemetry studies to quantitatively describe relative use within flyways. Even the most comprehensive spatial representations of waterfowl flyways are largely qualitative accounts, relying on data from a variety of sources which fail to fully capture connectivity, individual movement routes and relative use within flyways. For example, Bellrose [20,21] highlighted important migration corridors within North American waterfowl flyways by estimating the direction of passage and relative magnitude of birds migrating between different areas within flyways. Bellrose's maps were based primarily on band return data, which provide little information beyond a start and endpoint, and are inherently biased towards areas with high human population density and hunter activity. Other existing waterfowl flyway maps, such as those in Scott and Rose [22] and Miyabashi and Mundkur [16], are broadly outlined geographic boundaries that encompass a collection of data from a variety of sources, including population monitoring survey data, band return locations, re-sightings of color-marked individuals, and anecdotal accounts.
Beginning in 2006, the United Nations Food and Agriculture Organization (FAO) and the U.S. Geological Survey (USGS) developed a research partnership to assess waterfowl movements throughout Asia and apply models to evaluate their potential to transmit and spread disease. By the end of 2013, the USGS-FAO marking projects had deployed more than 550 satellite transmitters on 26 waterfowl species across 12 countries in Africa and Asia, with a majority in the CAF and EAAF [23].
Satellite and GPS (Global Positioning System) data from the FAO-USGS projects and other avian marking studies provide detailed route information that can improve our knowledge of flyway systems, including data on migration timing, connectivity between breeding and non-breeding areas, migration speed, stopover sites and route fidelity [24]. Researchers have used several methods – most notably, kernel density estimators – to estimate animal space use (i.e., home ranges) from GPS and satellite telemetry data, primarily in breeding and wintering areas. These methods estimate a utilization distribution (UD), which is a probability density representing an animal's relative frequency of occurrence in space and time [25,26]. However, traditional processes for estimating UDs do not account for temporal structure of observations and therefore perform very poorly for actively migrating animals [27].
For migratory species, the Brownian bridge movement model (BBMM) improved upon other methods by estimating a UD based on the animal's movement path, highlighting both movement corridors and stopover sites. This method calculates the probability of an animal's use in between telemetry locations by incorporating the distance and elapsed time between successive locations, the location error, and the Brownian motion variance, which estimates an animal's mobility based on its speed and direction of movement [27]. Sawyer et al. [28] used the BBMM method to estimate population-level migration routes of mule deer. Building on the BBMM, the dynamic BBMM (dBBMM) treats migration movements probabilistically and accounts for temporal autocorrelation in location data. However, instead of assigning a constant Brownian motion variance to all locations in a particular dataset, the dBBMM allows the parameter to vary along the movement path in response to changes in behavior (movement speed) during migration [29]. Specifically in birds, a dynamic variance parameter helps to more accurately distinguish between route segments that function as stopover sites and local movements versus those used primarily as flight corridors.
The objective of this paper is to examine how analyses of satellite and GPS movement data can improve our understanding of migratory bird flyways. We use a new approach to map flyways quantitatively, compare our results to existing range maps and flyway outlines, and present new information on migratory pathways provided by our movement models. Through the FAO-USGS marking program, we use dBBMMs and location data from 141 marked waterfowl to depict examples of probabilistic flyways at the population, species and multi-species levels in the CAF and EAAF. Our examples provide relative space use of bar-headed geese (Anser indicus), ruddy shelducks (Tadorna ferruginea), and nine other waterfowl species during their semiannual migrations.
Results and discussion
Our example maps show how the dBBMM can be applied to bird telemetry data to map migration routes and estimate relative use within flyways. Specifically, our results (1) provide evidence suggesting strong connectivity in two separate ruddy shelduck populations, (2) highlight heavily used stopover sites, areas of spatial overlap, and variable migration speeds in bar-headed goose routes, and (3) identify important stopover regions used by multiple species throughout parts of Asia.
Conclusions
Empirical estimates of migratory flyways based on satellite tracking data help build upon largely qualitative accounts that have formed the basis of traditional flyway maps. Specifically, the dBBMM improves our understanding of flyways by estimating relative use throughout the flyway, providing detailed, quantitative information on migration timing and population connectivity, and accounting for uncertainty between observed locations. This new approach can be a valuable conservation tool because it goes beyond delineating spatial boundaries of migration routes and provides a more quantitative way to identify important movement corridors, staging and stopover sites, and demographically distinct populations. Conservation planners can use UD layers from dBBMMs in conjunction with other types of supporting data to help inform management decisions and incorporate these layers into various spatial analyses. While our approach offers many improvements over traditional methods for describing flyways, it will not replace these existing flyway data. Instead, dBBMM outputs fill many of the gaps in current flyway knowledge and help prioritize areas for future marking studies, surveys, and conservation efforts.
Declarations
Acknowledgements
The authors thank United Nations FAO, USGS, and NSF (SGER 0713027) for funding this program. We are grateful to the local field staff and national and local agencies of China, Mongolia, India, and Bangladesh for local field support and permissions granted for this work. We are grateful to the research partners, local field staff and national and local agencies of China (B. Yan, Z. Xing, Y. Hou, P. Leader, B. Smith, K. Spragens), Mongolia (T. Natsagdorj, P. Butler, C. Bishop, L. Hawkes, M. Wikelski), India (A. George, S. Rao, P. Sathiyaselvam, P. Gangaiamaran, S. Heath, T. Mundkur, L. Hawkes, T. McCracken), Nepal (R. Suwal), and Bangladesh (S. Saif, S. Mohsanin, P. Hosseini, K. Vandegrift, A. Mikolon, A. Islam, P. Daszak, N. Hill) for local field support and permissions granted for this work. We thank Kamran Safi, Dan Esler, and two anonymous reviewers for improving earlier versions of this manuscript. Finally, we thank Max Czapanskiy and Julie Yee of the USGS for their assistance with statistical analyses. The use of trade, product, or firm names in this publication is for descriptive purposes only and does not imply endorsement by the U.S. Government. The views expressed in this information product are those of the author(s) and do not necessarily reflect the views or policies of FAO.
Authors' Affiliations
(1)
U.S. Geological Survey, Patuxent Wildlife Research Center, Beltsville, USA
(2)
Food and Agriculture Organization of the United Nations, Emergency Center for Transboundary Animal Disease, Hanoi, Vietnam
(3)
Department of Botany and Microbiology, Center for Spatial Analysis, University of Oklahoma, Norman, USA
(4)
Institute of Biodiversity Science, Fudan University, Shanghai, China
(5)
Computer Network Information Center (CNIC), Chinese Academy of Sciences, Beijing, China
(6)
Wildlife Science and Conservation Center, Ulaanbaatar, Mongolia
(7)
Bombay Natural History Society, Mumbai, India
(8)
U.S. Geological Survey, Western Ecological Research Center, San Francisco Bay Estuary Field Station, Vallejo, USA
(9)
National Audubon Society, Science Division, San Francisco, USA
Copyright
© Palm et al.; licensee BioMed Central. 2015
This is an Open Access article distributed under the terms of the Creative Commons Attribution License (http://creativecommons.org/licenses/by/4.0), which permits unrestricted use, distribution, and reproduction in any medium, provided the original work is properly credited. The Creative Commons Public Domain Dedication waiver (http://creativecommons.org/publicdomain/zero/1.0/) applies to the data made available in this article, unless otherwise stated.