Windscapes shape seabird instantaneous energy costs but adult behavior buffers impact on offspring
Received: 24 May 2014
Accepted: 25 July 2014
Published: 12 September 2014
Abstract
Background
Windscapes affect energy costs for flying animals, but animals can adjust their behavior to accommodate wind-induced energy costs. Theory predicts that flying animals should decrease air speed to compensate for increased tailwind speed and increase air speed to compensate for increased crosswind speed. In addition, animals are expected to vary their foraging effort in time and space to maximize energy efficiency across variable windscapes.
Results
We examined the influence of wind on seabird (thick-billed murre Uria lomvia and black-legged kittiwake Rissa tridactyla) foraging behavior. Airspeed and mechanical flight costs (dynamic body acceleration and wing beat frequency) increased with headwind speed during commuting flights. As predicted, birds adjusted their airspeed to compensate for crosswinds and to reduce the effect of a headwind, but they could not completely compensate for the latter. As we were able to account for the effect of sampling frequency and wind speed, we accurately estimated commuting flight speed with no wind as 16.6 ms−1 (murres) and 10.6 ms−1 (kittiwakes). High winds decreased delivery rates of schooling fish (murres), energy (murres) and food (kittiwakes) but did not impact daily energy expenditure or chick growth rates. During high winds, murres switched from feeding their offspring with schooling fish, which required substantial above-water searching, to amphipods, which required less above-water searching.
Conclusions
Adults buffered the adverse effect of high winds on chick growth rates by switching to other food sources during windy days or increasing food delivery rates when weather improved.
Keywords
Wind SpeedFlight SpeedDaily Energy ExpenditureGround SpeedSand Lance
Background
Environmental conditions (e.g. snowpack, obstacles and water or air currents) may shape the energy costs of animal behavior [1-5]. Such costs can be reflected in the cost of foraging, such as ducks that must fight against the current to obtain their food [6-9]. Alternatively, animals may alter their behavior to minimize those costs, such as caribou that avoid areas of deep snow to reduce locomotory costs [10]. For many animals, energetic costs peak while rearing young [11-13] and so to reproduce successfully, foraging must be efficient and adaptable to changing environmental conditions. For flying animals, the windscape is particularly important in determining foraging energetics as it influences flight efficiency and prey accessibility [14-19]. However, the effect of windscape on a species depends on its flight style [20]. For instance, high wind speeds reduce foraging costs in petrels that can use wind to soar, but increase foraging costs in auks that are unable to soar and thus must fight against the wind to reach their destination [21,22].
Not surprisingly, windy weather can reduce adult body mass and chick provisioning rates in some piscivorous birds, ultimately lowering reproductive success [23-29]. Adult seabirds, however, are known to buffer variability in food availability so as to maintain constant chick provisioning rates by increasing time spent foraging when food is scarce [30-32]. While most studies on buffering by adult seabirds examine how feeding rates vary in response to variation in prey stocks [33-35], similar processes likely occur in response to inclement weather. For example, adults may alter time budgets and draw on stored energy reserves to maximize reproductive success by continuously feeding offspring during inclement weather, and recoup those reserves during calmer weather when chick feeding is less costly. Alternatively, given that adult self-feeding (requiring only a single commuting flight) may be less affected by wind than chick provisioning (requiring several commuting trips to bring food back intermittently to the offspring), adults may self-feed when wind speeds are highest and provision chicks at other times. We hypothesize that adults buffer the effects of weather and predict that at-sea behavior would be more strongly correlated with weather than chick growth or feeding rates.
One possible way in which parental birds could alter their behavior to reduce the effect of wind speed is by switching to alternative prey. For instance, schooling fish require more above-water searching (flights and time spent flying; [36,37]) to locate, especially when wind disturbs the surface layer [13,14]. In contrast, benthic fish and invertebrates are smaller and/or of lower energy density than schooling fish [38], but are either more abundant (invertebrates) or are associated with bottom features (benthic), which means they require less above-water searching [36,37,39,40]. We predicted that in response to high winds, parental birds would switch to prey items that were more spatially consistent and required less above-water searching.
To understand behavioral responses to wind, it is important to quantify the energy costs associated with variable wind speed. Theoretical flight costs follow a U-shape, increasing at both low and high flight speeds (the power curve; [41-43]). Thus, flight costs increase non-linearly with forward flight for birds that are using directed flight (i.e. commuting to a nest site, migrating, flying between food patches), as those birds will presumably be flying in the increasing portion of the power curve. Miniaturized GPS-accelerometers provide a fine-scale estimation of energy costs and flight speeds in wild birds [19,44,45]. In the presence of a tailwind that increases ground speed for a given airspeed, the air speed that minimizes energy costs per distance travelled will decrease [43,46]. Many studies have confirmed that airspeed decreases with tailwind speed in breeding birds [47-53], bats [54], migrating dragonflies [55] and migrating birds [56-58], and that animals can largely compensate for crosswinds [53,54].
We studied the impact of wind on thick-billed murres (Uria lomvia) and black-legged kittiwakes (Rissa tridactyla) at varying temporal scales: seconds (wing beat frequency and flight/swim speed), hours (time spent flying, time spent at colony, energy delivery rate) and days (chick growth rate, daily energy expenditure). These two seabirds are suitable model species for examining the impact of wind on flight because they have relatively high flight costs; murres have the highest flight costs, for their body mass, of any bird [59] and kittiwakes also have high flight costs [60]. We examined multi-scale behavioral responses to wind and predicted that: (i) air speed and energy costs would increase with headwind speed and crosswind speed; (ii) the strength of the correlation between wind speed and behavioral parameters would decrease over increasing temporal scales as adults buffered the effect of wind speed; and, (iii) adults would switch from prey items requiring extensive above-water searching to items require less above-water searching as wind speed increased.
Methods
All activities were approved under the guidelines of the Canadian Council on Animal Care (protocol F11-020).
Results
Ground speed and wing beat frequency
Ground speed decreased with the magnitude of the component of wind speed against the direction of flight (Table
1
, Figure
4
). Crosswind speed did not affect ground speed (Table
1
). In the absence of a tail or headwind, the best-fit equation generated a prediction for average ground speed of 16.6 m/s (murres) or 10.6 m/s (kittiwakes; Figure
4
). Air speed was lowest with a tailwind and highest with headwind, and higher with a crosswind than without a crosswind (Figure
5
). Wing beat frequency, averaged across all inbound or outbound flights for each individual, decreased with the magnitude of the component of wind speed in the direction of flight (assuming outgoing direction of 101 ± 10° and an incoming direction of 278 ± 11° for murres). Wing beat frequency was higher for inbound murres, carrying fish, than for outbound murres (Figure
6
).
Table 1
Statistical output (F-values with P-values in parentheses) from general linear mixed models, with individual as a random effect, describing six foraging parameters for thick-billed murres and black-legged kittiwakes as a function of year, time of day (circularly-transformed) and windspeed
Parameter

N

Year

Crosswind

Tailwind

Time

Murres

Outbound wing beat frequency

10

2.63 (0.11)

0.221 (0.66)

13.5 1 (0.0004)

0.05 (0.89)

Flight speed

35

23.2 (<0.0001)

3.58 (0.06)

171.1 (<0.0001)

0.08 (0.78)

Energy delivery rate between 0600 h and 1000 h EST

82

2.61 (0.11)

6.48 (0.01) 2

Time flying per day

210

2.96 (0.02)

0.06 (0.81)2

Residual of daily energy expenditure on body mass

49

1.53 (0.22)

2.21 (0.14)2

Residual of chick growth rate on age3

720

4.23 (0.04)

0.39 (0.93)2

Kittiwakes

Wing beat frequency

10

0.11 (0.87)

4.67 (0.04)

0.25 (0.61)

Flight speed

10

1.58 (0.22)

178.9 (<0.0001)

0.01 (0.98)

Feeding rate between 900 h and 1300 h AKDT

96

4.41 (0.04) 2

Time flying per day

30

0.45 (0.51)2

Residual of daily energy expenditure on body mass

37

0.01 (0.92)2

Residual of chick growth rate on age3

126

0.49 (0.46)

3.94 (0.05)2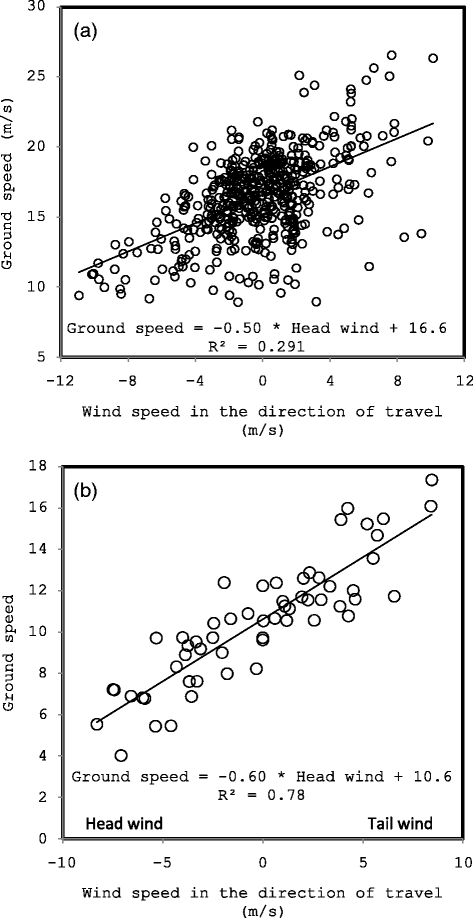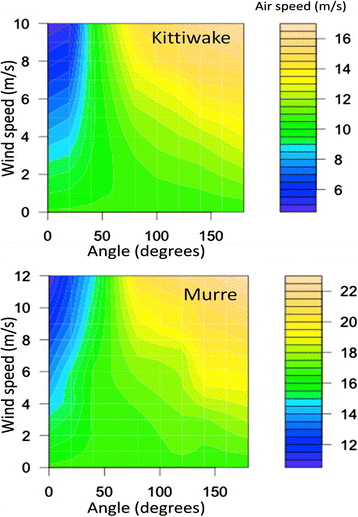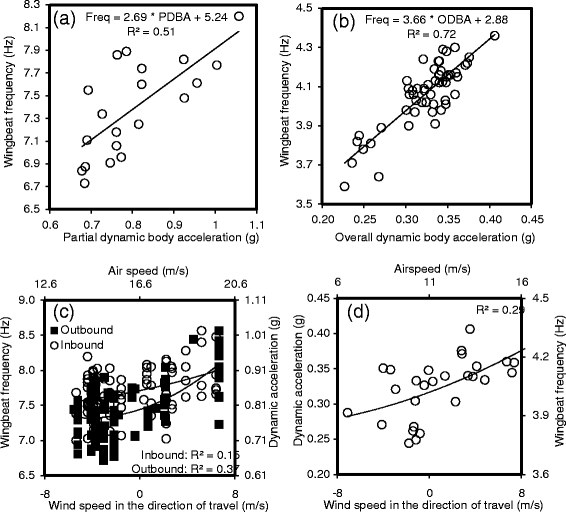 Behavior, diet, energy delivery rates and chick growth rates
Chick-provisioning rates (±SD) averaged 0.33 ± 0.12 feeds h
−1
for kittiwakes and 149 ± 25 kJ d
−1
for murres while daily energy expenditure during chick-rearing averaged 1.96 ± 0.28 kJ d
−1
g
−1
for kittiwakes and 2.04 ± 0.53 kJ d
−1
g
−1
for murres. Energy delivery rates decreased with wind speed (Table
1
, Figure
7
). Chick growth rate, daily energy expenditure and time spent flying were independent of wind speed (Table
1
, Figure
7
). For murres, energy delivered in the form of amphipods
Parathemisto libellula
increased with date (t
870
 = 4.00, P < 0.0001) and headwind speed in the average direction of commuting (101 ± 10°; t
870
 = −4.96, P < 0.0001; total R
2
 = 0.26; Figure
7
). In contrast, energy delivered in the form of two schooling fish, cod
Boreogadus saida
and sand lance
Ammodytes hexapterus
, decreased with date (cod: t
870
 = −2.81, P < 0.0001; sand lance: t
870
 = 2.70, P < 0.0001) and with headwind speed in the direction of commuting (cod: t
870
 = −4.28, P < 0.0001; total R
2
 = 0.22; sand lance: t
870
 = −3.51, P < 0.0001; total R
2
 = 0.18; Figure
7
). Energy delivered for all other fish species was independent of wind speed.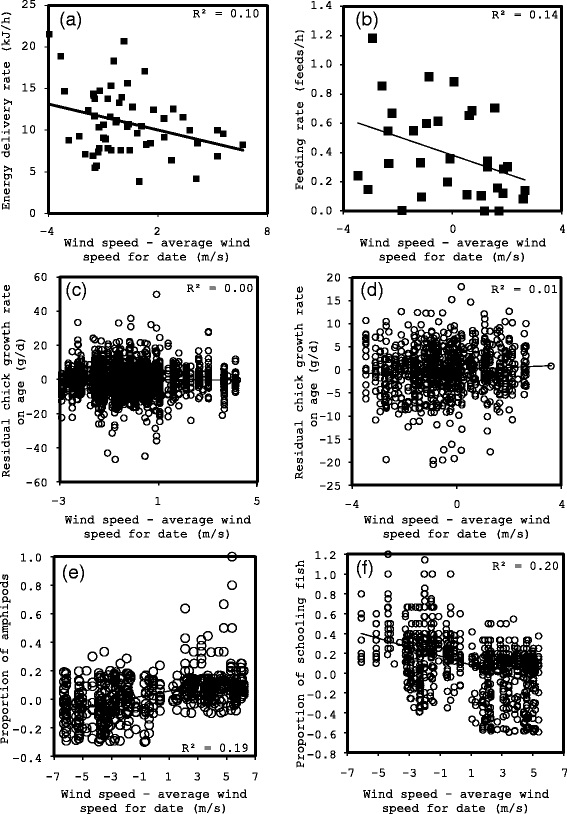 Discussion
At scales varying from a sub-second (wing beat frequency) to hours (feeding rates) to days (chick growth rates), the effect of wind speed was progressively buffered by seabird behavior. At the scale of seconds to minutes, we used GPS-accelerometry to demonstrate that headwinds increased instantaneous costs and birds were unable to avoid those costs, although they increased airspeed to partially compensate for reduced ground speed. At longer time scales, parents apparently buffered the effect of stormy weather on their chicks as energy delivery rates were influenced only slightly and chick growth rates were not impacted. During windy periods birds switched from unpredictable, schooling fish (sand lance and cod) to more predictable invertebrates (amphipods).
Ground speed and wing beat frequency
Ground speed increased linearly with the component of wind speed in the direction of flight. There was no effect of crosswinds, demonstrating that birds completely compensated for crosswinds [
47
-
54
]. Wing beat frequency correlated with dynamic body acceleration (Figure
3
a,b), as wing beat frequency is, by definition, a measure of how quickly the wing accelerates through the wing beat cycle. Variation in this relationship is likely due to variation in body mass/load, as birds carrying heavy loads will have higher wing beat frequency (work harder) but lower body acceleration (Newton's second law). Dynamic body acceleration is correlated with energy costs in active animals, such as seabirds [
44
,
45
,
83
,
84
], so it is not surprising that wing beat frequency is a proxy for instantaneous energy costs in flight [
43
,
85
]. For every increase in headwind of 1 m/s, ground speed decreased by only 0.5-0.6 m/s; birds increased wing beat frequency (power output) to compensate for decreasing ground speed. Thus, the increase in ground speed is not equal to the increase in wind speed and the ground speed is decreasing relative to what it would be if it were completely controlled by wind speed alone with no accommodation by the bird. The average ground speed at 0 m/s wind speed was below most past reports of murre/kittiwake ground speed (Table
2
). The low flight speed may, in part, be an artifact of increased drag associated with the 25 g GPS loggers (17 g accelerometers increase murre flight costs by 21%; [
12
]). Indeed, it is possible that the effects throughout this paper were exacerbated due to the increased load and drag associated with instrumentation.
Table 2
Reported flight speeds for kittiwakes and murres
Location

Technique

Source

Ground speed (m/s)

Black-legged Kittiwake

Middleton Island, USA

GPS logger (17 g)

Current study

10.6 (no wind)

Middleton Island, USA

GPS logger (11 g)

[68]

9.2

Varanger peninsula, Norway

Compared to car speedometer

[86]

11 (headwind: 4 m/s)

Britain

Ornithodolite

[87]

13.1

Thick-billed Murre

Coats Island, Canada

GPS logger (25 g)

Current study

16.6 (no wind)

Coats Island, Canada

Stopwatch over known distance

[88]

20.9

Iceland

Compass data logger (29 g)

[89]

18.1

Prince Leopold Island, Canada

Stopwatch over known distance

[90]

20.1

Common Murre

Britain

Stopwatch over known distance

[91]

22

Britain

Stopwatch over known distance

[92]

18

Britain

Ornithodolite

[87]

19.1

British Columbia, Canada

Marine radar

[93]

19.7

Sweden

GPS logger (28 g)

[94]

20.1 outbound (prevailing tailwind)

15.1 inbound (prevailing headwind)

Russia

Stopwatch over known distance

[95]

19.4
Wind had a strong impact on the flight behavior and energy expenditure during flight of both species. The birds were able to compensate for crosswinds. In contrast, although they increased wing beat frequency in the face of increased headwinds, they were only partially able to compensate for the effect of increased headwinds.
Buffering weather costs
Wind had a smaller impact on energy delivery rates than on flight costs and did not appear to influence offspring growth rates at all. Thus, parental birds buffered the effect of variation in wind so as not to impact their reproductive success. This is not simply because strong tailwinds on the inbound trip compensate for strong headwinds on the outbound trip; due to the nonlinear relationship between energy costs and wind speed, a return trip with 5 m/s outbound headwind and inbound tailwind imposes a 6% increase in overall costs for murres compared with the same trip with no wind. We suggest that the increased chick feeding rates during periods of high food accessibility (moderate or low winds) is due to parental murres buffering changes in food accessibility in such a way that they make up for periods of low food accessibility (high winds); parental birds may have also switched to alternative prey or sacrificed self-feeding during high winds to maintain provisioning rates.
In contrast to other studies of charadriiform seabirds [20,60], we found no effect of wind speed on daily energy expenditure. Likewise, using a subset of the data presented here, and measuring wind speed twice a day at the colony, Elliott et al. [59] found no effect of wind on daily energy expenditure in murres. Seabirds may alter their behavior during windy days to minimize the effect of high winds; on windy days kittiwakes use formation flocks and fly at low altitudes, where wind speed is less due to the effect of the boundary layer [86]. Birds may also choose flight paths that minimize the negative effect of wind [19].
We were surprised that there was no link between several days of windy weather and reduced chick growth rates as previous studies have found measurable effects of wind on the reproductive success, attendance, feeding rates and chick growth rates of piscivorous birds [13-19,23-29,96,97], contra [98]. This implies that adults of both species were adjusting their behavior to compensate for poor weather. Temporal scale likely explained some of the variation as extreme wind speeds, measurable in data collected at the scale of seconds or minutes, was not maintained for days on end. Nonetheless, there was a noticeable effect on feeding rates and flight behavior even at the reduced wind speeds (~ ± 4 m/s) observed within the chick growth dataset. In support of a weather effect on above-water searching, weather in our study was unrelated to energy delivered in the form of prey items that require underwater searching but not above-water searching (e.g. benthic prey occurring well below the surface layer affected by weather). In contrast, energy delivered in the form of schooling prey that required above-water but not underwater searching (Arctic cod and sand lance) decreased on windy days. We suggest that during inclement weather (high winds), birds were unable to track schooling fish due to high wave height or difficulty flying, and switched to more abundant, but lower energy content [38], amphipods and benthic fish. The effect of date was also apparent for several of these parameters as murres deplete food sources over the course of the season and switch to alternative, less profitable food sources [63].
If parental birds have the capacity to increase feeding rates to offspring during poor weather, why then do they not do so during good weather? One possibility is that they use periods of good weather to replenish their own reserves, which are larger and less likely to be exhausted during poor weather. Furthermore, the gain to the parent in terms of increased probability of chick survival may be a decelerating function of energy delivery rates; a chick that starves represents zero reproductive success but a very heavy chick may actually have low survival if it has difficulty fledging [99,100]. Likewise, both the chick and adult are only able to assimilate a certain amount of food each day [12], and so there is no reason to catch excess food. Finally, during periods of low food the parent may divert more energy towards the chick simply in response to increased begging, and that response may not be linearly tied to ultimate costs and benefits [100-102].
Conclusions
Windscapes alter the prey field accessible to marine predators by altering their ability to locate schooling prey [19,103,104]. Thus, wind acted as a dimension within the N-dimensional animal energetic niche [105,106]. Marine predators—murres and kittiwakes—altered their behavior as their energetic niche varied, showing flexibility in their behavioral response to the variable marine environment [39,40,106,107]. Such flexibility proves key to maintaining fitness across variable environmental conditions.
Declarations
Acknowledgements
K. Ashbrook, M. Barrueto, K. Elner, A. Hargreaves, S. Jacobs, G. Lancton, M. LeVaillant, E. Grosbellet, A. Moody, A. Ronston, J. Provencher, P. Smith, K. Woo and P. Woodward helped in the field. J. Nakoolak kept us safe from bears. N. Sapir and two anonymous reviewers provided very useful comments on an earlier version of our manuscript. R. Armstrong at the Nunavut Research Institute, M. Mallory at the Canadian Wildlife Service Northern Research Division and C. Eberl at National Wildlife Research Centre in Ottawa provided logistical support. F. Crenner, N. Chatelain and M. Brucker customized the GPS at the IPHC-CNRS. KHE received financial support through a NSERC Vanier Canada Graduate Scholarship, ACUNS Garfield Weston Northern Studies scholarship and AINA Jennifer Robinson Scholarship and JFH received NSERC Discovery Grant funding. J. Welcker generously loaned some accelerometers. All procedures were approved under the guidelines of the Canadian Council for Animal Care.
Authors' Affiliations
(1)
Department of Biological Sciences, University of Manitoba, Winnipeg, Canada
(2)
The Buntings, Sandy, UK
(3)
Environment Canada, National Wildlife Research Centre, Carleton University, Ottawa, Canada
(4)
Institute for Seabird Research and Conservation, Anchorage, USA
(5)
Université de Strasbourg, IPHC, Strasbourg, France
(6)
CNRS, UMR7178, Strasbourg, France
(7)
Department of Biology, University of Victoria, Victoria, Canada
(8)
Institute of Biological and Environmental Sciences, University of Aberdeen, Aberdeen, UK
(9)
State Key Laboratory of Molecular and Developmental Biology, Institute of Genetics and Developmental Biology, Chinese Academy of Sciences, Beijing, PR China
Copyright
© Elliott et al.; licensee BioMed Central Ltd. 2014
This is an Open Access article distributed under the terms of the Creative Commons Attribution License (http://creativecommons.org/licenses/by/4.0), which permits unrestricted use, distribution, and reproduction in any medium, provided the original work is properly credited. The Creative Commons Public Domain Dedication waiver (http://creativecommons.org/publicdomain/zero/1.0/) applies to the data made available in this article, unless otherwise stated.