Life-history strategy, resource dispersion and phylogenetic associations shape dispersal of a fig wasp community
Received: 20 September 2017
Accepted: 22 November 2017
Published: 6 December 2017
Abstract
Background
The combined influence of life-history strategy and resource dispersion on dispersal evolution of a biological community, and by extension, on community assemblage, has received sparse attention. Highly specialized fig wasp communities are ideal for addressing this question since the life-history strategies that affect their pace of life and the dispersion of their oviposition resources vary. We compared dispersal capacities of the wasp community of a widespread tropical fig, Ficus racemosa, by measuring flight durations, somatic lipid content and resting metabolic rates.
Results
Wasp species exhibiting greater flight durations had higher energy reserves and resting metabolic rates. "Fast"-paced species showed higher dispersal capacities reflecting requirements for rapid resource location within short adult lifespans. Longer-lived "slow"-paced species exhibited lower dispersal capacities. Most dispersal traits were negatively related with resource dispersion while their variances were positively related with this variable, suggesting that resource dispersion selects for dispersal capacity. Dispersal traits exhibited a phylogenetic signal.
Conclusions
Using a combination of phylogeny, trait functionality and community features, we explain how dispersal traits may have co-evolved with life-history strategies in fig wasps and influenced a predisposition for dispersal. We speculate how processes influencing dispersal trait expression of community members may affect resource occupancy and community assemblage.
Keywords
Community ecologyDispersalFig waspsFlight fuelInsect flightLife historyMetabolic rateResource availability
Background
The study of dispersal is important since the ability to disperse can influence the population dynamics of a species, its global distribution, population genetic structure, its evolutionary trajectory, and ultimately its membership within a community [1]. Dispersal capacities have rarely been studied in the context of life-history strategies. One approach to understanding the relationships between life history and dispersal traits in biological communities has been the conceptual framework of competition/colonization trade-offs [2]. However, this framework is helpful only when community members occupy the same guild and compete for the same resource, and fails to capture the complexities of community assemblages within ephemeral microcosms with complicated developmental trajectories.
Spatial dispersion of resources can select for dispersal traits of community members [
1
]. In this paper, we use the terms dispersion exclusively to characterize spatial spread of resources and dispersal to indicate the dispersal capacity of members of a community. When resources appear in a stochastic fashion in space, temporal differences in resource availability can change effective spatial resource dispersion, thereby selecting for corresponding dispersal abilities in community members [
3
–
5
]. Specifically, with shorter temporal availability of stochastically occurring resources, the effective spatial resource dispersion increases, selecting for increased dispersal abilities (Fig.
1
). Examples of such resource availabilities are found in invertebrate communities that inhabit ephemeral resources such as dung pats, moss patches, phytotelmata, or the enclosed microcosms of fig inflorescences called syconia [
6
–
8
]. Although the capacity for dispersal has been recognized as crucially important for membership in such communities [
9
], no study has attempted to investigate or explain the differences in dispersal capacities of community members. Further, the life-history strategy governing dispersal syndromes in these community members may influence the predisposition to colonize an ephemeral resource/habitat, which may in turn dictate community assemblage and occupancy.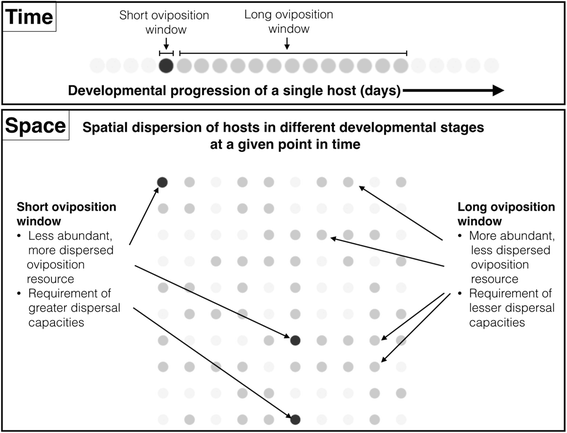 Life-history strategies often fall along a fast–slow continuum [10, 11]. Because a "fast"-paced life history implies time limitation, it may be associated with higher dispersal capacities to reach resource destinations [12, 13]. Broad-scale patterns reveal that traits associated with a "fast"-paced life history (earlier reproductive investment and reduced lifespans) co-occur with high dispersal abilities in bacteria, cancer cells, vertebrates and particularly in aerial ectotherms [14–17]. In insects, a fast-paced strategy is often linked with earlier investment in reproduction as revealed by their ovigeny index (OI): ratio of number of mature to total eggs at eclosion [12, 18]. Often, "fast"-paced life histories are also associated with reduced or complete lack of feeding during adult dispersal stages, with a high reliance on the energy capital acquired during previous life stages [19, 20]. Such co-occurring trait expressions can be viewed as examples of life-history trait syndromes associated with dispersal [21, 22].
Adequately quantifying dispersal traits that dictate dispersal capacity (locomotor capabilities) is essential for understanding dispersal. Estimating realized dispersal abilities in small aerial insects (i.e. < 2 mm in length) is challenging. However, their dispersal capacities can be assessed by measuring dispersal behavior, somatic energy reserves and metabolic rates all of which are dispersal-related life-history traits which, henceforth, we refer to as dispersal traits [23, 24]. Tethered flight performances can also be indicative of flight capacities [25–27]. Capital energy stores (non-polar lipids in the soma) reflect the amount of fuel for flight post eclosion and are especially important for insects incapable of feeding during adult dispersal stages [20, 28]. The mass-specific resting metabolic rate (sRMR) is positively correlated with sustained activity and reflects dispersal flight capacity [29–33]. Variances associated with dispersal traits against the background of ecological selection pressures are informative about the intensity of selection on traits [34]. Therefore, species tracking stochastically appearing resources that are ephemeral and therefore more spread out (higher dispersion) should show higher dispersal trait values and lower associated trait variances compared to species tracking such resources that are less ephemeral and therefore spatially more clumped (lower dispersion). Few studies have measured two or more dispersal traits simultaneously, have studied how they correlate with each other across community members, or have examined the influence of life-history traits in conjunction with resource dispersion within the context of a community (however, see [35] for amphibians).
A valuable model system within which questions about dispersal can be addressed in the context of resource dispersion, life-history strategies and community assemblage is the microcosm of the fig syconium, which is a globular enclosed inflorescence that hosts developing fig wasps. These communities are comprised of wasp species obligately dependent on a single host fig (Ficus) species [6, 36]. They consist of a pollinating and a set of non-pollinating wasp species that vary in their life-history traits and oviposition resources within the syconial microcosm [37, 38]. Female wasps oviposit into the syconium, where their offspring develop and mature into adults. Wingless males die after mating within syconia; winged females leave natal syconia and disperse to locate host plants with syconia suitable for oviposition. Tropical fig plants produce syconial crops year-round; they usually exhibit reproductive synchrony (all syconia exhibit the same ontogenetic stage) within plants [39]. Natal plants do not bear oviposition resources when adult females emerge and wasps thus leave their natal plants in search of suitable syconia for oviposition on other fig plants. Different wasp species utilize different niches within the syconium; the earliest arriving wasps use syconium wall tissues and undifferentiated flowers as egg deposition sites; wasps (such as the pollinator) that arrive at the pollen-receptive stage of the syconium oviposit into mature flowers and wasps that arrive after pollen receptivity are parasitoid wasps or inquilines on specific larval/pupal species within the syconium [38, 40]. Each wasp species oviposits into the syconium within a specific time period when the syconium is suitable as an oviposition resource; this is referred to as the oviposition window [37, 41] (Additional file 1: Figure S1). Shorter oviposition windows translate to a smaller proportion of plants bearing suitable syconia of the corresponding ontogenetic stage in a population (Fig. 1). This causes relatively increased oviposition-resource dispersion, which could increase the selection pressure for dispersal and decrease dispersal trait variances compared to longer windows. Therefore, the length of the oviposition window is an important dimension that can affect dispersal abilities. The fig system therefore provides excellent material for an interspecific study of fig-associated wasps— this is due to the differences between wasp species only in the ephemerality of the particular oviposition resources appropriate for each species on the same exploited fig species (Fig. 1).
The context for dispersal in such systems is clear: female fig wasps, after mating within the syconium, disperse to locate specific oviposition resources of different availabilities, offered by a single host species. While wind dispersal is believed to be important for fig wasps, they could be additionally propelling their dispersal through their own dispersal capacities [42–44]. However, there is no knowledge of the active flight capacities of a fig wasp community and their contribution to dispersal. Fig wasps also encounter high mortality during dispersal through predation and temperature/desiccation effects [44, 45]. Therefore, there is likely a high selection pressure for successful dispersal in fig wasp communities. Fig wasp community members also exhibit varying degrees of evolutionary relatedness, thereby allowing the comparative examination of dispersal traits within a phylogenetic context. Fig wasps therefore provide an excellent platform to understand the combined implications of the pace of life and ephemeral resource dispersion on dispersal abilities.
We asked the following questions in a fig wasp community:
1)

Do fig wasp species that exhibit a "fast"-paced life-history strategy express traits associated with enhanced dispersal capacities (as shown by longer flight durations, higher somatic lipid content, and greater sRMR) compared to species with a "slow"-paced strategy?

2)

Are dispersal capacities negatively related with resource availability in time, i.e. lengths of the oviposition window? Do dispersal trait variances relate positively with this resource availability?

3)

How are trait correlations influenced when accounting for phylogenetic relatedness among species? Do dispersal traits exhibit a phylogenetic signal?
Results
Life-history strategies and dispersal traits
Trait values for flight duration, somatic lipid content, and sRMR for each species are provided in Additional file
1
: Table S1 (supplementary). The "fast" wasp species had significantly greater flight duration, somatic lipid content (normalized for wet weight), and sRMR than the "slow" wasp species (Flight duration:
U
 = 1004,
p
 < 0.001; Lipid content:
U
 = 846,
p
 < 0.001; Metabolic rate:
U
 = 1616,
p
 < 0.001, Fig.
2a–c
).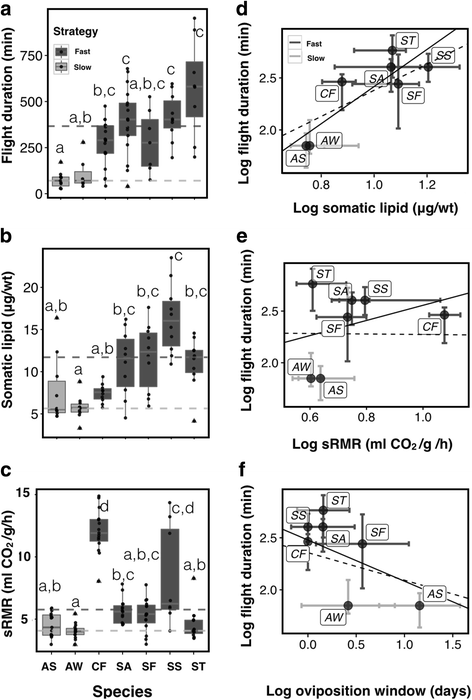 Pairwise comparisons of dispersal parameter values using Dunn's test (following significant K-W tests at p < 0.05) revealed that flight durations between the two "slow" wasp species (Apocrypta sp. 2 and A. westwoodi) were not significantly different from each other (Fig. 2a). The three fast wasp species, Sycophaga stratheni, S. testacea and S. agraensis, had significantly higher median flight durations than the wasps in the "slow" category, with S. testacea having the longest flight durations. Sycophaga fusca and Ceratosolen fusciceps had intermediate flight durations, being neither significantly different from the "slow" wasp species or the other three wasp species in the "fast" group (Fig. 2a). The two species in the "slow" group exhibited somatic lipid content values that were similar to each other. Among the species in the "fast" group, S. stratheni had the highest lipid content; S. testacea, S. fusca, and S. agraensis had lipid content values that were not different from those of S. stratheni or Apocrypta sp. 2 but were significantly greater than those of A. westwoodi. Ceratosolen fusciceps had lipid content significantly lower than that of S. stratheni but indistinguishable from those of other wasp species (Fig. 2b).
Species in the "slow" group had sRMR values that were mostly indistinguishable from each other but on the whole had lower sRMR values than species in the "fast" group. The highest sRMR values were for C. fusciceps and S. stratheni. Ceratosolen fusciceps expressed an sRMR value significantly higher than for all other species except S. stratheni. Sycophaga agraensis and S. fusca expressed similar sRMR values (statistically indistinguishable). Sycophaga stratheni exhibited intermediate values but statistically indistinguishable from either C. fusciceps, S. agraensis or S. fusca. Sycophaga testacea expressed sRMR values significantly lower than those for C. fusciceps or S. stratheni. Apocrypta westwoodi had significantly lower sRMR values than those for C. fusciceps, S. agraensis and S. stratheni (Fig. 2c).
Dispersal capacity and resource availability
Time engaged in flight and somatic lipid content were significantly positively related (Fig.
2d
,
R
2
 = 0.7,
p
 = 0.01). sRMR and time engaged in flight were weakly but positively associated (Fig.
2e
,
R
2
 = −0.73,
p
 = 0.48). Flight duration and oviposition window were negatively related as expected although this was not significant (Fig.
2f
,
R
2
 = 0.146,
p
 = 0.21). Slope values of the regressions are in Table
1
.
Table 1
Regression parameters for linear regressions and phylogenetic generalized least square (PGLS) models
Linear model

Phylogenetic generalized least squares

Intercept

Slope

t value

P value

95% confidence interval

Intercept

Slope

t value

P value

95% confidence interval

Flight duration ~ lipid content

0.63

1.79

3.88

0.01

0.60–2.97

1.12

1.26

1.5

0.19

−0.39 – 2.9

Flight duration ~ sRMR

1.82

0.73

0.77

0.48

−1.72 – 3.18

2.3

−0.02

−0.03

0.98

−1.64 –1.59

Flight duration ~ Oviposition window

2.48

−0.40

−1.42

0.21

−1.11 – 0.31

2.36

−0.26

−1.59

0.17

−0.59 –0.06
Log-transformed CVs for flight durations correlated positively with log-transformed oviposition window length as expected although this was not significant (slope = 0.18;
R
2
 = 0.34,
p
 = 0.10, Fig.
3a
). Log-transformed CVs for somatic lipid content correlated positively and significantly with log-transformed length of the oviposition window (slope = 0.28;
R
2
 = 0.53,
p
 = 0.04, Fig.
3b
). The log-transformed CVs for sRMR, however, were negatively but weakly correlated with oviposition window length (slope = −0.08;
R
2
 = −0.13,
p
 = 0.62, Fig.
3c
).

Phylogenetic relationships and independence of dispersal trait values
The trend directions of the PGLS regressions were the same as in the linear models for flight durations with lipid content and with oviposition window length; their confidence intervals were also comparable (Additional file 1: Figure S4, Table 1). A phylogenetic signal was observed for flight duration and lipid content, as indicated by Blomberg's K values, which were greater than 1.0 and significant (flight duration: Blomberg's K = 1.56, p = 0.04; lipid content: Blomberg's K = 1.93, p = 0.0001). Blomberg's K value was also close to 1.0 but not significant for metabolic rates (Blomberg's K = 0.99, p = 0.152).
Discussion
Life-history and dispersal traits
Fig wasp species differ in their dispersal capacities. "Fast"-paced (time-limited) species displayed significantly higher flight durations, higher somatic lipid content and higher sRMR values than "slow"-paced (longer-lived) species. The duration of the oviposition window (resource availability) was negatively correlated with flight durations. Trait variances of flight durations and lipid content were positively correlated with the length of the oviposition window.
A positive association of flight duration with somatic lipid content (Fig. 2d) suggests a functional role for lipids in aiding flight as observed in other insects [23]. The higher median sRMR values for the "fast" relative to the "slow" wasp species is suggestive of their association with higher dispersal capacities [24, 63]. sRMR values measured are comparable to those published for insects of similar sizes [32]. High sRMR values can lead to the increased accumulation of reactive oxygen species (ROS), thereby decreasing species lifespans [33, 55]; indeed, sRMR values and lifespan are negatively correlated in many insect orders [55, 64]. The highest sRMR values were exhibited by C. fusciceps and S. stratheni, species that have the shortest lifespans (1 day) [37] and the shortest oviposition windows (1–2 days) (Additional file 1: Figure S1), therefore requiring the highest dispersal capacities. Our results suggest a novel potential negative relationship between dispersal capacity and adult lifespan through sRMR. Life-history strategies, through time limitation, could influence intrinsic dispersal capacities and consequently impact realized dispersal.
Increased dispersal capacities coupled with high OIs (often also coupled with short lifespans and hence time limitation) are optimal when locating highly stochastic resources [12, 19, 65]. The opposite is expected for "slow" species that express OI values less than 1, have longer lifespans, and are presumably less time-limited.
For the "fast" wasp species, the necessity to locate ephemeral oviposition resources, coupled with the inability to feed during dispersal stages (reliance on capital energy reserves), and greater time limitation (owing to shorter lifespans), could require higher dispersal capacities, as indicated by greater pre-dispersal energy reserves, longer flight durations, and higher sRMR values compared to the "slow" ones. Such patterns of life-history and dispersal trait expression are common in many aerial ectotherms [13, 17, 21].
Dispersal capacity and resource availability
The predicted negative association between flight durations and oviposition window, albeit non-significant, suggests that the latter potentially selects for dispersal traits in fig wasp communities. The non-significance is likely due to the small sample size since there are only seven species in the community. However, the negative slope does suggest that the length of the oviposition window is negatively correlated with dispersal capacities and, therefore, may select for dispersal capacities. Since our study is the first of its kind, we believe that the function of our linear regressions at this stage should be assessed in a descriptive rather than in an inferential manner. More such studies are required to confirm our hypothesis. Such a confirmation could add to our understanding of a relatively unexplored aspect of dispersal evolution in spatially and temporally dynamic resource landscapes. Additionally, the positive correlation between the variances of somatic lipid content and flight durations with the oviposition window suggests relaxed selection when resources are less ephemeral; species with larger oviposition windows exhibited greater dispersal trait variance. Since fig wasps are known to be also passively wind dispersed, it is likely that their dispersal success is governed by both their intrinsic dispersal capacities as well as dispersal conferred by wind. Therefore, dispersal by wind could contribute partly to the observed variance in dispersal traits; however, the impact of wind dispersal on these traits is as yet unknown. Despite this source of unaccounted variance, the trend indicates that dispersal capacity is negatively related to the length of the oviposition window. The correlation between the variance of sRMR with the length of the oviposition window was negative. Metabolic rates are influenced by many functions such as growth, reproduction, age, and maintenance of competent immune systems and may be influenced by myriad selection pressures [66].
Phylogenetic relationships and phylogenetic signal
PGLS revealed trends similar to the trends obtained from ordinary least square regressions. Specifically, the trends between flight durations, lipid content and oviposition window remained positive and were consistent with expectations. The weakest associations were between metabolic rates and flight durations; the reasons for this may be owing to the same considerations discussed above. A phylogenetic signal for flight duration and lipid content suggests that these dispersal traits are influenced by phylogenetic inertia.
From dispersal capacities to realized dispersal
Realized dispersal in fig wasps can be governed by an active (dispersal capacity) and a passive element (e.g. wind-assisted movement). Aerial sampling has revealed that fig wasps of monoecious figs (such as the wasp community of F. racemosa) are passively wind-dispersed over long distances [42–44]. Population genetic studies show that C. fusciceps and F. racemosa form a single, largely genetically homogenous population of fig wasps and figs in southeast Asia through long-distance movement of pollen and pollinator genes [67]. Evidence from pollen gene flow suggests that Ceratosolen arabicus, the pollinator of Ficus sycomorus, can be wind-dispersed over 160 km within its short lifespan of a single day [68]. Investigations on relative dispersal of fig wasps of a community are also few; a population genetic study in Ficus rubiginosa showed that the parasitoid Sycoscapter of its pollinator Pleistodontes imperialis disperses further than the pollinator [69]. An investigation using wing loading values as surrogates for dispersal abilities indicated that dispersal–reproduction trade-offs in fig wasps occupying the same trophic guild enabled community co-existence [70]. We demonstrate, for the first time, that intrinsic dispersal capacities of a fig wasp community are likely influenced by resource availabilities. Our results indicate that intrinsic dispersal capacities (movement owing to active flight and locomotion) are likely vital in conjunction with passive (wind-assisted) dispersal.
Implications of the dispersal syndrome for community assemblage
In evolutionary time, fig wasp communities assemble with the association of a wasp species with the host plant followed by subsequent niche shifts and/or host shifts [71, 72]. Such associations with the microcosm of the syconium commence with the pollinator followed by the non-pollinators. Fig wasp communities across the tropics also exhibit commonalities in community structure [73–75] and are often unsaturated, especially in the tropics [76]. Unsaturation in fig wasp communities has been attributed to a combination of phylogenetic constraints, co-speciation with hosts and constraints in the ability to colonize ephemeral resources [76]. Therefore, features of dispersal-related life-history traits and effective dispersal may also be common across fig wasp communities. The fast–slow continuum in life-history trait expressions reveals early reproductive investment and short lifespan on one hand, and delayed reproduction and long lifespan on the other. The expression of alternate combinations of such traits (e.g. early reproductive investment and long lifespans) is uncommon [77], possibly because of incompatibilities in trait expression, linked trait expressions or pleiotropy [77–81]. Such processes can lead to the expression of a suite of linked traits and can have implications for the evolution and maintenance of dispersal. The linked expression of traits may reduce the freedom for dispersal trait evolution which can influence community assemblage and subsequent niche shifts or host shifts through dispersal-dependent niche exploitation. This may also explain why fig wasp communities remain unsaturated.
Conclusions
We show that for the wasp community, flight durations and lipid content are potentially more reliable predictors of dispersal than metabolic rates. We demonstrate that the availability of oviposition resources selects for dispersal traits and influences the associated trait variances. We suggest that dispersal-related life-history traits can be selected for by differences in the dispersion of resources for each species and infer that these small wasp species are capable of propelling their dispersal despite passive dispersal agents like the wind. Through trait co-expression patterns both in fig wasps and in other organisms, we posit the operation of trait syndromes that may constrain dispersal-related life-history traits. Finally, we indicate how phylogenetic conservatism of dispersal traits may exist in the wasp community. This coupled with constrained niche shifts or host shifts point towards two possible scenarios: a) species sorting followed by ecological niche fitting, or b) adaptation in response to selection, that shapes the dispersal traits of each species in the community [82]. The predisposition of certain wasps to exhibit a particular dispersal syndrome (due to constrained trait co-expression) may have restricted them to occupy niches of a suitable resource dispersion characteristic. Therefore, the expression of a particular type of dispersal characteristic or capacity may be key in fig wasp occupancy of available niches within an ephemeral microcosm.
Declarations
Acknowledgements
We are grateful to Kavita Isvaran, Sandeep Pulla, H.N. Nagaraja, and Praveen Karanth for inputs on statistics, phylogenetics and data visualization, Maria Thaker for unrestricted access to equipment, the Department of Molecular Reproduction, Development and Genetics for access to their micro-weighing balance, and Doyle McKey for comments on the manuscript. Simon Segar provided useful suggestions for tree building as well as data analysis and representation. G Yathiraj, Anuja Mittal, Srinivasan Kasinathan and D Sathish helped with fig collection.
Funding
The project utilized funds from the Department of Science and Technology (DST), DST-FIST, Department of Biotechnology, and Ministry of Environment, Forests & Climate Change, Government of India.
Availability of data and materials
The datasets used and analyzed during the current study are available from the corresponding author on request.
Authors' contributions
VV and RMB conceived the study; AS constructed the optical tachometer; ALK and VV performed experiments and collected data; VV analyzed the data; VV and RMB wrote the manuscript. All authors read and approved the final manuscript.
Ethics approval and consent to participate
Our experiments comply with regulations for animal care in India.
Consent for publication
Not applicable
Competing interests
The authors declare that they have no competing interests.
Publisher's Note
Springer Nature remains neutral with regard to jurisdictional claims in published maps and institutional affiliations.
Open AccessThis article is distributed under the terms of the Creative Commons Attribution 4.0 International License (http://creativecommons.org/licenses/by/4.0/), which permits unrestricted use, distribution, and reproduction in any medium, provided you give appropriate credit to the original author(s) and the source, provide a link to the Creative Commons license, and indicate if changes were made. The Creative Commons Public Domain Dedication waiver (http://creativecommons.org/publicdomain/zero/1.0/) applies to the data made available in this article, unless otherwise stated.
Authors' Affiliations
(1)
Centre for Ecological Sciences, Indian Institute of Science, Bangalore, India