Home-range use patterns and movements of the Siberian flying squirrel in urban forests: Effects of habitat composition and connectivity
Received: 21 November 2015
Accepted: 5 February 2016
Published: 17 February 2016
The Erratum to this article has been published in Movement Ecology 2016 4:13
Abstract
Background
Urbanization causes modification, fragmentation and loss of native habitats. Such landscape changes threaten many arboreal and gliding mammals by limiting their movements through treeless parts of a landscape and by making the landscape surrounding suitable habitat patches more inhospitable. Here, we investigate the effects of landscape structure and habitat availability on the home-range use and movement patterns of the Siberian flying squirrel (Pteromys volans) at different spatial and temporal scales. We followed radio-tagged individuals in a partly urbanized study area in Eastern Finland, and analysed how landscape composition and connectivity affected the length and speed of movement bursts, distances moved during one night, and habitat and nest-site use.
Results
The presence of urban habitat on movement paths increased both movement lengths and speed whereas nightly distances travelled by males decreased with increasing amount of urban habitat within the home range. The probability of switching from the present nest site to another nest site decreased with increasing distance among the nest sites, but whether the nest sites were connected or unconnected by forests did not have a clear effect on nest switching. Flying squirrels preferred to use mature forests for their movements at night.
Conclusions
Our results suggest that the proximity to urban habitats modifies animal movements, possibly because animals try to avoid such habitats by moving faster through them. Urbanization at the scale of an entire home range can restrict their movements. Thus, maintaining a large enough amount of mature forests around inhabited landscape fragments will help protect forest specialists in urban landscapes. The effect of forested connections remains unclear, highlighting the difficulty of measuring and preserving connectivity in a species-specific way.
Keywords
ConnectivityHabitat fragmentationHome rangeMovementsNest-site useSiberian flying squirrelUrbanization
Background
Anthropogenic habitat changes can affect animal populations in several ways; for example by reducing habitat availability, or through impeding both daily and dispersal-related movements, thereby reducing interactions among individuals and, consequently, genetic exchange [1]. One of the key interests when studying animal movements is to find out how organisms respond to their environment, and changes therein [2]. Given that urbanization is considered to be a major threat for vertebrate species and that the rate of urban expansion is accelerating worldwide [3, 4], more research and conservation efforts should be targeted at species living in these human-modified environments [5]. The biggest threats of urbanization to wildlife are caused by the modification, fragmentation and loss of native habitats [6, 7]. Urban landscapes are often spatially complex mosaics, leaving remnants of native habitats surrounded by different kinds of new habitat types. They are also characterized as having a highly variable landscape between native patches, possibly with movement barriers such as wide roads or densely built residential areas [8]. While some species have shown behavioural plasticity and have adapted to inhabit urban areas [9, 10], moving in human-modified landscapes has been considered costly and risky for species that are adapted to live in formerly continuous landscapes [11].
Means to conserve species in modified landscapes have included management of the remaining native habitat and preserving movement corridors between habitat patches to maintain connectivity [12–14]. Measures of functional connectivity, that take into account species-specific movement abilities, have also been considered important [15, 16]. However, the presence of movement corridors and the configuration of the landscape have had varied effects on species [17, 18]. For example, results on corridor use of different taxa are conflicting, partly because the utility of corridors is species-specific and depends on the width and structure of the corridor [19–21]. Recent studies have also indicated that improvement of the quality of the habitat between suitable patches can in some cases be a more cost-effective conservation option than, for example, the construction of corridors or management of the remnant habitat patches [17, 22, 23].
The long-term existence of any species within continuously changing and expanding urban areas is related to its ability to exploit remaining habitat fragments, its responses to edges, and its willingness to cross gaps and use the landscape matrix between suitable patches [24, 25]. Here, matrix is defined as the interspersed landscape area between the patches of suitable habitat (such as mature forest fragments). Species have been found to be neutral, positive or negative regarding their use of matrix to move between the suitable habitat patches, for example, showing no resistance to use matrix, moving quickly through areas where the crossing distance is smaller than a particular threshold or being reluctant to enter the area between habitat patches [26–28]. Arboreal mammals, generally considered susceptible to changes in their native habitats, can serve as good model organisms to study movement behaviour in human-modified landscapes. Many of them are threatened by urban sprawl, habitat fragmentation and loss due to their strict habitat requirements, limited movement abilities and possible reluctance to move through the matrix [29, 30]. A special group are gliding species, whose movements through fragmented landscapes are constrained by maximum gliding distances [28].
The Siberian flying squirrel (Pteromys volans, hereafter flying squirrel) is an arboreal rodent inhabiting the Eurasian boreal forest zone, and its distribution extends from Finland and Estonia through the Asian continent all the way to Japan and the Korean peninsula [31]. Within the European Union the flying squirrel is classified as vulnerable, and the population in Finland has been declining due to destruction and fragmentation of suitable habitat caused by forest management [32, 33]. The most suitable breeding habitat for the flying squirrel is spruce-dominated mature boreal forest with a mix of deciduous trees that provides food and nesting cavities [34, 35]. In addition to mature spruce forests, flying squirrels use younger forests for foraging and moving [36]. Flying squirrels are highly dependent on trees and move almost exclusively by gliding from tree to tree. Gaps wider than few meters are crossed by climbing to the top part of the nearest tree and gliding over the gap. Through gliding they are able to cross relatively narrow (30–50 m) treeless gaps [37]. Females occupy home ranges of ca 8 ha usually located within one suitable forest patch. Males occupy large home ranges of ca 60 ha that often include several female home ranges and several forest patches, and consequently they need to move longer distances than females [38, 39]. Within their home ranges, flying squirrels have several nests between which they frequently change. These consist of tree cavities, twig nests built by the red squirrel (Sciurus vulgaris) and nest boxes, out of which the females prefer cavities during the breeding season [40]. Flying squirrels are nocturnal, thus movements consist of night-time activity periods interrupted by daytime resting in a nest. During one night, an individual typically makes several bursts of movements interrupted by staying in a nest or feeding [38].
Despite its preference for mature and relatively undisturbed forest, flying squirrels have also been found to inhabit forest patches near human settlements [41]. Consequently, the expansion of urban infrastructure and the strict legal protection of the species have created conflicts in many areas across Finland. In addition, recent studies have shown that legal protection of the species is inefficient due to the limited size of the protection areas, which cover only a small part of a home range [42, 43]. As earlier studies have been restricted to managed forests outside cities, and because little is known on the behaviour of the species in urbanized areas, there is an urgent need to increase our understanding of its habitat use in relation to urban landscape.
In this paper, we investigate the influence of urban landscape at different spatio-temporal scales on home-range use and movements of the Siberian flying squirrel. At the smallest scale, we ask how the distance travelled and speed during a single movement burst are related to small-scale habitat composition along that burst. At the scale of one night, we ask how the total distance moved depends on habitat composition within the home range, on the season, on the sex of the individual, and whether it varies among individuals within the sexes. We then investigate how the number of distinct nest sites is related to home-range size and habitat composition within the home range, and how individuals use habitats during movement bursts. Finally, we view home-range movements as movements among the network of nest sites, and examine how the choice of the next nest site, relative to the current position of the individual, depends on the distances between the nest sites and on the habitat composition and connectivity between the nest sites. In particular, we ask if the existence of forested connections influences the order in which the individuals visit the nest sites, and if the observed patterns differ between the sexes. Based on earlier results, we hypothesize that males respond to habitat composition so that they will move longer distances if there is less suitable habitat, whereas we expect females to move mostly within a single forest patch of suitable habitat. We also hypothesize that flying squirrels avoid moving through urban areas. We expect that the movement probability between consecutive nest sites increases with increasing physical and functional proximity, the latter measuring connectivity through forested habitats without gaps wider than 50 m.
Results
Effects of small-scale landscape composition on movement patterns
Average proportions of habitat classes within buffered movement bursts were 56.8 (± SE over individuals 6.7 %) and 51.2 (± SE 4.7 %) for suitable habitat, 21.1 (± SE 6.3 %) and 26.2 (± SE 4.6 %) for movement habitat, and 17.3 (± SE 5.1 %) and 14.9 (± SE 3.7 %) for urban habitat, for females and males, respectively. Movement bursts were shorter for females (mean 184.1 ± SE 13.2 m) than for males (mean 453.0 ± SE 26.6 m), and they were longer if their vicinity (radius of 25 m) included urban habitat (Table
2
, model A; Fig.
2a
). Lengths of the movement bursts of females increased nearly continuously over months whereas males made the longest movements both in spring time (March-April) and in late summer (in July and August)(Fig.
2b
).
Table 2
Results of model averaging across the highest ranked (ΔAIC c  < 2) GLMMs for each response variable (from A to D)
Model

A: length of burst

B: speed of burst

C: length of nightly track

D: number of nest sites

Estimate

SE

w

Estimate

SE

w

Estimate

SE

w

Estimate

SE

w

Parameters

Intercept

4.265

0.449

0.897

0.341

−8.484

1.135

−2.441

0.856

Sexa

1.00

1.00

   Males

1.083

0.372

1.00

0.640

0.231

1.573

0.486

Montha

1.00

1.00

   April

−0.390

0.362

1.00

−0.150

0.222

0.565

0.346

   May

0.201

0.331

0.099

0.203

1.390

0.330

   June

0.717

0.327

0.383

0.201

1.652

0.325

   July

0.584

0.335

0.312

0.206

1.908

0.336

   August

0.774

0.336

0.381

0.207

1.931

0.339

   September

0.476

0.377

0.257

0.231

1.422

0.374

H1 (suitable)

0.726

0.484

0.41

−0.038

0.290

0.16

0.057

0.820

0.27

−0.453

0.552

0.22

H2 (movement)

0.700

0.529

0.78

0.293

0.192

0.71

−0.916

0.492

0.63

0.425

0.467

0.24

H3 (urban)

1.295

0.514

1.00

0.748

0.241

1.00

0.852

0.619

0.56

Sexa*Montha

1.00

1.00

1.00

   Males: April

0.191

0.425

0.075

0.261

−0.187

0.427

   Males: May

−0.819

0.400

−0.506

0.245

−1.093

0.420

   Males: June

−1.114

0.407

−0.719

0.250

−1.284

0.429

   Males: July

−0.239

0.410

−0.077

0.252

−0.710

0.432

   Males: August

−0.400

0.413

−0.278

0.254

−0.949

0.435

   Males: September

−0.736

0.454

−0.535

0.279

−1.113

0.477

Sexa*Habitat

   Males: H1

1.813

0.965

0.14

   Males: H2

0.307

0.500

0.23

0.184

0.309

0.07

   Males: H3

0.390

0.353

0.21

−1.540

0.704

0.56

HR

0.239

0.054

1.00

D(burst)

−0.095

0.071

0.35

D(night)

1.375

0.125

1.00

E(sites)

0.388

0.156

1.00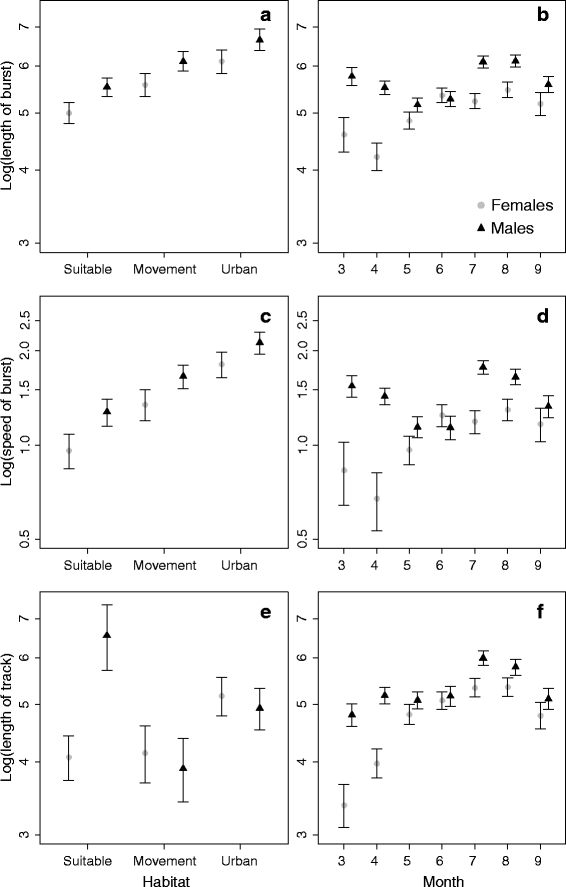 Average movement speeds were 2.5 (± SD 2.0) m/min for females and 4.1 (± SD 3.8) m/min for males. Movement speed increased with the proportion of urban habitat and was lower for females than for males (Table 2, model B; Fig. 2c). Variation in movement speed with month showed patterns similar to that of burst length (Fig. 2d): the movement speed of females peaked in August whereas males had two peaks of higher activity (March and July). Duration of the burst had no effect on the movement speed.
Effect of home-range habitat composition on nightly moved distance and number of distinct nest sites
Average proportions of habitat types within home ranges were 43.6 (± SE over individuals 7.2 %) and 23.7 (± SE 2.4 %) for suitable habitat, 21.0 (± SE 5.9 %) and 24.8 (± SE 3.4 %) for movement habitat, and 28.6 (± SE 6.4 %) and 30.7 (± SE 4.5 %) for urban habitat, for females and males, respectively. Total distance moved during nightly tracking periods were affected by the duration of the tracking period, sex and by habitat composition within the individual's home range (Table 2, model C). As expected, the longer the duration of the nightly tracking period, the longer the total distance moved. The presence of urban habitat within the home range affected distances travelled by both sexes. However, while it increased the distances travelled by females, this was not the case for males (Fig. 2e). Nightly moved distances were the greatest for both sexes in July and August, and the lowest in March (Fig. 2f).
We identified a total of 232 nest sites for all the individuals (note that this number included same nests that were used by different individuals). Females had on average 4.2 (± SD 1.6) nest sites and males on average 7.0 (± SD 2.7) nest sites. Of the total nest sites recorded 48 % were cavities, 41 % were twig nests, 8 % were nest boxes and 2 % were nests in buildings. Most of the nest sites were located in mature spruce-dominated forests, i.e., in the suitable breeding habitat type. Of the remaining nests, 20 % were in movement habitat, 10 % in urban habitat and 3 % in unsuitable habitat. As expected, the number of nests sites was positively associated with observation effort, i.e., the number of days a nest site was recorded for each individual (Table
2
, model D). The number of distinct nest sites increased with home-range size similarly for both sexes, even if home-range sizes of males were much greater than those of females (Fig.
3
). Neither the proportions of habitats nor their interactions with sex had significant effects on the number of nest sites (Table
2
).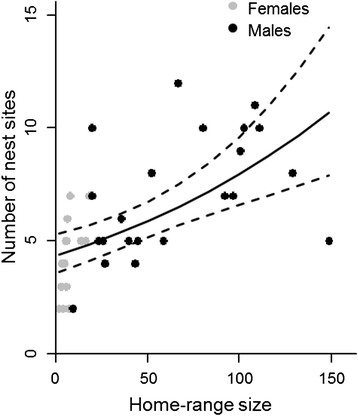 Habitat use during movements versus habitat availability within home range
During movement bursts all flying squirrels used suitable habitat significantly more than other habitat types (Table
3
). Other habitat types were used in the following order for females:
movement habitat > urban habitat > unsuitable habitat
, whereas for males the order was
movement habitat > unsuitable habitat > urban habitat
(Table
3
). According to randomization tests of the analysis, habitat selection was significant for the data pooled over all individuals (Λ = 0.297,
p
 = 0.001), and also separately for females (Λ = 0.240,
p
 = 0.003) and males (Λ = 0.321,
p
 = 0.003).
Table 3
Ranking matrices of habitats used during movements versus habitats available within the home range
Habitat type

Suitable

Movement

Unsuitable

Urban

Rank

1) All (N = 39)

     Suitable

0.000

1.603 a

3.829 a

3.252 a

1

     Movement

−1.603

0.000

2.113 a

1.580 a

2

     Unsuitable

−3.829

−2.113

0.000

0.090

3

     Urban

−3.252

−1.580

−0.090

0.000

4

2) Females (n = 17)

     Suitable

0.000

0.630 a

3.181 a

2.002 a

1

     Movement

−0.630

0.000

2.629 a

1.464 a

2

     Unsuitable

−3.181

−2.629

0.000

−0.445

4

     Urban

−2.002

−1.464

0.445

0.000

3

3) Males (n = 22)

     Suitable

0.000

1.418 a

3.483 a

3.594 a

1

     Movement

−1.418

0.000

2.166

2.434 a

2

     Unsuitable

−3.483

−2.166

0.000

0.666

3

    Urban

−3.594

−2.434

−0.666

0.000

4
Effect of distance and connectivity on switching probability between the daily nest sites
We obtained data on nest-site switching for 19 females and 22 males. Distances between nest sites were much shorter for females (maximum ca 600 m) than for males (maximum ca 2000 m). Maximum distance between nest sites connected continuously by a straight line and by suitable habitat (C1) was about 300 m for both sexes.
The model with distance only (DIC = 2214) showed that for both sexes, the switching probability decreased with distance (Fig.
4a
). The best supported models with connectivity only (DIC = 2212 for model C5g, ΔDIC ≥ 3 for other connectivity measures) showed that the switching probability is higher among connected sites for males, but is not influenced by connectivity for females (Fig.
4b
). As connected nests were on average closer to each other than unconnected nests, in particular for males, this result is consistent with the negative influence of distance. The best supported models with both distance and connectivity included (DIC = 2209 for model C5g, ΔDIC = 1 for model C2g, ΔDIC ≥ 3 for other models) also showed that distance has a negative influence, but they gave contradictory results for the effect of connectivity. Both connectivity measures had a negative effect on switching probability for females, but C5g (i.e., nest sites are connected by suitable forests, also routes outside home-range boundaries and gaps allowed) increased and C2g (i.e., connected by forested habitat by a straight line, but gaps allowed) decreased switching probability for males (Fig.
4c
and
d
, respectively). Thus, there was no clear evidence for connectivity influencing the switching probabilities after accounting for the effect of the distance.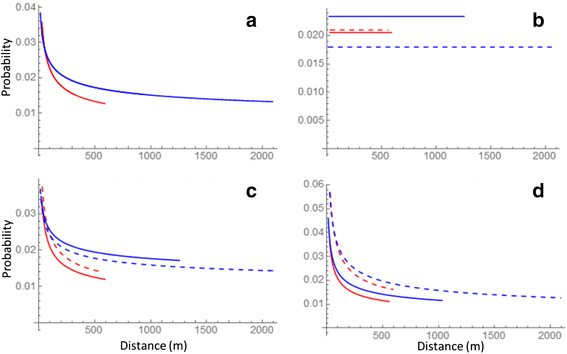 Discussion
We found that flying squirrels responded to increasing amounts of urban habitat along their movement paths by moving faster and longer distances. In general, various movement patterns of forest-dwelling rodents have been observed in the landscape matrix: animals can move faster and more directly, slower and more tortuously, or movements can be interrupted by short stops [62–64]. The observed faster movements as a response to urban habitat suggest that movement mode was likely straight or nearly straight and individuals headed for specific locations. When urban habitat does not provide important resources for the species, it is more efficient to move quickly through the less suitable landscape [65]. Animals may also try to minimize time spent in unsuitable areas, for example, when the habitat is considered more risky [66]. Since predator pressure can alter space use and habitat selection of individuals [67], and it is yet unknown how flying squirrels perceive the predation risk in modified habitats or how large the mortality risk while moving is, this subject requires more investigation. Isolation and increased distances between suitable patches in fragmented and less-forested landscapes have increased dispersal distances of the flying squirrel and the white-tailed deer (Odocoileus virginianus) [68, 69]. Hence, our results on longer movement paths over urbanized landscape matrix could be related fragmentation of the suitable forests by urban land use when individuals need to move further to reach suitable foraging patches. However, there was some heterogeneity within the urban habitat class, such as areas with trees, and thus, more fine-scale habitat features could also have directed the flying squirrel movements.
Earlier studies indicate that moving through urban landscape can be impeded by the urbanization of the matrix since sugar gliders (Petaurus breviceps) move less in the more urbanized matrix [22] and squirrel gliders (Petaurus norfolcensis) are using larger core areas in continuous forests than in forest fragments [70]. Results of flying squirrel males show that nightly movement distances were longer in home ranges that contained a lot of suitable forests than in home ranges that contained a lot of urban habitat types. Male flying squirrels have large territories, can traverse throughout their home range within one night, and regularly visit territories of several females [36]. However, when a home range involves a large fraction of inhospitable habitat, individual may spend several days in one part of the home range before crossing through the matrix to reach another core area due to costs of moving through matrix. In contrast, the availability of suitable habitat had less influence on the nightly moved distances of female flying squirrels, whose home ranges are smaller and often confined within one suitable forest patch [36]. In our case, home ranges of females included more mature spruce-dominated forests that are suitable for breeding than home ranges of males (44 % vs. 24 %). Thus, females have most probably chosen forest patches that are big enough for breeding and raising the young, and as they are territorial they virtually never move outside the home-range they are occupying.
Modification of forests by human land use may affect the availability of nest sites and spacing behaviour of a species. Observations of flying squirrels showed that the number of distinct nest sites was greater in large home ranges. Flying squirrels can use twig nests or buildings, but good nesting cavities are important, especially for breeding females, and lack of cavities could hinder their breeding and rearing of young, lowering overall survival of the young. In addition, individuals with greater amount of nests might benefit by being able to switch to alternative nest when ectoparasite load or predation pressure on the current nest changes [71, 72]. Thus, the availability of nest sites may influence the space use of the species affecting both the shape and size of the home range. For other forest-dwelling animals, the number of nests has either decreased or increased with human disturbance, or nests have become concentrated in less fragmented areas [73–75]. For instance, the northern goshawk (Accipiter gentilis) also seems to suffer from forest harvesting that reduces the area of mature forests and number of alternative nest sites [76]. We found no significant effect of the habitat composition within a home range on the number of nest sites, but its potential association with the availability of nest types should be further investigated.
Our results indicate that extensive space-use by gliding squirrels, especially males, also leads them to utilize unsuitable areas, such as sparsely forested habitat types. We observed differences in habitat preferences between the sexes, as males were using more unsuitable habitats than females. This might be because animals need to occasionally cross such habitats in order to reach another part of their home range. There might also be some fine-scale habitat features such as single large trees on clear cut areas or sapling stands that can be used by moving individuals. The use of urban habitats could indicate that individual home ranges are located at the edge of forests, for example near old residential areas at low-contrast edges that could provide suitable habitat and food resources due to increased productivity at the edges [25, 77]. Therefore, we acknowledge that the effects on differential urban habitat types on the movement responses of this species should still be clarified.
Temporal variation in the availability and quality of food resources as well as breeding activities may affect the seasonal patterns in movements. For example, red squirrels exploit larger areas if food is scarce [78], but restrict their movements and only defend high-quality core areas if food is abundant [79]. Our results showed that flying squirrel movements varied with month and were sex-dependent. Forests at our study site are herb-rich and contain plenty of deciduous trees where flying squirrels can forage upon food items that can be accessed almost year-round (e.g., catkins in spring and leaves in summer), although there is seasonal variation in availability of the different food types. Thus, long distances moved by males during early spring are most likely caused by the mating season during which they search for females [38]. Although leaf food is available since mid-May, females move little because they have to stay close to nest to take care of the juveniles, while the peak in movements at the end of summer could be related to individuals preparing for the winter by spending the reasonably short nights for foraging [38]. Therefore, it is unlikely that food availability has a major influence on flying squirrel movement patterns at our study area where food is not a limiting factor.
In line with our hypothesis, switching probability was high between nest sites that located close to each other. Moving to a nearby nest could also be easier because structurally connected nest sites are more often closer to each other than unconnected ones. After accounting for the effect of distance, our models gave contradictory results on the effect of connectivity depending on the measure used. Connectivity had a different influence on males: when nests were connected allowing routes outside home-range boundaries, switching probability for males became higher, but when connection was a straight line switching to nest was smaller. We attribute this inconsistency to the difficulty of measuring connectivity in a way that is relevant to the animals [80], or to confounding factors that were not measured such as differential preferences for the different nest types. For example, cavities might be preferred over twig nests, or some nest sites may provide more shelter than others [73, 75]. Additionally, large-scale habitat selection may influence lower-level patterns, for instance, female flying squirrels may have already selected their territories to be in a continuously forested area large enough, and because of this their nest sites lie within one forest fragment [81].
The effect of connectivity on animal movements in fragmented landscapes was shown by earlier studies on forest dependent species, although it has not been related to nest-site switching. For instance, the probability of returning home has been greater in connected landscapes for northern flying squirrels and ringtail possums (Hemibelideus lemuroides), and presence of gaps has increased returning time for forest birds [82–84]. In our case, we conclude that the presence of continuous forest corridors is not a necessary condition for flying squirrels changing their nest sites. Indeed, male flying squirrels regularly cross gaps up to 50 meters in forest cover [37, 85]. Hence, it is important to further investigate if management of the interspersed matrix could be used to increase connectivity and secure movements between separate habitat patches [22].
Conclusions
On the one hand, our findings show that flying squirrels are able to inhabit urban areas and to change their behaviour according to habitat type and landscape structure. Since the flying squirrel population decline is ongoing in forested areas in Finland, protecting the species in urban environments becomes increasingly important and is an interesting possibility. On the other hand, our results highlight the importance of mature forests. We propose that for conserving the species in urbanized areas, enough suitable mature forest for breeding should be maintained at the home-range scale, whereas connectivity between nearby forest patches should be ensured by providing suitable habitat for movements.
Our results indicate that landscape composition can affect the movements of a forest-dwelling species differently on a small scale compared to the larger home-range scale. Faster movements through urbanized habitats indicates that these habitats are less favoured. Increasing amount of urban habitat within home range decreased distances moved by males, suggesting that movements of the more mobile sex could also be hampered by urbanization of the landscape. The importance of forested connections remains unclear and it seems that measuring and maintaining connectivity in a species-specific way is difficult in human-modified landscapes.
Habitat selection and home-range establishment of individuals can ultimately influence their survival and life-time reproductive success, which can have consequences at the whole population level [86, 87]. Since destruction of native habitats is ongoing, protection of many species has to be done in modified landscapes in the future. In order to estimate how well this can succeed for gliding and arboreal squirrels, we propose that the link of habitat use to cost and risks of moving in fragmented landscapes should be studied next.
Ethics approval
The procedure of this study was made in accordance with current laws in Finland and under the license from the Centre for Economic Development, Transport and the Environment (permit number: POSELY/608 /07.01/2010).
Consent for publication
Not applicable.
Abbreviations
AIC:

Akaike's information criterion
DIC:

Deviance information criterion
GLMM:

Generalized linear mixed model
MCMC:

Markov chain Monte Carlo
MCP:

Minimum convex polygon
Declarations
Acknowledgements
We are grateful to Pauliina Järvinen, Veijo Mäkeläinen, Mikael Rytkönen, Marko Schrader (MS) and Andrea Santangeli (AS) for their help in radio-tagging and telemetry. We want to thank MS for help in digitizing the landscape data, AS for commenting the statistics and Dominique Potvin for correcting the language. Heidi Björklund and three anonymous reviewers are thanked for their valuable comments on the earlier version of manuscript.
Funding
This work has been funded by Kuopio Naturalists' Society, Maj and Tor Nessling Foundation (grant numbers: 201200476, 201300150 and 201400367), Oskar Öflund's Foundation, Research Foundation of the University of Helsinki and Societas pro Fauna et Flora Fennica for SM, and by Academy of Finland (Grant no. 250444) for OO.
Open AccessThis article is distributed under the terms of the Creative Commons Attribution 4.0 International License (http://creativecommons.org/licenses/by/4.0/), which permits unrestricted use, distribution, and reproduction in any medium, provided you give appropriate credit to the original author(s) and the source, provide a link to the Creative Commons license, and indicate if changes were made. The Creative Commons Public Domain Dedication waiver (http://creativecommons.org/publicdomain/zero/1.0/) applies to the data made available in this article, unless otherwise stated.
Authors' Affiliations
(1)
Finnish Museum of Natural History LUOMUS, University of Helsinki, Helsinki, Finland
(2)
Department of Biosciences, University of Helsinki, Helsinki, Finland
(3)
Current address: Resource Ecology Group, Wageningen University, Wageningen, The Netherlands