Patch-use dynamics by a large herbivore
Received: 16 August 2014
Accepted: 27 February 2015
Published: 17 March 2015
Abstract
Background
An adaption of the optimal foraging theory suggests that herbivores deplete, depart, and finally return to foraging patches leaving time for regrowth [van Moorter et al., Oikos 118:641–652, 2009]. Inter-patch movement and memory of patches then produce a periodic pattern of use that may define the bounds of a home range. The objective of this work was to evaluate the underlying movements within home ranges of elk (Cervus elaphus) according to the predictions of this theory. Using a spatial temporal permutation scan statistic to identify foraging patches from GPS relocations of cow elk, we evaluated return patterns to foraging patches during the 2012 growing season. Subsequently, we used negative binomial regression to assess environmental characteristics that affect the frequency of returns, and thereby characterize the most successful patches.
Results
We found that elk return to known patches regularly over a season, on average after 15.4 (±5.4 SD) days. Patches in less-rugged terrain, farther from roads and with high productivity were returned to most often when controlling for the time each patch was known to each elk.
Conclusions
Instead of diffusion processes often used to describe animal movement, our research demonstrates that elk make directed return movements to valuable foraging sites and, as support for Van Moorter et al.'s [Oikos 118:641–652, 2009] model, we submit that these movements could be an integral part of home-range development in wild ungulates.
Keywords
Home-range developmentSite-fidelityForaging selection
Background
Home-range development and range-use dynamics are key components of foraging behaviour with implications for animal movement, habitat selection, and fitness [1,2]. The home range often is defined to be the area known by the animal and remembered or maintained because of its value, presumably in resources required by the animal for survival and reproduction [1,3,4]. However, simulations of memory processes alone have failed to yield stable home ranges [5,6] and the biological mechanisms underlying the development and maintenance of home ranges in non-territorial animals are still missing. There is a growing body of literature on mechanistic home range models hypothesizing the underlying rules for movement or landscape structure that may define or result in the development of stable home ranges [5,7-10].
Compared to traditional techniques that describe home ranges, mechanistic models are more comprehensive attempts to unveil the processes that result in home-range behaviour. Because these models are based not only on the movements of animals but upon the underlying rules for movement, they have the ability to predict an individual's spatial use, not only describe it [9,11]. As such these models, when validated, are especially powerful tools for predicting responses to changes in habitat [9,12] either by human land-use change, or natural perturbations to the environment. Because of their potential predictive powers, numerous mechanistic home range models have been developed recently. Unfortunately, these works focus primarily on the development of defended ranges or territories of central place foragers [3,13,14], not the ranges of more diffuse foragers (e.g. most cervids) without a central place or a discrete and defended territory.
In an attempt to address this gap, a model by Van Moorter et al. [5] simulates home-range development combining the rules of optimal foraging theory and a two-part memory system. Foragers move between dynamically valued patches distributed across the landscape, removing food from a patch until depletion stimulates departure according to the marginal value theorem [15]. Their movement is biased by the utility of surrounding patches and both short-term memory and long-term memory that prevent backtracking over depleted patches while maintaining knowledge of successful patches and allowing time for forage regrowth prior to return.
Seidel and Boyce [Seidel DP, Boyce MS: Varied tastes: home range implications of foraging patch selection, forthcoming] evaluated four formative assumptions of Van Moorter et al.'s model in two populations of elk in SW Alberta. Their work formed the first empirical support for this model but they did not investigate the predicted movement patterns or returns to foraging sites. Although directed movements between areas of resource abundance where animals linger to forage have been demonstrated [16-18], few studies have shown returns or recursive movement patterns in ungulate populations and none exhibit returns directly to identified foraging patches [19,20]. As such, our objective was to evaluate movement within home ranges according to predictions of a proposed mechanistic home range model for foragers.
We used a flexible space-time permutation scan statistic (STPSS) to identify and approximate the scale of discrete elk foraging patches in space and time. We first sought to establish whether and how frequently elk return to these patches. Secondly, our goal was to identify the characteristics of a patch that increased the likelihood of reuse. Connecting patch-return likelihood to attributes of these patches and surrounding landscape lays the groundwork for understanding why and how animals use various areas within their home range and allows us to evaluate the expectation that those patches that are revisited should be of higher quality than other available patches.
Results
SatScan clustering
Using the STPSS procedure, 815 clusters were identified over the summer season with a total of 2,112 returns overall. Clusters with radii less than 15 m in length were removed, 47(5.8%) qualifying clusters, leaving 768 clusters for analysis. The average number of clusters identified in total each week was 54.86(±8.24 SD) clusters (minimum: 42, maximum: 63).
An average of 109.7(±8.36 SD) clusters per individual was identified over the 3-month season. The average radius of analysed clusters was 92.4 m (±39.1 SD) and included an average of 2.63(±1.21 SD) fixes in each cluster. SatScan output also provides number of observed fixes within the cluster. This value is often larger (but never smaller) than the number of fixes included in the cluster and represents the total number of fixes within the spatial boundaries of the cluster over the entire analysed temporal period, e.g. 7 days. The average number of observed fixes in each cluster was 2.77(±1.47 SD) indicating that animals frequently revisited the cluster within the same week but not within the chosen temporal window.
Investigating returns
Returns were overdispersed (mean = 2.75, variance = 5.63) and a negative binomial distribution examined for better fit. As expected, a fixed negative binomial outperformed a fixed Poisson model by 14 AIC (Akaike Information Criterion) units and reduced the Pearson χ2 dispersion coefficient from 1.34 to 1.10. When mixed-effects models were estimated with Poisson and negative binomial families, fit was improved compared to fixed models. Unexpectedly, the mixed-effects models differed only by 0.14 AIC units (mixed Poisson 2857.92, mixed NB 2857.78) but again the Pearson χ2 coefficient indicated less over dispersion with the negative binomial (1.21 to 1.13 respectively).
Discussion
Our results confirm that individual elk make repeated foraging visits to patches within a growing season. Furthermore, we demonstrate that distance from roads, as well as landscape ruggedness, and green herbaceous productivity contribute to increased returns at foraging patches indicating that patch value influenced the likelihood of return to a patch, just as proposed by Van Moorter et al.'s [5] home-range model.
Return behaviours have been shown before in wild ungulates, but to our knowledge, this is the first empirical demonstration of recursive movements specifically to identified foraging sites. Wolf et al. [20] and Bar-David et al. [19] both identified recursion events to previously used or "known" locations related to resources, or foraging behaviours, though neither estimated returns directly to identified foraging areas. By analysing return patterns to a specific location and use, we uniquely explored how foraging selection might drive movement patterns.
Differences across return distributions of individuals and across herds were noted (Figure
2
A&B), with Waterton animals returning less often overall. These distributions are likely influenced by subtle range shifts over the season and by individual movement behaviours. Larger home ranges lead to fewer returns and longer time between returns at individual patches [van Moorter B: unpublished manuscript]. This is logical: when there is more space to cover and more patches to visit, the time between returns will be longer leading to fewer returns over a single season. Movement between (and thus return rates to) patches could be influenced by other environmental features such as ruggedness of terrain or overall extent of home range although we did not explore these explicitly in this analysis. We observed that Waterton cows expanded their home ranges over the course of the season, but maintained returns to the entire area, even as it expanded late in the summer down into the aspen forests and wetlands on the east shore of lower Waterton lakes where bull elk typically concentrated their summer movements. Maintenance of larger home ranges may explain a portion of the reduced return likelihood of Waterton patches.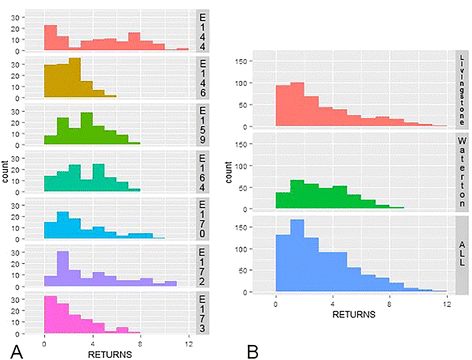 Our top model demonstrates that at the population level, TmKnown, ruggedness, productivity, distance to road, and interactions between distance to road and herd and TmKnown and productivity were the most influential environmental covariates determining return counts at patches across the season. The importance of productivity in return models supports the underlying thesis of Van Moorter et al.'s [5] model which values patches based on replenishment of resources. As expected our results demonstrate that productive patches are returned to more often than less productive patches. An attraction to productive forage is consistent with previous work demonstrating that elk migration often follows the start of spring photosynthetic activity, or greenup; as new growth extends into higher elevations over summer so do elk [22]. Forage research on elk also shows attraction to intermediate levels of biomass, often more digestible and productive than tall late-season stands, and forage abundance has been shown to encourage site fidelity in nonmigratory elk populations on short time intervals, supporting our results that productivity may strongly influence returns [23-25].
Distance to nearest road and its interaction with the Herd variable appeared in the top model, with Waterton animals being more sensitive to road proximity. Animals in national parks often seem undisturbed by roads, habituated to traffic and people, and attracted by the roadside vegetation and protection from predators that roads and human settlements offer [26], but in other populations, especially in those facing hunting pressure, roads and high traffic have been shown to alter movement near roads [27,28]. From the perspective of foraging, human disturbance has been shown to increase vigilance, reducing time spent foraging, foraging efficiency, and intake [29-31] and, recently, to deter foraging patch selection in elk [Seidel DP, Boyce MS: Varied tastes: home range implications of foraging patch selection, forthcoming]. Our analysis demonstrates that disturbance also might affect whether or not that animal returns to patches over time.
Inclusion of the TmKnown variable markedly improved the fit of our model to the data and emphasizes the temporal dynamics at play driving returns. TmKnown was the strongest indicator of return likelihood, with an effect size nearly twice that of any other predictor; this is a logical result. Patches visited earlier in the season have a longer period of time during which they can returned. The Kaplan-Meier estimation demonstrates clearly that patches must be known for roughly 20 days before attracting a return (Figure 1). Given the time needed for regrowth, revisits before 20 days would likely be disadvantageous giving further support to the Van Moorter et al. model [5]. Additionally this figure demonstrates that nearly all patches known for at least 115 days were revisited and displays a sharp uptake in revisits once a patch was known for 90 days or more. Exhibition of return behaviour overall indicates that animals are not avoiding previous locations and that previous use may increase subsequent use, just as demonstrated by Wolf et al. [20]. If this coefficient had been diminished or even negative, we would expect that animals were likely moving into novel environments, not cycling back over the season either due to range drift or possibly resource depletion or predator avoidance. In future research, it would be useful to explicitly evaluate how the demonstrated increase in return probability over time compares to probabilities extracted from simple biased random walk models (i.e. biased to a central location, considering both mono- and multi-nuclear models), or more advanced multi-phasic movement models. Such a comparison of models, using empirical data for parameterization, could be very informative and offer a unique evaluation of current proposed models for understanding movement and space use of large mammals.
Traditionally, simple random-walk or diffusion models have been used widely to model animal movement and, dependent on the time scale in question, can provide a realistic approximation of movement for many species [32]. Diffusion alone however does not result in emergent home-range behaviour; using a diffusion approach, eventually the paths of an animal will expand to fill any available extent. Diffusion models with an attraction vector to a central place (e.g. a den, a nest) can result in a circular, unimodal, home ranges but empirical observation shows that animals' real home ranges generally exhibit multimodal use with non-circular edges [32]. Mechanistic home range models have evolved in an attempt to identify and model the movement processes that can simulate emergent multimodal utilization distributions and realistic home-range boundaries (see [3,32] for further review of recent movement and home-range modelling). The Van Moorter et al. [5] model, predicting a foraging and memory-driven model, provides a realistic model for the intra-home-range movement in wild ungulates, without requiring presupposition of home range centers or a single attractive nuclei. Our field observations have demonstrated repeated movements among multiple nodes of attraction which are indicative of memory processes, and negate simple diffusion or central place models for ungulate home range development.
Conclusions
We have demonstrated that elk will return to foraging patches repeatedly over the season. Return behaviour should be driven in part by patch value, and indeed, we show that productivity, terrain ruggedness, and proximity to road all influenced the likelihood that elk would return to foraging patches. These results demonstrate that the Van Moorter et al. [5] model for home-range development appropriately characterizes key aspects of elk foraging and movement behaviour and furthers understanding of within home range movement of free ranging elk. Increased research into the mechanisms driving space use and empirical evaluation of theoretical home range models will improve our understanding of the dynamic nature of animal space use and movements, especially in response to human land-use change.
Declarations
Acknowledgements
The authors would like to thank all funders and partners of this project. This project was funded in part by the University of Alberta, Shell Canada Ltd., NSERC CRD funds, Mountain Equipment Coop, TD Friends of the Environment Fund, Safari Club International – Northern Alberta Chapter, and in partnership with Nature Alberta.
Authors' Affiliations
(1)
Department of Biological Sciences, University of Alberta, Edmonton, Canada
Copyright
© Seidel and Boyce; licensee BioMed Central. 2015
This is an Open Access article distributed under the terms of the Creative Commons Attribution License (http://creativecommons.org/licenses/by/4.0), which permits unrestricted use, distribution, and reproduction in any medium, provided the original work is properly credited. The Creative Commons Public Domain Dedication waiver (http://creativecommons.org/publicdomain/zero/1.0/) applies to the data made available in this article, unless otherwise stated.