Space, time and complexity in plant dispersal ecology
Received: 5 May 2014
Accepted: 24 July 2014
Published: 1 August 2014
Abstract
Dispersal of pollen and seeds are essential functions of plant species, with far-reaching demographic, ecological and evolutionary consequences. Interest in plant dispersal has increased with concerns about the persistence of populations and species under global change. We argue here that advances in plant dispersal ecology research will be determined by our ability to surmount challenges of spatiotemporal scales and heterogeneities and ecosystem complexity. Based on this framework, we propose a selected set of research questions, for which we suggest some specific objectives and methodological approaches. Reviewed topics include multiple vector contributions to plant dispersal, landscape-dependent dispersal patterns, long-distance dispersal events, spatiotemporal variation in dispersal, and the consequences of dispersal for plant communities, populations under climate change, and anthropogenic landscapes.
Keywords
Seed
Pollen
Gene flow
Dispersal kernel
Migration
Long-distance dispersal
Community ecology
Climate change
Introduction
Pollen and seed dispersal are essential functions of plants, with far-reaching consequences for reproduction, population and community dynamics, neutral and adaptive evolution and, ultimately, population and species persistence. Because an understanding of gene and individual movement capacities is critical to predicting the response of individuals, populations and species to ecosystem perturbation and climate change, the long-standing interest in plant dispersal has seen an upsurge in recent years. Extensive monographs have recently dealt with the ecology and evolution of dispersal of organisms in general [1] and of plants in particular [2]. Other more specific reviews (many of which are cited below) have focused on the mechanisms, consequences and measurement of passive and animal-mediated plant dispersal, considering different spatial and temporal scales and varied ecological, demographic and evolutionary settings.
Here, we pose eight general questions that we believe will define some of the research frontiers in plant movement ecology in the coming years. We do not attempt to answer these questions, or to exhaustively review the state-of-the-art in these areas, but rather offer our perspectives regarding a selection of important research topics, with an emphasis on specific empirical objectives and methods. The paper is oriented along three axes, representing three fundamental dimensions that challenge ecological inference and models in general, and dispersal ecology research in particular: space, time and complexity (Figure
1
). Spatial scale and heterogeneity issues typically arise in long-distance dispersal (LDD) estimation and modeling, but also when characterizing dispersal variation among individuals, populations and regions, when assessing landscape effects on dispersal, or when measuring dispersal anisotropy. Temporal issues are inherent in studies examining dispersal fluctuations across years or dispersal seasons, and also arise when building up dispersal kernels from descriptions of instantaneous vector movement, when obtaining robust estimates of dispersal variation among individuals or populations, when inferring historical migration rates from genetic data, and when predicting long-term feedbacks between dispersal, demography and evolution. The dynamic complexity of environments, communities and ecosystems pervades most aspects of dispersal ecology research, from pollinator and seed-disperser networks, through the consequences of dispersal for population and community dynamics, to dispersal sensitivity to global change (Figure
1
).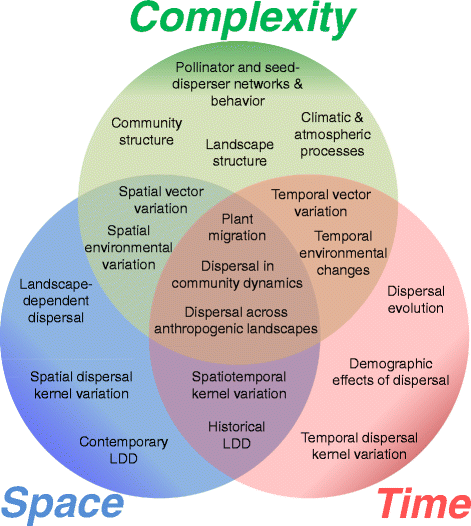 Within this broad framework, we first argue that mechanistically accounting for the relative contribution of multiple vectors to dispersal of particular plant species constitutes an essential basis for explaining and predicting dispersal patterns in spatiotemporally changing ecosystems (Section 1). Next, we examine how the interplay between vectors and environmental heterogeneity determine landscape-dependent seed and pollen deposition patterns that are missed by pure distance-dependent models (Section 2). We then focus on the broadest spatial scale by examining the measurement of long-distance dispersal across species' ranges (Section 3). We continue by addressing the causes and consequences of variability in dispersal patterns among individuals and populations (Section 4), and over time (Section 5). Finally, we take a broader temporal perspective to consider the consequences of dispersal for plant communities (Section 6), populations under climate change (Section 7), and anthropogenic landscapes (Section 8).
Conclusions
Advances in plant dispersal ecology research will be determined by our ability to surmount challenges of spatial scale and heterogeneity, temporal scale, and system complexity. Enlarging the spatial scale of empirical studies will remain a necessity to avoid biased descriptions of dispersal and its ecological and evolutionary consequences. New inferential and predictive schemes should be developed and applied to better describe the rate and trajectories of effective seed and pollen migrants over different spatial scales in environmentally and demographically explicit context, incorporating landscape-dependent components of vector and propagule movements. This will probably require a combination of mechanistic and phenomenological (e.g., genetic-based) approaches that, in the unavoidable trade-off between spatial scope, sampling intensity and accuracy, should seriously assess expected statistical power and uncertainty for low-frequency (but still ecologically and evolutionarily important) dispersal rates, model miss-specifications, and limited sampling. Temporal scale issues will pervade plant dispersal ecology studies, from a more meaningful characterization of average dispersal patterns given variation in dispersal within and among seasons, through the assessment of the consequences of such temporal dispersal variation for population and community dynamics, to long-term predictions about population and species persistence based on observed and modelled feedbacks between dispersal, demography and evolution in changing environments. Finally, sufficiently approximating the dynamic complexity of environments, ecological networks and communities will be essential for characterizing all relevant biotic and abiotic mechanisms driving plant dispersal and their sensitivity to global change, and for better understanding the ecological consequences of dispersal in changing environments. We will certainly need to increasingly pool data and expertise from multiple disciplines to meet these big challenges, for which we advocate not only further cooperative research efforts, but also the implementation, standardization and usage of open repositories of dispersal data and models.
Abbreviations
ABC:

Approximate Bayesian computation
GEC:

Global environmental change
LDD:

Long-distance dispersal
Declarations
Acknowledgements
This work was partly supported by CGL2009-09428 project from the Spanish Ministry of Economy and Competitiveness. We thank Pedro Jordano and two anonymous reviewers for constructive comments.
Authors' Affiliations
(1)
Department of Forest Ecology & Genetics, INIA-CIFOR, Madrid, Spain
(2)
INRA, UR546 Biostatistique et Processus Spatiaux (BioSP), Avignon, France
(3)
Smithsonian Tropical Research Institute, Panamá, Republica de Panamá
(4)
Spatial Ecology Group, Doñana Biological Station (EBD-CSIC), Sevilla, Spain
Copyright
© Robledo-Arnuncio et al.; licensee BioMed Central Ltd. 2014
This is an Open Access article distributed under the terms of the Creative Commons Attribution License (http://creativecommons.org/licenses/by/4.0), which permits unrestricted use, distribution, and reproduction in any medium, provided the original work is properly credited. The Creative Commons Public Domain Dedication waiver (http://creativecommons.org/publicdomain/zero/1.0/) applies to the data made available in this article, unless otherwise stated.