Secondary dispersal driven by overland flow in drylands: Review and mechanistic model development
Received: 6 December 2013
Accepted: 12 March 2014
Published: 17 April 2014
Abstract
Seed dispersal alters gene flow, reproduction, migration and ultimately spatial organization of dryland ecosystems. Because many seeds in drylands lack adaptations for long-distance dispersal, seed transport by secondary processes such as tumbling in the wind or mobilization in overland flow plays a dominant role in determining where seeds ultimately germinate. Here, recent developments in modeling runoff generation in spatially complex dryland ecosystems are reviewed with the aim of proposing improvements to mechanistic modeling of seed dispersal processes. The objective is to develop a physically-based yet operational framework for determining seed dispersal due to surface runoff, a process that has gained recent experimental attention. A Buoyant OBject Coupled Eulerian – Lagrangian Closure model (BOB-CELC) is proposed to represent seed movement in shallow surface flows. The BOB-CELC is then employed to investigate the sensitivity of seed transport to landscape and storm properties and to the spatial configuration of vegetation patches interspersed within bare earth. The potential to simplify seed transport outcomes by considering the limiting behavior of multiple runoff events is briefly considered, as is the potential for developing highly mechanistic, spatially explicit models that link seed transport, vegetation structure and water movement across multiple generations of dryland plants.
Keywords
Seed dispersal
Overland flow
Semi-arid
Eulerian
Lagrangian
Modeling
Introduction
Seed dispersal, or the process by which seeds are mobilized, transported and eventually come to rest prior to germination [1] forms a critical stage in reproductive biology. It is the main process that determines population migration rates, invasion dynamics, patterns of gene flow and spatial organization of the landscape [2]. Seed dispersal is diverse, encompassing both biotic (animal mediated) and abiotic (physically mediated) processes [3]. Several abiotic dispersal processes such as wind and water-driven seed dispersal are amenable to a theoretical description, using well-established principles from fluid mechanics to describe the seed dispersal as inertial particle transport in turbulent flows[4, 5]. For example, the specific problem of seed dispersal by wind over homogeneous, closed vegetation canopies has been sufficiently advanced to pemit estimates of transport distances over which seed populations are dispersed [3, 6–10]. These solutions depend upon the properties of the dispersed seeds, wind statistics above the vegetation canopy, the seed release height, and the vertical distribution of the canopy leaf area.
This paper modifies the theoretical treatment of seed dispersal to account for the secondary dispersal of seed by overland flow in spatially patchy drylands [11]. The seeds of dryland plants usually lack adaptations that promote long-distance primary dispersal [12]. Seeds undergoing primary dispersal (from plant to the ground) travel only short distances. The distances travelled by fallen seeds (secondary dispersal) have a high probability of being much longer than those travelled in primary dispersal. Thus, secondary dispersal determines the locations in which seeds come to rest and germinate [13–15]. Water [12, 15–19] and wind [13, 20–22] are both abiotic seed transporting vectors for secondary dispersal in drylands. Their relative importance remains a subject of active research, and is likely controlled by the overlap between dispersal periods and the rainy season. While at least one theoretical treatment of secondary dispersal by wind in drylands has been proposed [23], no attempts to develop a mechanistic model for seed dispersal in overland flow have yet been made. Yet, recent increases in studies exploring water-driven dispersal in drylands [15–19], in modeling overland flow processes in patchy landscapes [24, 25], and in the broader realm of water dispersed seed dynamics (hydrochory) [26] suggest that the time is ripe to develop such theory.
Dispersal of seed via overland flow is clearly a form of hydrochory, and could incorporate both nautochory (the dispersal of floating seeds at the surface of a water column) [27] or bythisochory (dispersal of non-floating seeds along the base of a water column) [28]. Dispersal in overland flow, however, has characteristics that differentiate it significantly from typical hydrochory along a stream network or within wetlands. These characteristics include the following mechanisms: (i) the initiation of dispersal relies on the occurrence of relatively infrequent intense rainfall events that generate sufficient overland flow to move seeds (by comparison, in most streams and rivers, flow is perennial or nearly so, and the initiation of hydrochory relies on primary or secondary transport of seeds to the flow channel); (ii) the termination of dispersal is dictated by seed trapping or the cessation of overland flow (by comparison, stranding of seed on river banks or floating vegetation, or burial of seeds that change their density over time are the primary modes of termination of in-channel hydrochory) [29, 30]; (iii) flow is not confined to the vicinity of the channel network, and consequently (iv) overland flow can lead to long-distance seed dispersal, over shorter length-scales but also a less-constrained areal extent than hydrochory within rivers.
This study proceeds in three parts: (i) a review of the relevant flow generation and seed characteristics that influence secondary dispersal by overland flow; (ii) extension of existing seed transport theories to overland flow in sparse canopies, and an illustration of theoretical results from this extension; and (iii) a discussion of the implications of these results for spatial ecology in drylands.
Review
Overland flow generation in drylands
Bare soils in drylands are directly exposed to rain impact and sunlight, leading to the formation of structural and sedimental soil seals [31], and biological soil crusts [32]. Together, seals and crusts form a compacted, disturbed layer at the soil surface, characterized by low saturated hydraulic conductivity [33, 34]. They drastically reduce soil infiltrability and lead to the formation of infiltration-excess overland flow [35–39]. Conversely, vegetated patches are characterized by high surface roughness [25, 40] and high infiltration rates [41], and inhibit the formation of overland flow [42]. The patchy structure of drylands therefore leads to spatially fragmented patterns of overland flow initiation [43]. Pervasive microtopographical variation creates further spatial distinctions between narrow, deep and fast-flowing zones where flow velocities can be 2-7 times higher than their areal averaged counterparts; to broad, shallow, slow-moving zones where flow velocities approach zero [24, 44–46]. The immediate generation of runoff from rainfall events, specifically those of sufficient intensity to exceed local infiltration capacities [42, 47] leads to surface runoff that is highly intermittent through time. Theoretical treatments of the seed-transporting flow field cannot ignore the spatial patchiness in flow initiation and flow characteristics.
The Saint Venant equations (SVE), named after the mathematician and hydraulic engineer Adhémar Jean Claude Barré de Saint-Venant, can be expanded to include spatially variable roughness and lateral source/sink terms. These equations are based on the depth-averaged Navier-Stokes equations and describe surface runoff under the (almost always reasonable) assumption of shallow flow [
25
,
40
]. In the simplest one-dimensional case along the longitudinal direction (that is, the direction of mean flow), the combined continuity (or conservation of water mass) and Saint Venant equations are given as:
where
t
is time,
x
is a downslope or longitudinal distance;
h
is the water depth,
q
x
(=
V h
) is the flow rate per unit width along direction
x
;
V
is the depth-averaged velocity;
g
is gravitational acceleration;
P(x,t)
is the rainfall, allowed to vary through space to account for e.g. local changes such as throughfall within vegetated sites or larger-scale changes associated with spatial variation in the rainfall field;
I(x,t)
is the infiltration rate that varies throughout the storm and as a function of vegetation cover;
S
o
is the ground slope (and may be zero) and
S
f
(x)
the friction slope, which reflects the total energy head losses per unit flow length due to simultaneous ground friction and drag imposed by the vegetation. The time-dependence of infiltration can be accounted for via standard or seal-layer specific formulations [
42
,
48
]. It is assumed that time scales responsible for variations in
h
and
V
are much faster than the timescales over which biomass changes. This timescale separation between flow and biomass changes allows the spatial distribution of vegetation to be specified as a function of location
x
. It is also assumed that parameterizations are available to relate the friction slope, rainfall and infiltration properties to the vegetation characteristics [
25
]. These equations can be solved for the space-time variations of
h, q
x
(and hence
V)
provided a 'closure' for
S
f
is formulated. In general, such a closure relates
S
f
to
V
and
h
via a friction factor
f
, for example:
The friction factor f varies with surface roughness, h, and with the bulk Reynolds number, Re b  = Vh/ν, where ν is the kinematic viscosity of water (about 10 times smaller than its air counterpart). When the flow is fully turbulent, Re b >500 and Manning's equation is used to link f to the Manning roughness coefficient, which varies only with the surface properties [49]. However, for laminar flow conditions, Re b  < 500 and f varies with Re b . The determination of f for vegetated patches is complicated by other factors due to the presence of localized drag forces at the vegetation-water interface (potentially larger than the ground shear stress), but which lie outside the immediate scope of this study. However, analytical formulation linking f to vegetation attributes such as leaf area index, leaf drag, and water level have been derived for the large Re b case [50]. Flow disturbances induced by rainfall events can impact f and even the generation of turbulent kinetic energy that increase the velocity variance around V, although these effects are rarely considered in hydrologic models. The solution to these equations also requires that the flow is sub-critical (i.e. Froude Number Fr < 1) thereby avoiding formation of hydraulic jumps along with their associated energy losses not considered in S f .
Given varying boundary conditions associated with the storm temporal evolution and the land surface properties, Equation (
1
) may be solved, and the space-time varying fields of flow depth, flow (or velocity) and friction factor computed both in the non-vegetated and vegetated sites. A snapshot of these fields in one dimension are shown in Figure
1
, illustrating the large increase in the friction factor associated with the presence of vegetation, and the peaks in flow depth and velocity that occur at the bare soil – vegetation boundary in response to this change. These results are used to drive Lagrangian seed dispersal models, as described in the next section.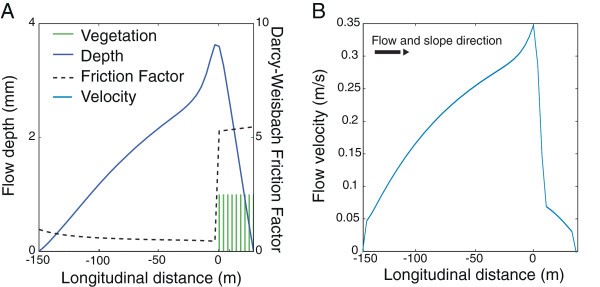 Seed dispersal in overland flow
One body of research addressing seed dispersal in overland flow has viewed secondary dispersal as a negative outcome: for instance inhibiting revegetation efforts in degraded landscapes [51, 52], preventing plant colonization of hillslopes [19] and resulting in recruitment in environments that represent sub-optimal seedling habitat [13]. These studies report the rate of seed loss due to overland flow, rather dispersal locations. Another body of research recognizes that secondary dispersal by water may be significant for determining the structure and functioning of dryland ecosystems [13, 53–60]. These studies identify species zonation, seed trapping and transport efficiencies, and explore the long-term and large-scale outcomes of dispersal by water.
Studies of seed movement in overland flow illustrate several pertinent features of seeds that influence their movement in surface water. For example, Table
1
reports the physical properties of seeds from 14 desert plants, as well as the average seed properties of an assemblage of 83 desert species from Spain. Only one of these seed types is denser than water. The seeds of 60 species in the Loess Plateau region of China were also all found to be buoyant [
19
]. Thus, provided there is sufficient water depth available (i.e.
h > d
, where
d
is a seed size), seed will float and move with overland flow.
Table 1
Physical properties of seeds from dryland species, and their estimated terminal velocities in water
| Seed type | Mass (mg) | Dimensions (mm by mm) | Density (kg m-3) | Terminal velocity in water (ms-1) |
| --- | --- | --- | --- | --- |
| Prosopsis flexuosa | 241 | 6.0–6.6 × 1.9–2.22 | 906 | 8 (upwards) |
| Larrea sp. | 2.31 | 6.0 mm spheroids3 | 10.6 | 77 (upwards) |
| Atriplex lampa | 0.621 | 6-12 × 5 – 124 | 1.38 | 140 (upwards) |
| Trichloris crinita | 0.181 | 4 × 0.55 | 180 | 28 (upwards) |
| Sporobolus cryptandrus | 0.076 | 0.68 × 0.406 | 643 | 0.4 (upwards) |
| Chenopodium papulosum | 0.256 | 0.94 × 0.826 | 396 | 1.2 (upwards) |
| Pappophorum spp. a | 0.356 | 1.32 × 0.476 | 1200 | 0.76 (downwards) |
| Digitaria californica | 0.406 | 1.67 × 0.986 | 250 | 4.5 (upwards) |
| Parthenium hysterophorus | 0.426 | 2.45 × 1.186 | 123 | 11 (upwards) |
| Phacelia artemisioides | 0.506 | 1.46 × 1.026 | 330 | 3.1 (upwards) |
| Setaria leucopila | 0.756 | 1.18 × 1.046 | 588 | 1.2 (upwards) |
| Plantago patagonica | 0.806 | 2.27 × 0.986 | 367 | 7.1 (upwards) |
| Pinus pinea | 4437 | Vol: 1067 mm3 7 | 415 | |
| Erica multiflora | 0.077 | Vol: 0.16 mm3 7 | 438 | |
| Average of 83 Spanish desert seeds | 35.287 | Vol: 67.91 mm3 7 | 520 | |
Seed dispersal by overland flow is influenced by other seed characteristics. Larger seeds are less likely to be mobilized [15, 18, 19, 51, 52]. More intense storms are more likely to mobilize seeds [19]. Several species have adaptations such as awns, hairs, and pappi that enhance seeds trapping [51], some are preferentially dispersed into cracks [15], and some excrete mucilage when wet [15, 19, 51, 54]: adaptations that tend to prevent dispersal by water (although some studies suggest that mucilage increases seed buoyancy and promotes dispersal in runoff [54]).
In summary, several empirical studies suggest that: (i) seeds will float; (ii) transport initiation is a critical stage of dispersal; (iii) transport initiation is less likely for larger seeds; and (iv) adaptations that increase the likelihood of seed trapping influence transport. These common findings provide the minimum input to the development of theoretical descriptions of seed transport in overland flow.
Seed dispersal in overland flow
Conclusions
Recent developments in modeling seed dispersal and runoff generation in dryland ecosystems offer the potential for representing modes of secondary dispersal associated with overland flow. An extension to the existing CELC modeling framework was proposed (BOB-CELC) that showed qualitative agreement with dispersal behaviors reported in the literature. The framework provides a potential basis for exploring parsimonious representations of seed dispersal in patchy landscapes in which the final seed resting positions are largely tied to the vegetation distribution, as well as a fully mechanistic approach suitable for coupling to spatially and temporally explicit simulations. Despite these promising developments, there remains a clear need for targeted observations to reconstruct dispersal behavior in runoff in different patchy dryland ecosystems. Experiments targeting processes of transport initiation, trapping and termination, exploring the relative importance of and interactions between secondary wind and water dispersal, and linking dispersal processes to germination and growth success would be particularly informative. As particle tracking techniques [96, 97], high resolution imagery [98] and advances in LIDAR for mapping vegetation and water levels continue to improve [99–101], the time is ripe to coordinate experimental and theoretical developments.
Declarations
Acknowledgements
Katul acknowledges support from the National Science Foundation (Grant NSF-AGS- 1102227), the United States Department of Agriculture (Grant No. 2011-67003-30222), the U.S. Department of Energy (DOE) through the office of Biological and Environmental Research (BER) Terrestrial Ecosystem Science (TES) Program (Grant No. DE-SC0006967), and the Binational Agricultural Research and Development (BARD) Fund (Grant No. IS- 4374-11C). Svoray acknowledges support from the Israel Science Foundation (ISF) (Grant 1184/11). Thompson acknowledges support from the National Science Foundation (Grant NSF EAR-1331940) and the United States Department of Agriculture through the National Robotics Initiative (Grant 2013-67021-20947). Trakhtenbrot acknowledges support from Vaadia-BARD Postdoctoral Fellowship Award No. FI-470-2012 from BARD, The United States - Israel Binational Agricultural Research and Development Fund.
Authors' Affiliations
(1)
Department of Civil and Environmental Engineering, UC Berkeley, Berkeley, USA
(2)
Soil, Water and Environmental Sciences, A R O – Volcani Center, Bet Dagan, Israel
(3)
Division of Hydrologic Sciences, Desert Research Center, Las Vegas, USA
(4)
Nicholas School of the Environment, Duke University, Durham, USA
(5)
Geography and Environmental Development, Ben-Gurion University of the Negev, Be'er Sheva, Israel
(6)
Pratt School of Engineering, Duke University, Durham, USA
Copyright
© Thompson et al.; licensee BioMed Central Ltd. 2014
This article is published under license to BioMed Central Ltd. This is an Open Access article distributed under the terms of the Creative Commons Attribution License (http://creativecommons.org/licenses/by/2.0), which permits unrestricted use, distribution, and reproduction in any medium, provided the original work is properly credited. The Creative Commons Public Domain Dedication waiver (http://creativecommons.org/publicdomain/zero/1.0/) applies to the data made available in this article, unless otherwise stated.