Navigation outside of the box: what the lab can learn from the field and what the field can learn from the lab
Received: 13 June 2013
Accepted: 30 December 2013
Published: 3 February 2014
Abstract
Space is continuous. But the communities of researchers that study the cognitive map in non-humans are strangely divided, with debate over its existence found among behaviorists but not neuroscientists. To reconcile this and other debates within the field of navigation, we return to the concept of the parallel map theory, derived from data on hippocampal function in laboratory rodents. Here the cognitive map is redefined as the integrated map, which is a construction of dual mechanisms, one based on directional cues (bearing map) and the other on positional cues (sketch map). We propose that the dual navigational mechanisms of pigeons, the navigational map and the familiar area map, could be homologous to these mammalian parallel maps; this has implications for both research paradigms. Moreover, this has implications for the lab. To create a bearing map (and hence integrated map) from extended cues requires self-movement over a large enough space to sample and model these cues at a high resolution. Thus a navigator must be able to move freely to map extended cues; only then should the weighted hierarchy of available navigation mechanisms shift in favor of the integrated map. Because of the paucity of extended cues in the lab, the flexible solutions allowed by the integrated map should be rare, despite abundant neurophysiological evidence for the existence of the machinery needed to encode and map extended cues through voluntary movement. Not only do animals need to map extended cues but they must also have sufficient information processing capacity. This may require a specific ontogeny, in which the navigator's nervous system is exposed to naturally complex spatial contingencies, a circumstance that occurs rarely, if ever, in the lab. For example, free-ranging, flying animals must process more extended cues than walking animals and for this reason alone, the integrated map strategy may be found more reliably in some species. By taking concepts from ethology and the parallel map theory, we propose a path to directly integrating the three great experimental paradigms of navigation: the honeybee, the homing pigeon and the laboratory rodent, towards the goal of a robust, unified theory of animal navigation.
Keywords
Cognitive mapLandmarkGeometryLocomotionHippocampusParallel map theory
Introduction
How humans and other animals model their external world for spatial navigation has captured the imagination of scientists from ethology, ecology, cognitive and comparative psychology, neuroscience, robotics and artificial intelligence. Goal-directed movement across space thus has the potential to integrate these disciplines conceptually. The concept of the cognitive map is one common to all, yet we lack a synthesis or agreement as to its precise nature and characteristics. The goal of our review is to propose such a synthesis, to increase the power and scope of interdisciplinary communication related to the issue of the cognitive map.
The cognitive map, in its modern definition, represents the most flexible use of spatial information to solve a simple problem: the animal must devise a novel solution to orient to its goal [1]. The definition of this problem in the laboratory is that an animal needs to orient between its location and its goal using a novel route that has been simulated from its prior knowledge of the space. For example, a rat initially trained to reach the goal from a certain start location in a well-learned maze could be tested from a novel start location. In the field, this problem is defined similarly: a displaced animal needs to orient from a novel release point to its experienced home area. In both the lab and the field, the animal must be able to recognize a cue at the release site that marks its spatial relation to the goal.
Using demonstrations of flexible detouring and shortcutting as evidence for a map-like organization of remembered travels became the focus of research in many disciplines, from molecular neuroscience to animal behavior, movement ecology and human cognition. The scientists who first formulated the concept of map-like behaviors in animals did so with full awareness that they were proposing a new and possibly more complex mechanism for spatial navigation. In what turned out to be a remarkable convergence of insight, a comparative psychologist using lab rats and an ethologist studying homing pigeons in the field simultaneously articulated the idea that animals were orienting using map-like information. In Berkeley, Edward Tolman summarized decades of work on the purposive behavior of the laboratory rat with his manifesto on the ability of this animal to form a representation of its external environment [2]. In Wilhelmshaven, Gustav Kramer (the first to demonstrate the use of a sun compass in captive starlings) concluded from his work on the navigation of homing pigeons that the feats they accomplish could only be explained by their possession of topographic knowledge organized as a model of the world, integrated with knowledge of compass information [3]. Donald Griffin then encapsulated Tolman's concept of the cognitive map and Kramer's insights on pigeon navigation with his proposed classification of bird navigation modes, with Type III being true navigation: the ability to orient towards a goal, regardless of its direction, based on mechanisms other than recognition of landmarks [4].
In the 1970's, John O'Keefe and Lynn Nadel resurrected Tolman's concept of the cognitive map [2] to interpret O'Keefe's discovery of place cells in the rodent hippocampus, the first evidence that hippocampal neurons are activated by specific locations in space. This culminated in their 1978 synthetic theory and book, "The Hippocampus as a Cognitive Map" [5]. Thus for approximately thirty years neuroscientists have incorporated the concept of the cognitive map into theories of spatial orientation. The use of this theoretical framework continues to catalyze research in this field, and led to the discovery of other specialized spatial function cells in the hippocampal formation, such as the subicular boundary cells [6], subicular head direction cells and, most spectacularly, the medial entorhinal grid cells [7]. Recently, hippocampal "time cells" were described that code more specifically for time or distance moved, indicating that the hippocampal network represents both the timing and distances of experienced locations [8]. Furthermore, planning of future shortcuts between learned locations can be read from the phase relations of hippocampal place cell activity, demonstrating the pre-play of future actions and their expected neural correlates [9]. All of these components should theoretically play different roles in the construction of a map-like representation, whose properties include retaining a memory of spatial relationships even in the absence of sensory input, as in 'replaying' during REM sleep [10]. Methods continue to be developed at a fast pace, including virtual reality spatial arenas, simultaneous recording from more than 150 neurons and even genetic manipulations that can selectively stimulate or silence specific neurons via optophysiological means in actively navigating rodents. Such studies continue to demonstrate that elements of map-like behavior can be traced in the laboratory rodent to subtle properties of the underlying neural circuitry [11]. Finally, humans are becoming a valuable study species, with the development of ever more sophisticated virtual reality spatial tasks combined with functional neuroimaging methods. Here, too, the concept of the cognitive map and navigational principles derived from studies of rodents are being used to understand brain function in humans [12].
The question of non-mapping solutions
Yet the question of the cognitive map, even in the lab rat, remains much more controversial among behaviorists than among neuroscientists. One reason for such skepticism is the question of complexity and parsimony. The cognitive map solution is one type of place strategy to return to a learned location, but there are also other methods [
1
,
13
,
14
]. Without knowing the neural and computational bases of non-map mechanisms we cannot say that they are simpler, but they are certainly different. In the present review, we will propose that an important reason for this controversy is the difference in spatial scale between the field and the lab (Figure
1
).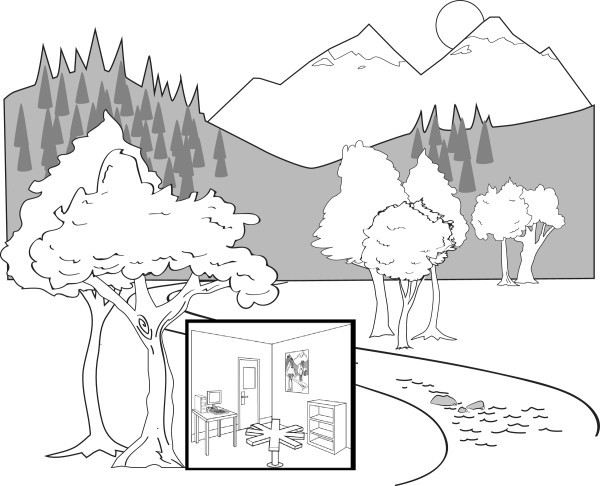 Nonetheless, in both contexts the cognitive map demands that an animal can accurately correct its goal trajectory after experimental displacement. The cognitive map is thus an example of a type of place strategy in which a goal location is defined only by remote sensory cues. But it must make this correction without relying solely on other strategies or mechanisms. For example, an animal could return to a known location using only dead reckoning, which supports a low-risk and rapid return to the place of origin by path integration. It could use a cue strategy, where the goal is defined by a unique cue that has a fixed location in relation to the goal, either an object or the structure of the panorama surrounding the goal. Another stand-alone strategy is a response strategy, in which a navigator recalls and executes memorized body movements that will bring it to its goal [15].
Familiar landmarks or beacons that can be perceived at both the release point and the goal location allow the animal to navigate by creating and independently storing multiple vectors derived from path integration that lead to the goal [16]. Panorama matching also uses a memorized array of landmarks (i.e., image matching), with the difference that cues are learned as a single unit rather than as independent landmarks, a more flexible strategy [17]. Because panorama matching relies on a memorized view, however, it is similar to orientation to landmarks. It has been studied intensively in ants and bees close to their nest sites, where it can explain much of the orientation seen in the field in many ant species [18, 19]; using a collection of vectors, an animal can return to its goal [20]. Path integration could reflect a mechanism of egocentric navigation by which distance-weighted directional components are continuously integrated and a running estimate (minus 180°) provides the vector to the starting point, irrespective of landmarks. It could also be understood as reflecting neural operations that compute the shortest trajectories between the current location and the goal in reference to a geometric layout of spatial codes, such as place cells and grid cells in the hippocampus that are defined by landmarks [21].
Thus vector addition can either be a rather simple form of computing two or more egocentric trajectories that are stored in working memory, or it can indicate processes on the level of the neural representation of a cognitive map. The relationship between landmark-based and vector-based navigation can be tested using clock-shift experiments. For example, recent studies of clock-shifted pigeons released at a familiar site have reported that individual birds vary in their use of familiar landmarks, using them as direct cues of location or using them as cues that have been associated with a compass direction [22]. Even pigeons released in view of the loft will deviate from a direct flight towards the loft, according to the time-shifted sun compass [23]. It is noteworthy that a pigeon's ability to direct its flight toward its home loft, even when released from an unfamiliar site, is based on being able to localize the direction of home in relation to its current location by using a sun or a magnetic compass [24]. However, in nature, navigation is often connected to exploratory behavior [25, 26] and the animal's performance improves with knowledge about the environment, information which may be encoded in a cognitive map. By contrast, pigeons can orient in the correct direction from unfamiliar locations but do not appear to have an expectation of the correct distance [27]. Similar evidence for knowing direction but not distance has been reported for wild red squirrels homing from an unfamiliar site, as squirrels appear to travel a certain distance in the correct direction and then return to the unfamiliar release point [28].
In summary, animals use a variety of redundant mechanisms to ensure their success in navigation, a behavior critical for survival. Animals rely heavily on non-mapping solutions yet there is also evidence for more flexible, mapping solutions [1]. One of the goals of our review is to discuss why mapping solutions are rarely observed. The first reason may well be the lack of tools to measure navigation across natural scales of movement.
New tools, new insights
As with other revolutionary tools that have increased the scope of human perception, such as the microscope, telescope or recording electrode, the science of animal movement and the debate about the cognitive map are continually influenced by the development of new technology. After a period of few advances since the introduction of radiotelemetry for large-bodied animals in the 1960's, recent years have seen great advances in methods. Methods such as harmonic radar and Global Positioning System (GPS) data loggers have revolutionized the study of animal navigation [29]. One obstacle to a grand synthesis of navigational strategies is that each species studied contributes important pieces of the larger picture but nonetheless has navigational strategies adapted to its particular life history constraints. It is therefore crucial to study navigation across a wide range of species, yet this has only recently been possible with animals as small as insects.
Central-place foragers such as the honeybee must remember not only their nest location but also the location of multiple food patches. When leaving either the hive or a food patch, honeybees perform a characteristic scanning behavior and from this behavior they learn the panorama of landmarks. They use these images to orient to locations on this scale. The question of whether hymenopteran insects (bees and ants) use this same mechanism, the recollection of the image of landmarks and panoramas, for all scales of localization, including the largest scale of distant panoramas [17], is not clear, as the evidence is only indirect. For example, ants traveling in a visually cluttered environment appear to use only the image-matching strategy [18]. However, ants in these experiments and honeybees in earlier experiments [17] had established a fixed route by multiple trials (either walking or flying, respectively). Thus their performance under these conditions may rely on a different mechanism of spatial memory than that used after initial exploratory behavior, when the dead reckoning vectors associated with landmarks were being established. It would be interesting and important to determine whether ants, like honeybees, behave differently when examined after only exploratory runs; without these data, it is still unclear whether panorama-matching is the only mechanism available to them for navigation on a large scale.
Map-like behavior in insects
Harmonic radar has proved critical to resolving the question of map-like behavior and spatial cognition in flying insects, which, in the absence of this technology, was controversial [
30
,
31
]. It is the only method by which the paths of individual insects, such as the honeybee, can be tracked with accuracy across the scale of natural landscapes. In 2005, Menzel and colleagues demonstrated that the honeybee, tracked over natural distances in the field, indeed shows map-like behavior [
32
]. Figure
2
illustrates results from bees in a second series of experiments [
33
]. In these experiments, the data from harmonic radar demonstrated that a honeybee recruited to a food source maintains multiple memories of locations. Moreover, these memories are based on past experiences and the newly acquired information from another bee's waggle dance. A bee's use of this information is flexible, changing with the distance and angle between feeders. The bee is also able to incorporate both her own experience and newly acquired public information. Because both of these sources of information are known, the bee's flights can be categorized as goal-directed toward an individually experienced and learned location and a dance-communicated location. Under these circumstances, bees have been observed to flexibly shortcut between the locations of multiple feeders and the hive. Moreover, their propensity for shortcutting varies with the economic costs; that is, they are more likely to shortcut when two feeders are close together than when they are far apart. In this series of studies, the field site was also chosen to be free of large landmarks that could have been used as beacons; panorama matching to calculate these shortcuts was also excluded. Thus these new studies of flying honeybees, tracked using harmonic radar, have reframed the problem of the cognitive map in insects in a completely new light, such that map-like behavior is now a strongly supported hypothesis for navigation in honeybees.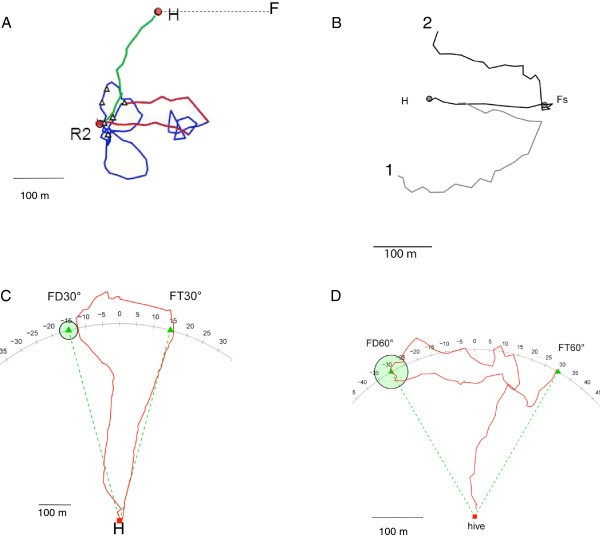 An alternative view has been presented by Cruse and Wehner [20], who argue that vector addition of three vectors (outbound and inbound vector of the learned flight and outbound vector of dance-communicated information), together with a change in motivation (outbound or inbound), is sufficient to explain the shortcutting behavior of bees. However, such a proposal assumes that the memory of the experienced space lacks information about landmarks, a rather unlikely assumption, given the well-documented guidance of bees by landmarks. It should be possible to decide between these two interpretations based on behavioral data by disconnecting compass-based vector addition from homing. In both birds and honeybees this is possible by clock-shifting the animals, as vectors are related to the sun compass. Pigeons appear to rely on a compromise between navigation related to the sun compass and to the magnetic compass [24]. In honeybees, the vector flight, the initial flight path (Figure 2), depends on the sun compass only in a relatively featureless environment, whereas this flight does not depend on the sun compass when the bee is performing homing flights and vector flights in a rich environment with extended landmarks. Similarly, in a more familiar area, pigeons also re-orient more to their memory of a familiar topography than to information from a magnetic compass [34]. At the neural level a decision between the two interpretations requires knowledge about the coding of space, information that is not yet available for birds and insects.
In conclusion, there are several simple but powerful non-mapping mechanisms that an animal can use to home from a novel release point. Yet some results cannot be explained by these mechanisms, as the honeybee can flexibly use and recombine these vectors. To do this, bees must be able to embed the vectors into a relational geometric representation or perform vector integration on multiple vectors in working memory [32, 33]. Thus the harmonic radar method, supplying for the first time data from flying insects foraging over natural scales of movement, offers clear evidence for a map-like strategy in a non-vertebrate.
Navigation in flying vertebrates
What harmonic radar did for our insight into the cognition of flying insects, radiotelemetry and Global Positioning Systems (GPS) have done for our insight into the navigational mechanisms of flying vertebrates, in particular domesticated homing pigeons [34–37]. The development of miniaturized GPS logging devices has greatly increased the quantity and quality of movement data for pigeons, particularly enriching our knowledge of the behavioral mechanisms underlying navigation in the homing pigeon [26, 35, 38–40]. Because this technology allows tracking in three dimensions, it will also be possible to estimate the angular view of landmarks during the animal's navigation, such that future studies may be able to recreate the visual experience of navigating birds while they are making navigational decisions.
Tracking methods are also being used in sophisticated ways to study spatial strategies in wild species during natural migratory behavior. Wikelski, Thorup and colleagues have radiotracked migrating birds using small aircraft for large-scale field experiments. For example, in a study of white-crowned sparrows, experienced adults were caught on their southward journey from Alaska in the state of Washington and displaced 3700 km to the state of New Jersey [41]. Experienced adults were able to correct their route, but first-time migrating juvenile sparrows, given the same displacement, could not correct their trajectory to their winter habitat. The ability of adults, but not juveniles, to steer toward a remembered location thousands of kilometers from their location of displacement must therefore be due to experience and/or brain development. The difference allows the older animals to use a navigational map to extrapolate the direction of the goal from this position.
GPS has also made possible the first fine-grained analysis of homing after displacement in a flying mammal, the Egyptian fruit bat [42]. Bats released in a novel location were able to orient to their home roost, providing the first evidence of map-like behavior in a mammal in the field. Thus new technology again has allowed researchers to collect the critical data to detect map-like behavior in a previously unstudied taxon.
Conclusions
Animals must navigate efficiently and predictably in an unpredictable world. With the development of new technology, both in the field and the lab, the answers to fundamental questions about navigation may suddenly be within reach. Such research will be of conceptual importance for movement ecology, cognitive biology and neuroscience [123, 124], but will also be of pragmatic importance for artificial intelligence, robotics and conservation biology, as all of these fields require knowledge of what animals know about space and how they use this information.
In this review, we have tried to address the question of what concepts are missing in each of several research paradigms for studying navigation and how cross-pollination between these paradigms could enhance research progress. For example, we proposed that the conceptual gap between two dominant paradigms for animal navigation, the homing pigeon and the laboratory rodent, could be bridged using concepts defined in PMT, a navigation model developed from lab data. The importance of a bridge between these paradigms has been long acknowledged [125], but what has been missing is a common language and common model. If the NAV and BE, the FAM and SK, are indeed convergent, if not homologous, then behavioral concepts from the development and function of pigeon navigation could be applied directly to navigation in lab rodents. Likewise, selective BE and SK impairment methods developed for the rodent could be adapted to understand the dual mechanisms of navigation in pigeons and other free-ranging vertebrates, such as bats.
Such cross-pollination might also heal divisions within the discipline. There has been a strange schism in the field of navigation, with modern behaviorists skeptical of mapping solutions while neuroscientists readily use such concepts to drive their research. This debate, a form of which has been ongoing since Tolman's original work on rats, evokes the eternal question of the parsimony of simpler mechanisms. But as Albert Einstein wrote, "It can scarcely be denied that the supreme goal of all theory is to make the irreducible basic elements as simple and as few as possible without having to surrender the adequate representation of a single datum of experience" [126]. We do not yet have enough information on the neural substrates to determine which is a simpler and more economic computation, indexing multiple isolated memories or creating an integrated spatial memory. The question may not be which explanation is formally more or less simple, but rather what we are searching for when probing the brain of a navigating animal. A model too simple may fall short of the rich computational power of the navigating brain, which, after all, maybe be the reason the brain evolved in the first place [75].
The behaviorist's reluctance to embrace mapping strategies may stem not only from the constraints of the lab but also their very choice of study species. Differences in locomotion, both in terms of speed and dimensionality of space, as well as the absolute quantity of cues encoded over an animal's lifetime, could all have significant effects on a species' choice of navigational mechanism. Thus study species, and their consequent navigational Umwelt, could be a fundamental determinant of the outcome of navigation experiments. If an animal such as the desert ant Cataglyphis is studied in an environment lacking extended landmarks, and each individual performs a rather limited number of foraging/exploration runs, then it is not surprising that only rather limited navigational strategies can be detected. Focusing on invertebrates that display complex, flexible navigation in the field must be the next step toward models of navigation that apply to both invertebrates and vertebrates and that may have evolved through convergent evolution.
If a species' sensory abilities in the lab impose artificial constraints on navigation, it is possible that the cognitive or integrated map debate may be largely an artifact of the lab. We must determine what is necessary to solve the integrated map solution and deliver these conditions to animals, wherever they are navigating. Not only must the information from these cues be available, but they must be used by an animal that can express its natural potential for information processing. This must include, first, a motivated brain, second, a brain that has developed in a suitably challenging and unpredictable environment and third, the absence of unnatural levels of overtraining. Only under these conditions would one expect the animal to have the options from which to choose, when needed, a difficult and risky strategy such as integrated mapping across a novel terrain. As in the classic demonstrations of latent learning, only then will the navigational demands be high enough to unmask 'insight' strategies such as shortcuts.
Robust spatial navigation is based on redundant information sources, with multiple frames of reference and sensory modes that can serve for calibration and back-up. Without the information or the information processing power to create and use an integrated map, the optimal navigator must needs choose another strategy. In short, only when animals are orienting in their natural environment or a laboratory setting close to it, with the cues necessary for navigation and the motivation necessary to use these cues, would one expect their full repertoire of spatial strategies to be revealed. A synthesis using a theory grounded in evolution, such as PMT, with its specific predictions about an animal's use of directional and positional cues, could integrate concepts obtained from flying and walking species, lab and wild animals, invertebrates and vertebrates.
The lab and the field have much to teach each other. The field can inspire the lab to increase the complexity of the experimental environment, so that it does not distort its models based on a subset of stimuli, missing opportunities to model the true complexity of animal thinking. Field studies may also help the lab to interpret paradoxical results, such as the preplay of place fields in unexplored space, which may be a signature of an animal's use of the BE to extrapolate vectors from extended cues. The neuroscience lab may, reciprocally, have much to teach the field, at least to direct the kinds of questions that are asked of animals under natural conditions. Field behaviorists could replicate the experiments from the lab, to determine how moving from constrained to unlimited spaces changes the hierarchy of spatial strategies that are used. The impact of locomotion mode on the nature of the spatial representation could also be studied in the field, using new technology to track and test spatial behaviors, across a much wider range of taxa than is possible in the lab, and employing methods that are well characterized from the lab. The same questions could then be brought back into the lab, where studies could use virtual reality arenas to compare disparate taxa navigating across different scales of space and using different forms of locomotion.
The last three decades have produced a seismic shift in the quantity and quality of available data and the new insights into the age-old question of the cognitive map. Now is the time for greater collaboration across the behavioral disciplines, with researchers moving towards a full integration of the concepts and methods that will lead to new understanding of how the mind maps the world.
Authors' information
LJ is Professor of Psychology and Neuroscience at the University of California, Berkeley, has an office in Tolman Hall and studies cognitive evolution, in particular the evolution of navigation and its neural substrates. RM is Professor of Neurobiology at the Institut für Biologie, Freie Universität Berlin. His research program is centered around the neuroscience of cognition in the honeybee, with a particular focus on memory processes and spatial navigation.
Abbreviations
NAV:

Navigational map
FAM:

Familiar area map
PMT:

Parallel map theory
BE:

Bearing map
SK:

Sketch map
HP:

Hippocampus
+:

Structure or function intact (e.g. HP+, intact hippocampus)
-:

Structure or function impaired (e.g. FAM-, impaired familiar area map).
Declarations
Acknowledgements
We would like to acknowledge the Ernst Strüngman Forum for arranging the discussions that led to the conception of the present review and, for discussion of these ideas, Ken Cheng, Sara Shettleworth, Nora Newcombe, Verne Bingman, Kathryn Jeffrey and other discussants at the 2010 Ernst Strüngman Forum on Animal Thinking. For additional discussion we thank Fred Dyer, Jennifer Arter, Mikel Delgado and Anna Waismeyer, and Scott Bradley for illustrations. The manuscript was significantly changed and improved in response to the constructive comments from two anonymous reviewers and especially from Associate Editor Anna Gagliardo. This work was supported by funding from National Science Foundation Electrical, Communications and Cyber Systems Grant 1028319 to LJ, the Berkeley Research Impact Initiative to LJ and by the Gemeinnützige Hertie Stiftung to RM.
Authors' Affiliations
(1)
Department of Psychology, University of California, Berkeley, USA
(2)
Institut für Biologie, Freie Universität, Berlin, Germany
Copyright
© Jacobs and Menzel; licensee BioMed Central Ltd. 2014
This article is published under license to BioMed Central Ltd. This is an open access article distributed under the terms of the Creative Commons Attribution License (http://creativecommons.org/licenses/by/2.0), which permits unrestricted use, distribution, and reproduction in any medium, provided the original work is properly cited.