Methodology article
Open Access
The environmental-data automated track annotation (Env-DATA) system: linking animal tracks with environmental data
Received: 28 December 2012
Accepted: 15 March 2013
Published: 3 July 2013
Abstract
Background
The movement of animals is strongly influenced by external factors in their surrounding environment such as weather, habitat types, and human land use. With advances in positioning and sensor technologies, it is now possible to capture animal locations at high spatial and temporal granularities. Likewise, scientists have an increasing access to large volumes of environmental data. Environmental data are heterogeneous in source and format, and are usually obtained at different spatiotemporal scales than movement data. Indeed, there remain scientific and technical challenges in developing linkages between the growing collections of animal movement data and the large repositories of heterogeneous remote sensing observations, as well as in the developments of new statistical and computational methods for the analysis of movement in its environmental context. These challenges include retrieval, indexing, efficient storage, data integration, and analytical techniques.
Results
This paper contributes to movement ecology research by presenting a new publicly available system, Environmental-Data Automated Track Annotation (Env-DATA), that automates annotation of movement trajectories with ambient atmospheric observations and underlying landscape information. Env-DATA provides a free and easy-to-use platform that eliminates technical difficulties of the annotation processes and relieves end users of a ton of tedious and time-consuming tasks associated with annotation, including data acquisition, data transformation and integration, resampling, and interpolation. The system is illustrated with a case study of Galapagos Albatross (Phoebastria irrorata) tracks and their relationship to wind, ocean productivity and chlorophyll concentration. Our case study illustrates why adult albatrosses make long-range trips to preferred, productive areas and how wind assistance facilitates their return flights while their outbound flights are hampered by head winds.
Conclusions
The new Env-DATA system enhances Movebank, an open portal of animal tracking data, by automating access to environmental variables from global remote sensing, weather, and ecosystem products from open web resources. The system provides several interpolation methods from the native grid resolution and structure to a global regular grid linked with the movement tracks in space and time. The aim is to facilitate new understanding and predictive capabilities of spatiotemporal patterns of animal movement in response to dynamic and changing environments from local to global scales.
Keywords
Animal movementMigrationMovebankMovement ecologyRemote sensingTrack annotationWeather
Background
The movement of an organism is influenced not only by its internal state and biological factors driving its movement, but also external factors—the environment and underlying context [1]. Environmental conditions may trigger certain movement patterns or invoke a particular behavioral response, and thus determine local movements or long-distance migrations [2–4]. Animals can optimize their energy expenditure during movement by selecting for locations and times when the conditions are supportive for movement. For example, raptors in their southward fall migration select a preferential mode of uplift that best fits their flight capacity [5–7]. Spatial and temporal variability in environmental conditions may affect all types of movement and any scale, from local to global. Some of the most challenging movements to study include large-scale movement, such as migrations and movements that cross broad geographic areas and traverse diverse environments and landscapes. The added challenge in these studies is that environmental conditions cannot be measured locally as part of the study, because they are needed over a very extensive area. Long-distance migrants include some of our most endangered species, and thus it is critical to address questions at the core of movement ecology, such as "when do animals start migrating?", "which strategies should animals adopt while migrating?" and "do movement rules change in a changing environment, and if so, how?" [8].
Today, with the rapid improvement and miniaturization of tracking technology, movement ecology has entered a new data-rich era, with tremendous growth in animal tracking data at previously unseen spatial and temporal resolution. Complementing this are large arrays of online remote sensing datasets describing the earth system and informing models that forecast the future environment. Combining these datasets is an active area of research, addressing a variety of questions to gain a better understanding of the interaction between animal movement and the environment. Manual annotation of animal tracking data (i.e. adding information to locations by an expert) and simulations of the environment along movement tracks have been successfully used to discover meaningful interactions between movement and external variables [2, 5, 7, 9–25]. Improving access to these environmental data will increase our understanding of their broad effects on our planet, motiving the development of RNCEP, a data organization and visualization package for R for working with data from National Centers for Environmental Prediction (NCEP) / National Center for Atmospheric Research (NCAR) Reanalysis data [26].
Manual annotation is not practical for large global environmental datasets owing to several technical and logistical challenges. The remote sensing datasets needed to study how environmental conditions influence animal movements are provided using complex tiling system in space and time that need to be aggregated to cover the entire movement track. Environmental and animal movement data are usually collected in different spatial and temporal scales and it is therefore necessary to choose appropriate scales for the annotation process. Likewise, an appropriate interpolation technique must be applied in order to integrate data at different resolutions. Moreover, environmental data are diverse in source, format, and projection system. It is essential to apply appropriate data transformation techniques in order to integrate such heterogeneous datasets. Accordingly, effective storage, indexing, and retrieval strategies must be applied to handle large volume of environmental datasets. These challenges limit many potential non-technical users from accessing these data and applying annotation in a manual mode. Nonetheless, compiling combined movement-environment datasets would be highly beneficial for movement studies. Such vast datasets are well suited for sophisticated, context-aware data mining and pattern recognition techniques that allow researchers to discover patterns of movement in response to changes in the environment [27, 28]. Hence, an integrated system capable of managing and analyzing movement tracks of animals linked to large remote sensing, climatic, and land use datasets will greatly facilitate the next generation of research into movement ecology.
This paper contributes to movement ecology research by describing a new open system, Environmental-Data Automated Track Annotation (Env-DATA), that automates annotation of movement trajectories with ambient atmospheric observations and underlying landscape information. The aim of the system is to provide efficient movement track annotation and knowledge discovery methods to allow scientists to examine relationships between observed animal movements and a breadth of information about environmental conditions. The Env-DATA system utilizes large computational servers to co-register the animal tracks with environmental data without requiring the user be an expert in the processing of such data. The system facilitates the investigation of biological research questions about movement behavior of animals, including threatened and endangered species that are of concern due to the impact of climate and environmental changes. Env-DATA will facilitate discovery of unique information about niche selection and habitat, movement patterns and landscape connectivity of moving animals, and how these may be affected by variability and long-term changes in climate and landscape. Such knowledge is crucial for planning and management of protected areas and for forecasting population status and habitat needs in future conditions of climate and land use changes.
Case study: Galapagos albatross (phoebastria irrorata)
This case study illustrates an application of the Env-DATA System to examine environmental factors associated with the movements of nine Galapagos Albatrosses (Phoebastria irrorata), tracked from June to September 2008.
Methods – movement data collection and annotation
The original tracking data were collected from birds breeding at two sites on Isla Española, Punta Cevallos (1.39° S, 89.62° W) and Punta Suarez (1.38° S, 89.75° W), as well as a small island close to the Ecuadorian mainland, Isla de la Plata (1.58° S, 81.15° W). The birds were tracked throughout the entire breeding season. GPS loggers were deployed on 28 adult albatrosses at the beginning of incubation period. The loggers weighed 22 g with a 9-month battery life and were designed and produced by e-obs GmbH (Munich, Germany). Units were programmed to record GPS locations every 90 minutes. Units were attached to taped bundles of dorsal feathers and secured with cable ties. Data from GPS units were downloaded remotely via an ultra-high frequency (UHF) radio link to a stationary base station that was installed in the vicinity of equipped bird nests at each separate colony. A base station consists of a UHF antenna, a receiver with flash memory and two 6 volt 12 amp-hour batteries. The base station begins to upload data when any unit (or equipped bird) comes within 1000 m of the station. This system has the advantage of allowing data to be retrieved automatically without physically recovering the tag, reducing handling-induced stress to the birds and labor required to collect data in the field. Every four weeks a researcher would go to sites to retrieve data from base stations, change batteries and perform general maintenance duties. On Isla Española, tags were deployed on 23 June 2008 at Punta Cevallos and 31 May 2008 at Punta Suarez, and data were retrieved from base stations on 23 June, 21 July, 12 August and 18 September 2008. On Isla de la Plata, tags were deployed on 7–24 June 2008, data were downloaded on 7 July, 4 August, 1 September, and 6 October of 2008, and loggers were recovered on 7 October.
For the purpose of this case study, we used tracking data from nine albatrosses that made extensive movements for almost the entire period from June to September 2008. The tracks were segmented to transit flights from/to the Galapagos Islands and the Peruvian coastal foraging segments. The transit flights are segmented according the flight speed obtained from GPS points (speed >5 m/s) between longitudes 90°W and 82.5°W. The Peruvian coastal foraging area is defined as areas between longitudes 82.5°W and 75°W. Using Env-DATA, the nine albatross tracks were annotated with wind speed (m/s) and wind direction (degrees from North) computed from u- and v-wind components obtained from the NCEP Reanalysis 2 dataset, and Ocean Net Primary Production (NPP) data from Oregon State University (Table 1). For the annotation 6-hour, 2.5° NCEP Reanalysis 2, and 8-day, 2160x4320 ocean NPP datasets are used (cf. Table 1).
Results and discussion
Figures
5
,
6
,
7
, and
8
illustrate the visual exploration tools from the Knowledge Discovery and Visualization service package of
Env
-
DATA
. R code for the generation of these plots is provided in the supporting material (Additional File
1
). Figure
5
a shows the nine Galapagos Albatross trajectories annotated with 8-day ocean NPP (cf. Function 1, Additional File
1
) and Figure
5
b shows a gridded geographical area of MODIS chlorophyll-a concentration during one month in the nesting season in 2008, provided as a KML file and plotted using Google Earth. The albatrosses flew to the Peruvian coast to forage where ocean productivity was high. Figure
6
facilitates the comparison of available NPP versus NPP use along flight tracks of the nine albatrosses (the 3D plot is generated using Functions 3, Additional File
1
). Figure
6
a–b shows the distribution of ocean NPP available at the coastal area of Peru—between 82.5°W, 12°S and 75°W, 4°S—and around the Galapagos Islands—between 95°W, 2.5°S and 90°W, 2.5°N. To illustrate the availability of ocean NPP (Figure
6
a–b, Figure
6
e), the 8-day NPP datasets are averaged over the period of June–September 2008 in the native grid. Figure
6
c–d shows probability density histograms of annotated ocean NPP values along track segments during foraging flight along the Peruvian coast and along flight tracks around the Galapagos, respectively. In addition, Figure
6
e provides a 3D visualization of the available NPP versus NPP use along the actual flight tracks (plotted using Function 3, Additional File
1
). The NPP histogram constructed from locations along the foraging flight (what was used) illustrates a bias toward high NPP values (Figure
6
c), even when compared to the availability near the coast (Figure
6
a), which suggests that albatrosses might carefully choose times and locations to forage where NPP is high. However, the similarity between the NPP use and availability histograms around the islands suggests that they do not show preferences for high NPPs along transit flights between the foraging areas and the nesting grounds.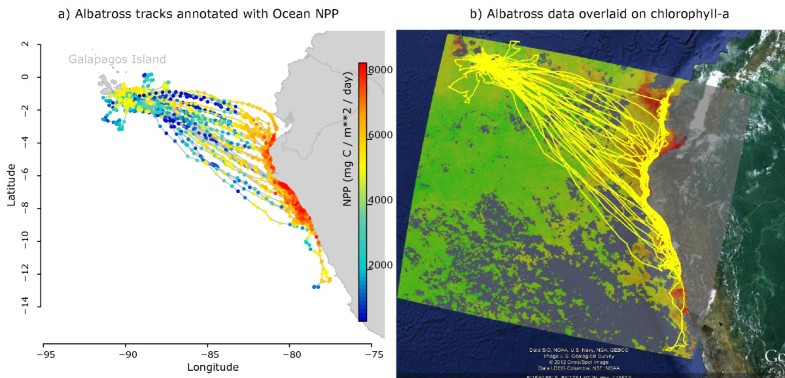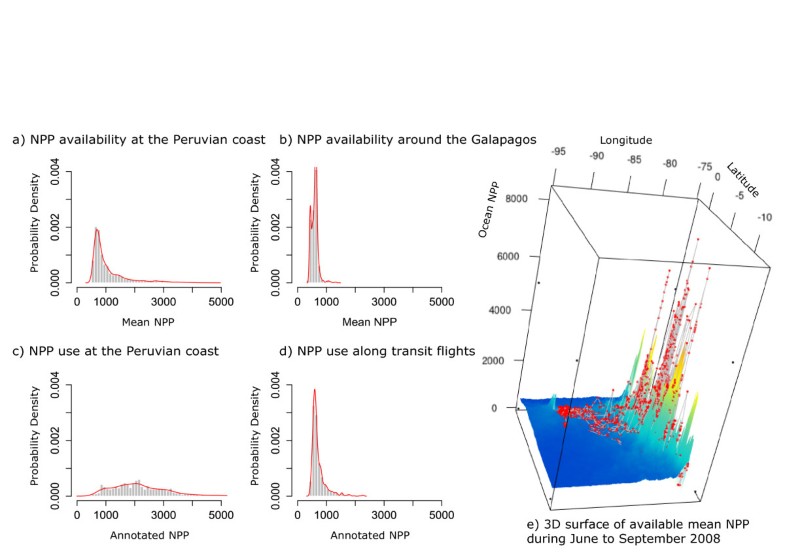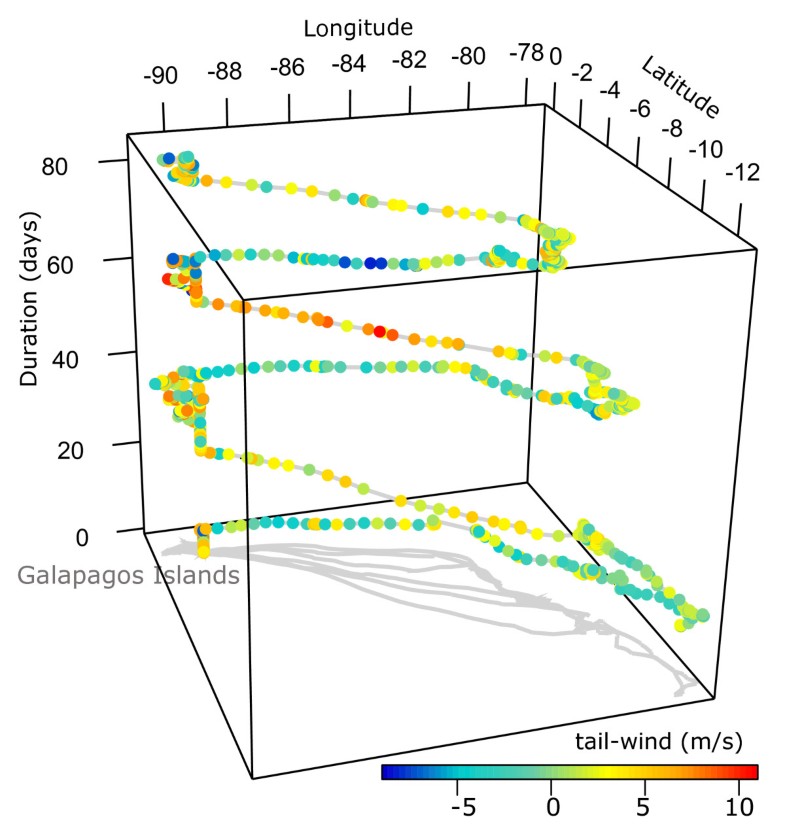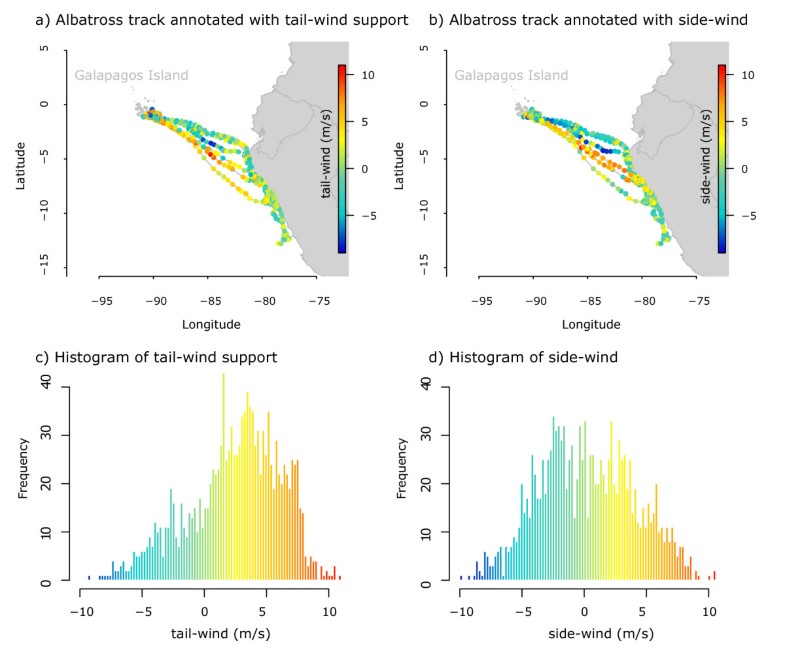 These findings are in accordance with previous studies showing that parents make long-range trips to preferred, productive areas [47].
We use a space-time-cube visualization to illustrate the role of wind on the albatross' flight patterns (see Figure 7, Function 2, Additional File 1). Recent studies suggest that wind was an important factor in determining migration and short-term flight patterns of pelagic birds [4, 24, 36, 48]. Here, we show how Env-DATA annotation can assist an investigation of wind dependencies and flow assistance. Figures 7 and 8 show a single albatross trajectory annotated by tail-wind support and side-wind (cross wind), two derived variables (Table 1) computed using wind direction and wind speed and movement direction (flight heading) of the albatross along its flight path, based on the formulation from [24, 36]. The space-time-cube illustrates how wind assistance facilitates the albatross' flights toward the Galapagos Islands (orange to red colors represent higher wind assistance), while the flights to the coast are often challenged by head wind (aquamarine to blue colors represent wind resistance). The flight pattern in Figures 7 and 8 is characteristic to most other flight tracks in our albatross dataset. As seen in Figure 7 and Figure 8a–b, the albatross repeatedly takes a more northern route to the coast relying mostly on side winds, and then moves south (presumably foraging) before returning to the Galapagos Islands using a tail-wind assisted route (cf. Figure 8a and Figure 8c). The observed clock-wise pattern is in accordance with previous findings [4, 48]. Weimerskirch et. al [48] found that albatrosses prefer tail or side winds and therefore use predictable weather systems to fly in large looping tracks; when going south movements are in a clockwise direction. This enables albatrosses to achieve high speeds while expending little energy. The travel direction towards continental South America and back to the Galapagos undertaken by waved albatross means they almost always have side-winds (cf. Figure 8b and Figure 8d).
Conclusions
We presented the Environmental-Data Automated Track Annotation (Env-DATA) System, an openly available portal within Movebank (http://www.movebank.org), and illustrated how the system assists the discovery of environmental conditions associated with animal movements. As compared to the existing RNCEP package, that provides access to, organization, and visualization of atmospheric NCEP/NCAR datasets, the Env-DATA annotation service streamlines the co-registration of animal tracking data with a diverse range of environmental variables obtained from satellite remote sensing products and global reanalysis models including the MODIS ecological, ocean, land cover and land use data sets, the NCEP/NCAR and ECMWF weather reanalysis datasets, high-resolution Digital Elevation Models (DEMs), and ecological and human-socioeconomic reanalyses (e.g. the Population Density Grid). This project has overcome the numerous technical and methodological challenges in order to enable processing of a large array of remote sensing, weather and geographical data for the analysis of animal movement tracks:
 optimizing storage and retrieval times for a very large dataset of environmental variables from multiple data providers,

 applying effective interpolation techniques in order to maintain the link between animal tracks and their embedding environment in space and time,

 applying suitable spatiotemporal indexing strategies for data retrieval, and

 maintaining a large database of remote sensing data.
In addition, our system is intended as a general tool that can be used by researchers at all levels of technical ability for a wide range of animal movement data types and research questions. Thus additional challenges were:
 establishing linkages between heterogeneous environmental and movement data, obtained from various sources, collected in different spatial and temporal resolutions and scales; and

 developing a user-friendly interface within Movebank to allow users to browse, access documentation about variables and source datasets, and select and request annotated data.
In addition to the main annotation service, we are currently developing the Knowledge Discovery and Visualization Service and the Track Simulation Service within the Env-DATA System. In future releases, we aim to exploit deterministic and probabilistic computational GIS methods, spatiotemporal data mining techniques, and well-known statistical approaches, with the underlying goal to discover patterns and structures among the movements of animals.
Availability of supporting data
The albatross dataset supporting the results of this article is accessible through DOI: 10.5441/001/1.3hp3s250 and can also be viewed at http://www.movebank.org in the study "Galapagos Albatrosses". The R scripts used for generating Figures 5–8 in this article are provided in Additional File 1.
Author's contribution
SD drafted the manuscript, prepared the figures, analyzed the case study data, and participated in development of the system. GB conceived the study, coordinated the project. RW implemented the system and participated in the design of the study. SCD participated in the coordination of the study. SD, RK, DD, JH, DB, and MW participated in the design and coordination of the study. SD, GB, RW, DD and SCD contributed to the writing. SC provided the albatross data and contributed to the case study. All authors participated in editing the manuscript.
Declarations
Acknowledgment
We thank Keith Bildstein, Ran Nathan, Kamran Safi, Nir Sapir, John Takekawa, Zhenhui Li, Richard Lanctot, Steve Lewis, Stephen Yezerinac, Carol McIntyre, Erica Craig, Jean-Francois Therrien, Josh Adams, Mark Fuller, and Ron Therrien for ideas and collaboration that helped shape and test the system. We also thank Martin Storhas and Matthias Berger for their work on developing the user interface for the Env-DATA System. This research was funded by NASA under grant #NNX11AP61G. Super computer service at The Ohio Supercomputer Center was provided under OSC grant #PAS0626-1. GB was supported in part by the U.S. National Science Foundation grant IOS-1145952. Any opinions, findings, and conclusions or recommendations expressed in this material are those of the author(s) and do not necessarily reflect the views of the National Science Foundation. Use of trade names does not reflect endorsement by the U.S. Government. Galapagos Albatross data used for the case study were collected with permission and support of the Galapagos National Park Service.
Authors' Affiliations
(1)
Department of Civil, Environmental & Geodetic Engineering, The Ohio State University, Neil Avenue, USA
(2)
Max Planck Institute for Ornithology, Radolfzell, Germany
(3)
NC Museum of Natural Sciences &, NC State University, Raleigh, USA
(4)
U.S. Geological Survey, Alaska Science Center, Juneau, USA
(5)
University of Illinois at Urbana-Champaign, Urbana, USA
(6)
Lafayette College, Easton, USA
(7)
Department of Biology, University of Konstanz, Konstanz, Germany
Copyright
© Dodge et al.; licensee BioMed Central Ltd. 2013
This article is published under license to BioMed Central Ltd. This is an Open Access article distributed under the terms of the Creative Commons Attribution License (http://creativecommons.org/licenses/by/2.0), which permits unrestricted use, distribution, and reproduction in any medium, provided the original work is properly cited.