Cereal aphid movement: general principles and simulation modelling
Received: 4 October 2013
Accepted: 11 December 2013
Published: 23 December 2013
Abstract
Cereal aphids continue to be an important agricultural pest, with complex lifecycle and dispersal behaviours. Spatially-explicit models that are able to simulate flight initiation, movement direction, distance and timing of arrival of key aphid species can be highly valuable to area-wide pest management programmes. Here I present an overview of how knowledge about cereal aphid flight and migration can be utilized by mechanistic simulation models. This article identifies specific gaps in knowledge for researchers who may wish to further scientific understanding of aphid flight behaviour, whilst at the same time provides a synopsis of the knowledge requirements for a mechanistic approach applicable to the simulation of a wide range of insect species.
Although they are one of the most comprehensively studied insect groups in entomology, it is only recently that our understanding of cereal aphid flight and migration has been translated effectively into spatially-explicit simulation models. There are now a multitude of examples available in the literature for modelling methods that address each of the four phases of the aerial transportation process (uplift, transport in the atmosphere, initial distribution, and subsequent movement). I believe it should now be possible to draw together this knowledgebase and the range of modelling methods available to simulate the entire process: integrating mechanistic simulations that estimate the initiation of migration events, with the large scale migration modelling of cereal aphids and their subsequent local movement.
Keywords
Long-distance movement
Migration
Cereal aphid
Flight
Simulation modelling
Introduction
Although there are approximately 5,000 species of aphid across the world, only a handful pose a threat to cereal production. Those that do can commonly be termed 'cereal aphids', which can cause both direct damage to cereal crops such as wheat and barley but importantly transmit a number of viruses, such as Yellow Dwarf Viruses, that can cause even greater damage to crops. The most common cereal aphid species globally are the Rose-Grain aphid (Metopolophium dirhodum (Walker)), the Grain aphid (Sitobion avenae (Fabricius)), the Bird Cherry-Oat aphid (Rhopalosiphum padi (L.)), the Corn aphid (Rhopalosiphum maidis (Fitch)) the Russian wheat aphid (Diuraphis noxia (Kudjumov)), the Indian Grain aphid (Sitobion miscanthi (Takahashi)), the Rice root aphid (Rhopalosiphum rufiabdominalis (Sasaki)), the Apple grass aphid (Rhopalosiphum insertum (Walker)), the Blackberry-cereal aphid (Sitobion fragariae (Walker)), the Fescue (or grass) aphid (Metopolophium festucae (Theobald)), and the Greenbug (Schizaphis graminum (Rondani)). For a comprehensive account of all aphids found on cereal crops please see Blackman and Eastop [1]. Common to this set of highly successful r-strategist aphid species are frequent movement and a propensity to migrate over long distances, thus having a high disease vectoring capacity to cause widespread damage to cereal crops. 'Migration' is taken to be the periodic flight of insects beyond the boundaries of their old breeding habitats into new ones, where migrant behaviour refers to individuals "that are relatively undistracted during flight by stimuli that normally lead fairly quickly to the satisfaction of normal appetites and especially to oviposition" [2] pp 19. This definition is taken to apply equally to non-ovipositing morphs which form a significant proportion of aphids that migrate to commercial crops.
Both an understanding of, and ultimately the capability to predict, aphid movement patterns at multiple spatial scales are vital to achieving area-wide strategies for integrated pest management of cereal aphids [3]. Area-wide pest management programmes need to incorporate approaches that can forecast the timing and magnitude of pest immigration events taking into account potential source populations. This would allow for a regional approach to pest management, thinking beyond the crop rather than employing simply a reactive within-field response. To this end, spatially-explicit models that are able to simulate flight initiation, movement direction, distance and timing of arrival of key aphid species can be very valuable [3].
Many observational studies have shown that aphids are capable of very long distance movement. A number of studies of aphids in the USA and inferences on their migration pathways in relation to jet-streams are summarised in Wallin and Loonan [4]. Field observations in conjunction with a study of the timing of low-level jet winds confirmed that aphids were efficiently transported by jet winds from the Southern Plains to the North-central states of Iowa and Wisconsin. Since as early as 1925, trans-oceanic migrations of alate aphids have been noted [5]. Studies have also noted evidence of long distance migration between Australia and New Zealand [6]. More recently, evidence of limited genetic variation across large regions points to high levels of long range dispersal activity in cereal aphids, e.g. in Russian wheat aphid in the USA [7] and S. avenae in Britain [8].
Several comprehensive reviews exist on the ecology of aphid flight [3, 9–14]. Much of the research conducted in the 1950s to 1960s was founded on the theory that the flight of alate (winged) aphids can be separated into two phases. The first is a distinct migratory phase, followed by an 'appetitive' (foraging or mating) phase [2, 15, 16]. Some attributed the two phases to the weather conditions, with predominantly passive transport in windy weather and active flight in calm weather [17–19]. However, more recent authors see this more as a continuum [20], where the transition between the two can be influenced by a wide range of factors [21].
The early studies also maintained that most flights are migratory, with only a small proportion of flights being from plant-plant [15, 19]. More recent work declares that this interpretation of 'migration' is 'overstated' [14]. Recent literature now agrees that alate aphids tend to move mainly short distances over their lifetime, of the order of 20 m in favourable habitat and 100 m in poor habitat: "spatial displacements (dispersal) rather than migration sensu stricto, are the 'norm'" [20], pp 1479, [22]. Migration is an infrequent occurrence, the 'exception rather than the rule' [14], pp 293 and there is a gradation from 'non-flyers' to local flyers and then migrants. However, although migration may now be considered the exception across all alates, newly emerged alates are highly likely to attempt migration at the earliest opportunity, although this window of opportunity is small (further details in section Basic rules of aphid flight). Subsequently, if an aphid encounters an unsuitable host it will move on, trying to maximise the chances of finding a suitable host in the shortest possible time [14]. There is a large degree of stochasticity in flight behaviour, and even a large variation in duration of migratory behaviour between clonal individuals [23, 24]. Overall, aphid flight activity is now best viewed as a complex continuum of behaviour at multiple spatial and temporal scales of dispersal from the plant scale to global, with a large range of possible flight activity spanning both inadvertent and intentional flight [3].
"Many researchers have confused host-alternation and migration and incorrectly referred to both as migration. The two terms are not synonymous and they describe separate behavioural phenomena" [9], pp 462. This paper concentrates on the primarily temperature- , crowd- and long day- induced winged females (summer alate virginoparae) which fly to fresh summer hosts or migrate between crops and grasslands as anholocyclic populations. This is opposed to the short-day induced, winged autumn forms that return to the primary (non-crop) host (gynoparae). It is known that there are distinct behavioural differences between gynoparae and virginoparae [25–28], such as a faster initial climb rate and longer flight duration in gynoparae. Together the result is that where holocyclic and anholocyclic populations combine in cropping regions such as France, they tend to exhibit bimodal annual migratory behaviour [9, 29, 30].
In this paper I firstly outline the four key phases in the aerial transport process applicable to aphids, as defined by previous authors. I then describe four core 'basic rules' of aphid flight that I perceive to be of key importance, which provide a framework for a simulation model and upon which further complexity can be added, as detailed in the following section 'nuances of aphid flight behaviour'. I then give an overview of simulation models of aphid flight developed to date, showing modelling achievements. This includes a summary of the approaches that have been used, as well as examples of data collection methods and surveillance that can help inform such models. This indicates where more can be done to integrate approaches in order to simulate the entire aerial transport process (Figure
1
).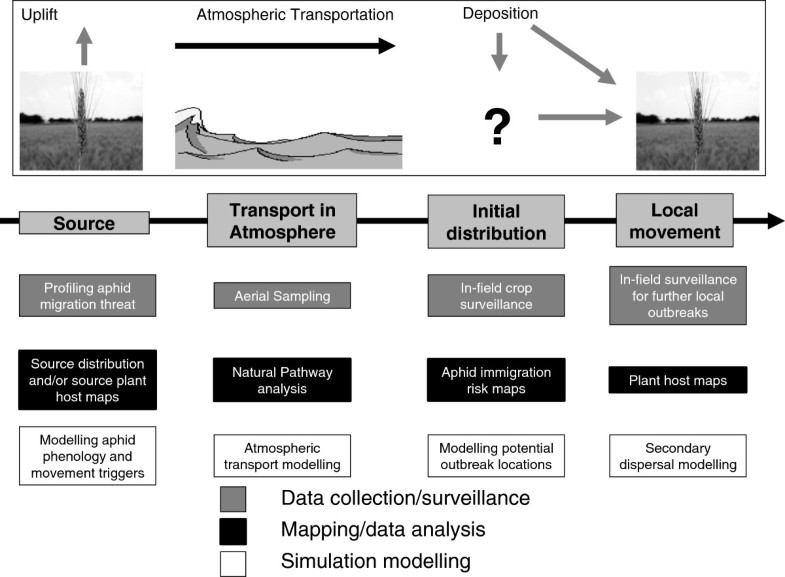 Conclusions
There is an extremely rich literature spanning decades that is relevant to understanding many aspects of cereal aphid flight and migration. Some aspects of movement have been studied multiple times which increases confidence in our knowledge, such as the threshold wind speed of 8 kmh-1 that restricts flight initiation. However, although this threshold has emerged quite clearly from a number of studies (primarily conducted in the laboratory), there is the issue that studies over a longer time period and from the field show that aphids will take flight even in high wind speeds; therefore when flight thresholds have not been put to the test in so many ways we should continue to question them (for example humidity).
Such a wealth of information can be overwhelming, particularly to construct a simulation model of aphid flight. To this end, I distil cereal aphid migration into four phases, and conceptualize the flight of cereal aphids as following four key principles, around which are 'nuances' of aphid flight behaviour that might be incorporated into a model (but about which there is greater uncertainty).
The overall conceptualization of aphid flight has changed over the years, from assuming that migration was common to now considering that it is the exception, rather than the rule, predominantly occurring in newly emerged alate adults. Furthermore, there still remain some aspects to aphid flight that we have only recently realised, having made assumptions for many years that are now considered incorrect. For example, there is now evidence of the ability of aphids to control their elevation in an air-column, questioning the assumption that their flight behaviour during the transport phase can be assumed to be completely 'passive' [64].
Despite such rich information in the literature, there are still significant gaps in our knowledge. An important gap seems to be quantification of humidity and high temperature thresholds for flight initiation: likely to become increasingly significant under global climate change for regions that are already pushing the climatic niche for some aphid species, such as R. padi in Australia [149]. Landing cues and the processes that control the termination of flight are an obvious gap where knowledge is poor and empirical studies are difficult to conduct, but observational data is available. The multi-scale model by Ciss et al. [123] explores multiple hypotheses about landing cues and demonstrates the potential of simulation modelling to advance our understanding of this process, particularly if tested against observational data. It is important to build on this with further simulation modelling studies coupled with observational or empirical research, as together they provide a powerful tool to test hypotheses about migration patterns observed in space and time.
An important aspect to the integration of models with data is the ability of models to 'scale-up' data collected over short time periods or limited spatial scales. Models are increasingly used to explore multiple hypotheses and scenarios, against which we can collect data to verify, potentially using a 'pattern oriented' approach to explore the most probable explanations offered by the model in comparison with data [150]. We cannot hope to ever collect enough observational data or conduct empirical studies alone that can give us an understanding of the entire process of cereal aphid migration and flight, however when combined with mechanistic, scalable simulation modelling approaches this becomes achievable. This would lead to an understanding that can help us determine and manage aphid problems not just within-field but at the landscape scale, taking into account source areas to develop management strategies operating at multiple spatial and temporal scales.
Data on various aspects of cereal aphid flight and migration is increasingly available and the range of methodologies with which we can obtain such data has increased in recent times, for example with genetic tools and radar observations. It is important that long-term data collections continue, such as suction trapping data which has been shown to be valuable in regions such as the USA and Europe but is yet to be established in other regions, such as Australia [151].
Finally, the rapid population increase and high mobility of cereal aphid pests are key factors that make them highly damaging; aphids, being so well studied and modelled, can provide a blueprint for identifying the research needs to manage other highly mobile insect pests, that are likely to be less well studied.
Endnotes
a"The trajectory or path of an air parcel is a curve denoting successive three-dimensional positions in time of the air parcel" [152] pp 2.
Author's information
The author has worked for CSIRO for the past four years, including a two year CRC for National Plant Biosecurity post-doctoral research position, working on an aphid population dynamics and dispersal model to explore the effects of climate change on plant biosecurity. She completed her Doctorate at the University of Leeds, UK, in late 2006, entitled 'Effects of Land Management upon Species Population Dynamics: A Spatially Explicit, Individual-based Model', which focused on the cereal aphid Rhopalosiphum padi. Dr Parry graduated from the University of Cambridge, UK, in 2002, achieving an upper-second class Bachelor of Arts with Honours in Geography. She was awarded first-class for her undergraduate dissertation: Modelling the distribution of Quercus infectoria, a species of Oak tree, in Cyprus. http://www.csiro.au/people/Hazel.Parry.
Declarations
Acknowledgements
Much of this research was conducted as part of Hazel Parry's PhD thesis literature review whilst at the University of Leeds, UK/Food and Environment Research Agency, York, UK. This was refined as part of a Post-Doctoral Research fellowship at CSIRO for the Cooperative Research Centre for National Plant Biosecurity, Australia.
I would like to thank the two anonymous journal reviewers for their many helpful comments and suggestions that helped to refine this paper.
Authors' Affiliations
(1)
CSIRO Ecosystem Sciences, Brisbane, Australia
Copyright
© Parry; licensee BioMed Central Ltd. 2013
This article is published under license to BioMed Central Ltd. This is an Open Access article distributed under the terms of the Creative Commons Attribution License (http://creativecommons.org/licenses/by/2.0), which permits unrestricted use, distribution, and reproduction in any medium, provided the original work is properly cited. The Creative Commons Public Domain Dedication waiver (http://creativecommons.org/publicdomain/zero/1.0/) applies to the data made available in this article, unless otherwise stated.